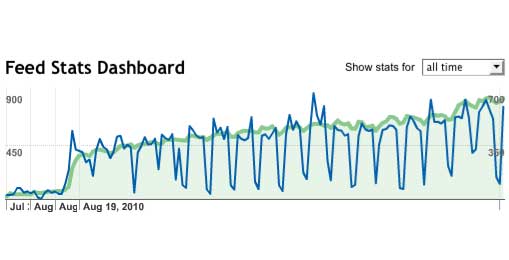 Above are the Feedburner stats for Mimi & Eunice. The green line represents subscribers; the blue represents "reach" ("the total number of people who have taken action — viewed or clicked — on the content in your feed"). The lines represent an overall trend of linear growth. Not exponential growth. Which is fine, but makes me wonder: is "viral" (exponential) sharing becoming a thing of the past, as quality content on the internet becomes more ubiquitous?
A few years ago, if you put anything halfway decent online it would spread like a virus. The online memosphere was less colonized than it is today. Of course there will still be "viral" content, but it has a lot more to compete with today: all the other viral content. Imagine if you released something of today's quality online 10 years ago. It would have spread further and faster back then, because attention wasn't already consumed by vast amounts of other quality content. On the other hand, the internet itself was much smaller 10 years ago – fewer people had access to it – so overall reach of a viral success could have been lower in absolute terms.
I've noticed the linear trend in most of my works now (sitasingstheblues.com, having enjoyed exponential growth followed by a plateau, is now on a linear decline). Maybe this means my work sucks, but I don't think so. I'm happy with linear growth. But I am revising my ideas about "viral content," and I wonder if others are, too. Twitter's "Trending: Worldwide" lists indicate some things spread virally – suddenly they're everywhere – but then they're gone the next day, and forgotten in a week.
What does this all mean? Does it mean anything? As an artist, should I care?