We're almost done authoring the Sita Sings the Blues DVD packaging and getting an order fulfillment service to ship it. Meanwhile, here's something to do: sign up here with just your email address, and we'll send you an mail with ordering information as soon as it's ready.
Because the "content" is free – you can download it all online – what we're actually selling is DVD packaging, not the film itself. This includes a nicely printed full color recycled cardstock "eco" case, and a silkscreened "pre-downloaded" DVD with the film and various features like subtitles, the trailer, and some video interviews of me ranting about copyright. The DVD is a nice package, a real object, and you can actually own it – it'll still be there even if the internet (or your connection to it) disappears.
We're planning two "Official" editions of the DVD packaging. The basic consumer version will be about $20: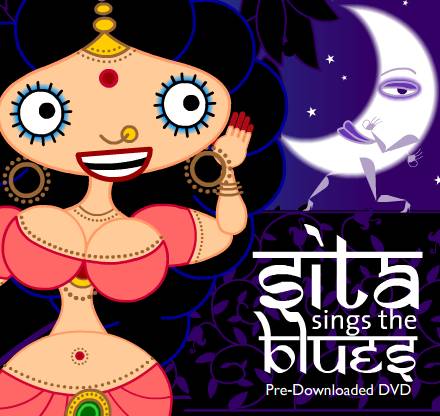 Then there's the Artist's Edition, which will be about $100. This will be a more elaborate package – 6 panels instead of 4 – numbered and signed by me. This edition will be limited to 4,999. Why 4,999? Because for every 5,000 DVDs sold, I have to make additional payments (beyond the $50,000 I have already paid) to the corporations that hold copyright monopolies on some of the music used in the film.  I don't believe culture can be owned, and I've released my film under a free license to ensure that it can never be similarly trapped, but as long as the government enforces these monopolies, I must count DVDs.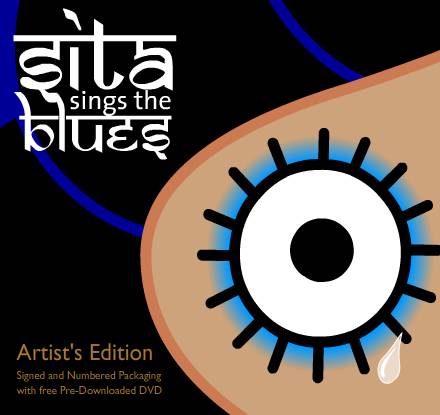 The cover art isn't final but will be in a few days. I could use the "happy Sita" image on the artist's edition, and the "artsy Sita" on the consumer version. Leave your suggestions now or forever hold your peace. Thanks!