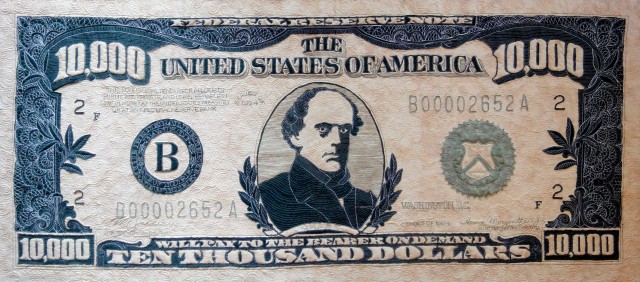 Bargain (Ten Thousand Dollars)
71″ x 31.5″
Cotton fabric, wool batting, polyester thread
Reverse applique and quilting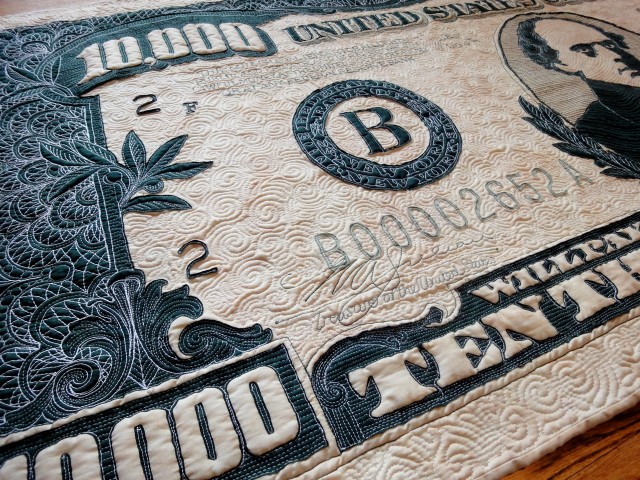 "Why are works by Marlene Dumas worth millions and those by the stylistically similar Chuck Connelly worth next to nothing? Because surplus capital in the hands of a small group of moneyed types decrees it so, by fiat. Disparities between surplus capital and "normal" market behavior…create two distinct "markets." The high-end market just described is the seeking of surplus capital for true value, which lands on a work of art, because that work of art is perceived as unique, often in a highly arbitrary manner that disregards questions of esthetics and connoisseurship. The news is not that a Picasso is worth $100 million, but that $100 million is worth the Picasso!"
After reading this and this, I concluded that high-end art is a form of currency for elites. Art museums and critics encourage us peasants to believe the value in these "priceless art treasures" is based on utility (i.e., the more they cost, the more "genius" they contain). But the value of high end art is due to collectors attaching their surplus capital to it.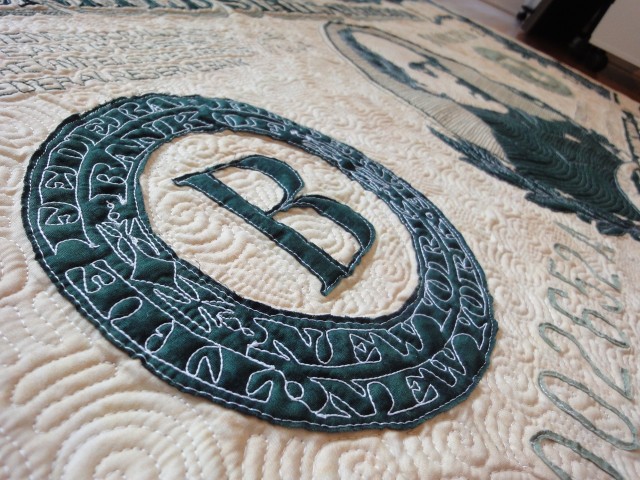 A million-dollar painting has all the utility of a million-dollar bill. Its value is created not by the artist, but by the collector. When a reputable collector puts a million dollars into a painting, another collector may buy it for more than a million dollars. The art market forms its own economy, with its own financial industry:
"During the 1980s, Charles Saatchi started to corner the market by buying up the inventory of one artist, such as Sean Scully, and then dumping the work en masse, presumably for economic gain. Now, collectors such as Daniel Loeb and Aby Rosen also assemble dozens of works by a single artist (Loeb has close to 300 Martin Kippenbergers), but they have so much money that art collecting is a game for them that mimics their larger financial speculations. Using a hedge model, these collectors are able to manipulate the valuations of their holdings based on their internal financial realities, not on any outside demand per se. That is what hedging is."  ibid.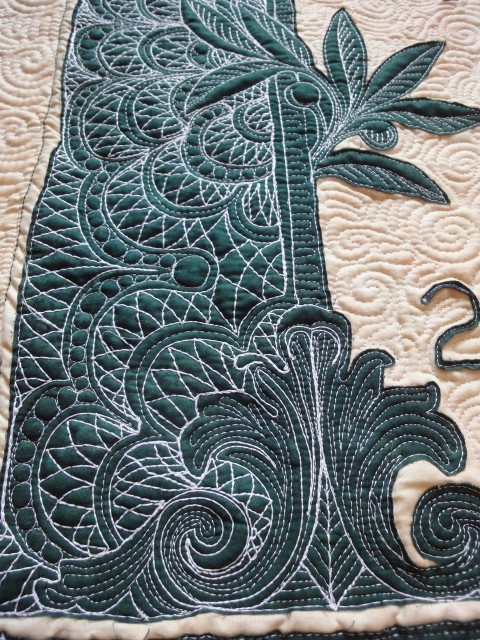 (This explains the prominence of collectors at art events. I used to wonder why collectors were such a big deal. Wasn't Art about the work itself? If anything came second to the work, wouldn't it be the artist(s)? Why so much attention bestowed upon the collectors? In my naiveté, I thought it was just cynical and desperate ass-licking by arts organizations. Now I realize that collectors are the prime – or only – originators of high-end art value. Anyone can paint, but only a tiny elite can buy a painting for a million dollars.)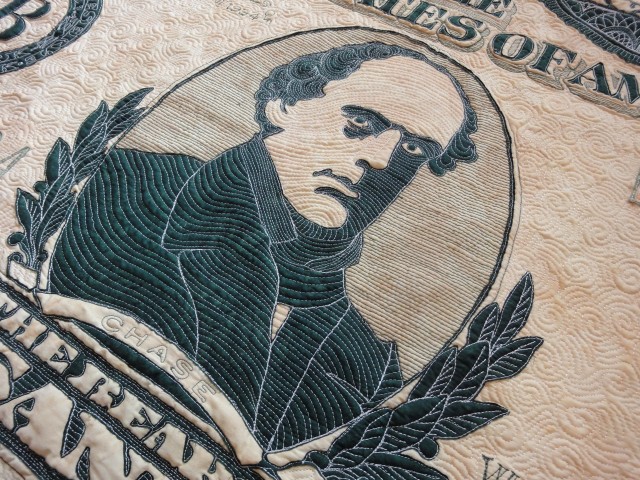 To recap: displaying a million-dollar art work is akin to displaying a million-dollar bill, but with a certain cachet ("disavowal" was Pierre Bourdieu's term) that is part of its price. But there are no million-dollar bills. That's one of the reasons collectors need million-dollar paintings. When you own as much wealth as a small nation you can commission your own currency. Or better yet, pick and choose your currency from an enormous market of would-be currency designers. (The 1970's board game "Masterpiece" hints at this; "value" cards are randomly paired with painting cards, an amusing sendup of the Fine Art World that was utterly lost on me as a child, although I did enjoy looking at the pictures.)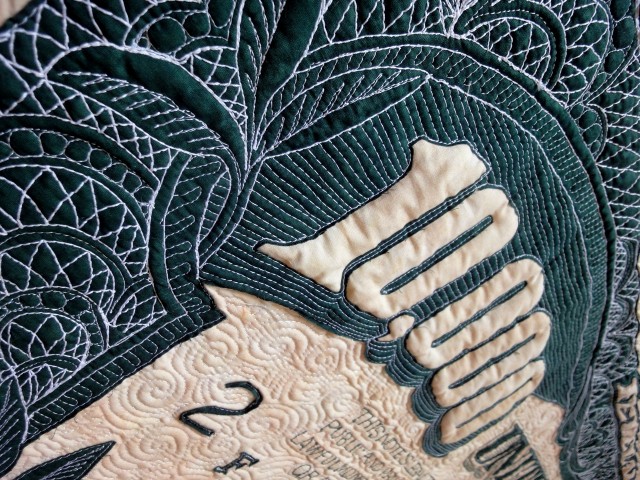 I wanted to make a quilt that looked like a million-dollar bill. Unfortunately the highest denomination bill I could find online at high resolution was $10,000. That's painfully low, because
"increments of $100,000 are to today's contemporary art market what $10,000 was in the 1980s and $1,000 was in the '60s." ibid.
But that's what I had to work with. In fact the $10,000 bill isn't in circulation today. But it does look like "money" (unlike the $100,000 Gold Certificate) so in that way it fits the bill, so to speak.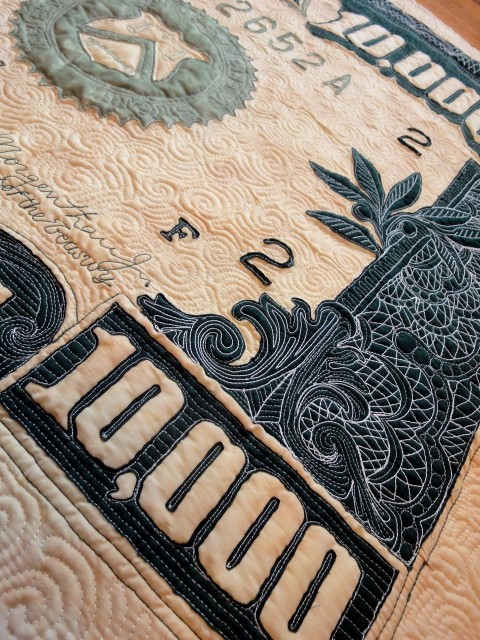 Ironically (for ironic juxtaposition!) quilts are among among the most under-valued art forms. They also require more skill and time than almost any other art-making technique I've tried. The selling price of quilts seldom covers the costs of materials; quilters often prefer to give their quilts away. An "expensive" quilt usually costs more than the value of materials, but less than minimum wage for labor. I recently met a master quilter whose beautiful wall quilt, which took months of expert work and won many awards, was professionally appraised at $3,500. This is considered very high; had it not been widely displayed and won many awards, it would be "worth" far less. Betty Busby is an art quilter I admire whose works have broken through the "high" end of quilt prices into the "bargain-basement low" end of art prices.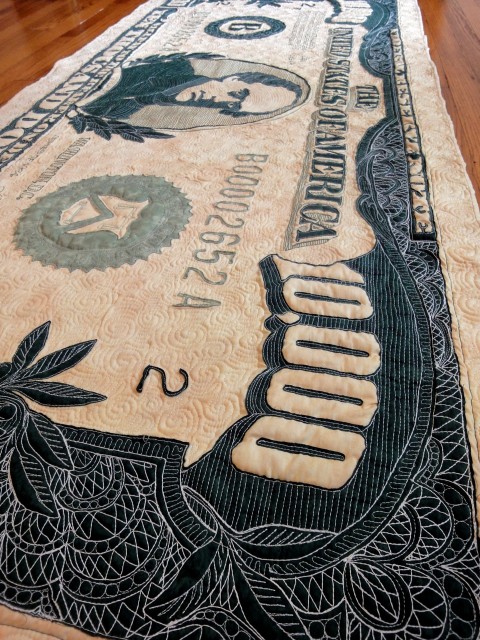 Is it because quilts have so much utility ("use-value") that they can't get traction as high art? Is it because quilting is historically "women's work"? Is it because quilting is often kitschy, popular in the middle-class Midwest that many aspiring art-worlders move to New York to get away from? Is quilting too white? (The now-famous Gee's Bend quilters would be an exception to prove this rule.) Is it because many quilters are insane about copyright, going out of their way to restrict knowledge of their work?
Who knows. Meanwhile, here is a Ten Thousand Dollar quilt.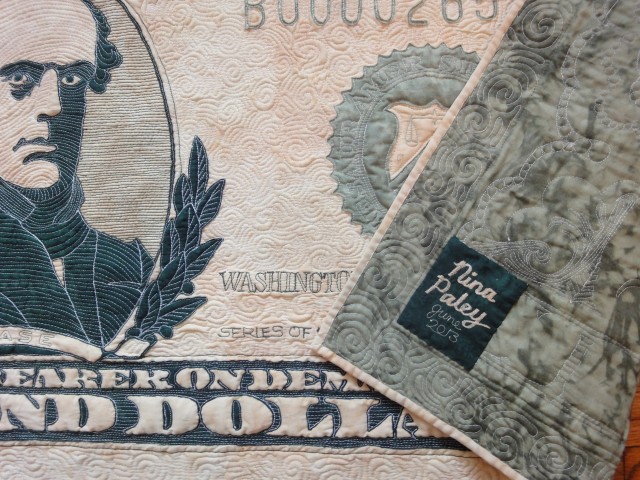 P.S. This sucker was a ton of work. The Muse made me do it. A master quilter I ain't. Quilt appraisers would scoff because I don't properly tie off and hide my threads, and because there are some puckers and pleats in the quilting. But if I billed the hours I put into this as an animator, I would invoice more than $10,000.
P.P.S. Bargain (Ten Thousand Dollars) will be on display at my upcoming Art Quilt Show at Sleepy Creek Vineyards.