Astute observers of Seder-Masochism will notice one "Producer X" on the poster: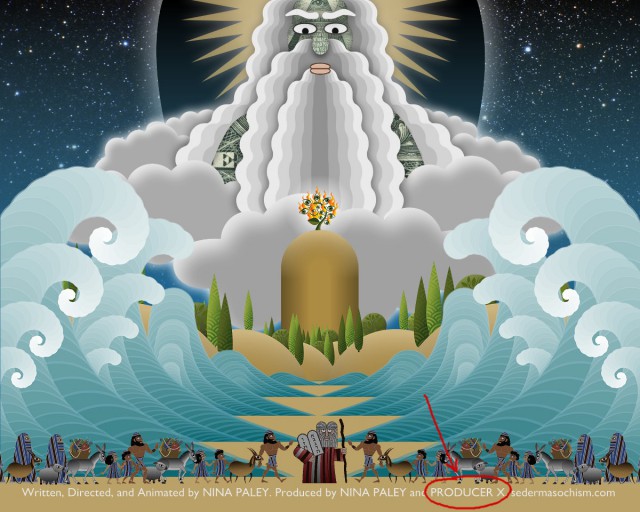 This is consistent with the film's opening credits: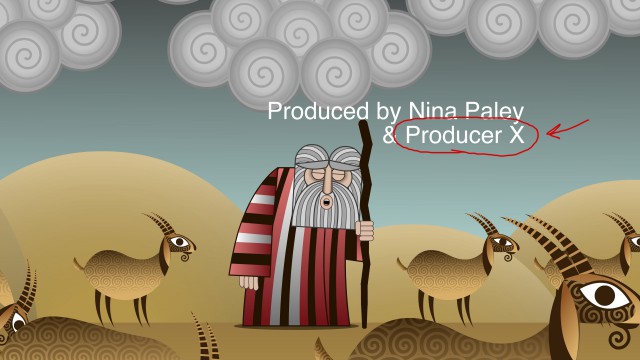 and end credits: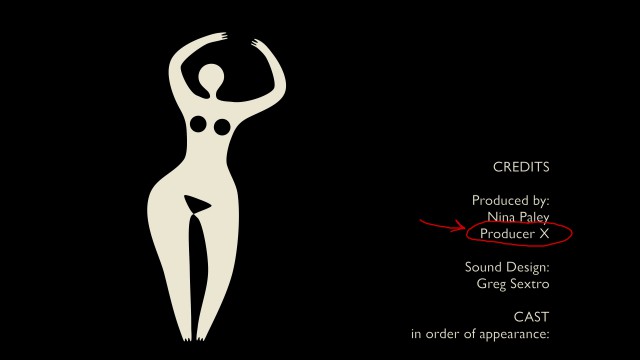 Why? Who? WTF?
I made Sita Sings the Blues almost entirely alone. That caused an unforeseen problem when it came time to send the film out into the world: I was usually the only person who could represent it at festivals. Other films have producers who aren't also the director. Other films also have crews, staff, multiple executives, and money. As SSTB's only executive, I couldn't be everywhere at once. Often I couldn't be anywhere at once, due to having a life that includes occasional crises. Sometimes, if I was lucky, I could send an actor like Reena Shah, or musician like Todd Michaelesen, or narrator like Aseem Chaabra, or sound designer Greg Sextro. But most of the time it meant there was no human being representing the film when it screened at film festivals.
I'm even more hermitic now, and made Seder-Masochism in splendid isolation in Central Illinois. This time I worked with no actors, narrators, or musicians. I did try recording some friends discussing Passover, but that experiment didn't make it into the film. Greg Sextro is again doing the sound design, but we're working remotely (he's in New York).
I like working alone. But I don't like going to film festivals alone. And sometimes, I can't go at all.
Such as right now: in June, Seder-Masochism is having its world premiere at Annecy, but I have to stay in Illinois and get surgery. I have an orange-sized fibroid in my cervix, and finally get to have my uterus removed. (I've suffered a lifetime of debilitating periods, but was consistently instructed to just suck it up, buttercup; no doctor bothered looking for fibroids over the last 30 years in spite of my pain. But now that I'm almost menopausal, out it goes at last!)
Film festivals are "people" events, and having a human there helps bring attention to the film. The reason I want my film in festivals is to increase attention. The more attention, the better for the film, especially as a Free Culture project. So I want a producer with it at festivals.
Fortunately, Producer X has been with Seder-Masochism from the very beginning. After Sita's festival years, I knew that credit would be built into my next film.
So who is Producer X?
Whoever I say it is.
She'll see you in Annecy!