Working on new tessellating animated gif tiles led me to revisit my older tile experiments, and repurpose for website backgrounds. I originally made these animated mosaics in Macromedia Flash 8 for my section of the feature film The Prophet.
I tried recreating the mosaics in Moho, but quickly became frustrated. Moho's masking is very unlike Flash's; in fact Moho's everything is very unlike Flash's, and where Flash excels at this type of mechanical construction, Moho favors the organic. Rather than figuring it out anew, I fired up the ol' 2007 PowerMac and dug into my old Flash files. I exported as Quicktime Video with an alpha channel and copied to my less-ancient 2014 Mac Pro. Moho couldn't read the old Quicktime format, so I exported again as Apple ProRes 4444, dropped it into Moho Pro, fiddled about with sizing, and eventually exported this transparent gif that will permit cartesian tiling even though the underlying shapes are hexagonal.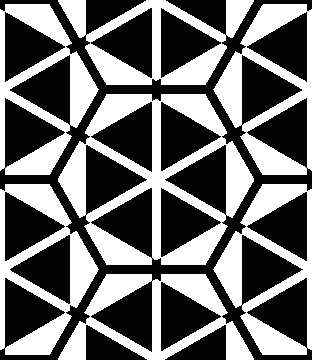 In the process I discovered this cool website that will generate a "sprite sheet" from your uploaded gif. This would have been convenient back when I was designing morphing tile fabric patterns, but back in those days – the days Flash still worked – I had to do it manually.

Speaking of Flash, Adobe just announced it's dead forever. Wouldn't it be nice if they released Macromedia Flash (you know, the GOOD version from before they bought and ruined it) so others could develop it?