Today I was supposed to speak to an animation class via video. College I'd never heard of, teacher I'd never heard of, small thing, figured they knew who I was. Made plans, blocked space in my calendar. Barely an hour before I'm supposed to log onto their zoom link, I get this: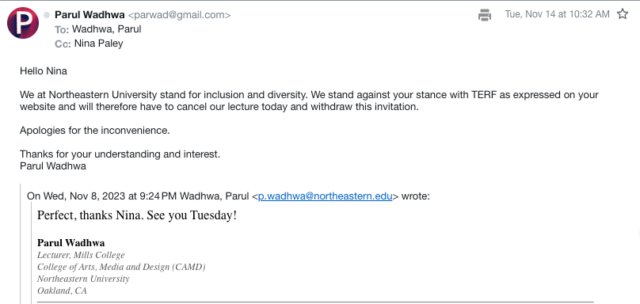 Full email thread pasted below, because it's so typical. I will never accept another speaking invitation unless they promise not to do this.
Every time I think, "good, they don't care, it's blown over," and
EVERY TIME
this happens. I'm like Charlie Brown trying to kick Lucy's football.
This was such a small thing I was doing AS A FAVOR TO THEM.
No more.
Parul Wadhwa <parwad@gmail.com>

To:

Wadhwa, Parul

Cc:

Nina Paley

Tue, Nov 14 at 10:32 AM

Hello Nina

We at Northeastern University stand for inclusion and diversity. We stand against your stance with TERF as expressed on your website and will therefore have to cancel our lecture today and withdraw this invitation.

Apologies for the inconvenience.

Thanks for your understanding and interest.

Parul Wadhwa

On Wed, Nov 8, 2023 at 9:24?PM Wadhwa, Parul <p.wadhwa@northeastern.edu> wrote:

Perfect, thanks Nina. See you Tuesday!

Parul Wadhwa

Lecturer, Mills College 

College of Arts, Media and Design (CAMD)

Northeastern University 

Oakland, CA

From: Nina Paley <nina_paley@yahoo.com>

Sent: Wednesday, November 8, 2023 2:05 PM

To: Parul Wadhwa <parwad@gmail.com>

Cc: Wadhwa, Parul <p.wadhwa@northeastern.edu>

Subject: Re: Guest Lecture request at Northeastern University virtually

 

Hi Parul,

Got it! 

You can use the bio at https://sedermasochism.com/director/

See you Tuesday,

–Nina

On Tuesday, November 7, 2023 at 02:36:18 PM CST, Parul Wadhwa <parwad@gmail.com> wrote:

Dear Nina

I am looking forward to having you come to our class next week Tuesday at November 14th, 10am PST. 

Can you please share your bio that you'd like me to use to introduce you to our students at Northeastern University.

Please let me know if you have any questions!

Looking forward to meeting you next Tuesday.

Thank you for your time,

Parul Wadhwa

PS- Here is the zoom link for joining the class: Parul Wadhwa is inviting you to a scheduled Zoom meeting.

Topic: ARTD2370 20327 Animation Basics SEC 30 Fall 2023 [OAK-1-TR]

Time: Nov 14, 2023 08:30 AM Pacific Time (US and Canada)

        

Join Zoom Meeting

https://northeastern.zoom.us/j/91462978281?pwd=S1RXYmdQQ1NUTmUxWk44T0RDV1Z2QT09

Meeting ID: 914 6297 8281

Passcode: 881802

—

One tap mobile

+12532158782,,91462978281# US (Tacoma)

+12532050468,,91462978281# US

Find your local number: https://northeastern.zoom.us/u/abQwIVKUea

—

On Mon, Oct 30, 2023 at 3:34?PM Nina Paley <nina_paley@yahoo.com> wrote:

Thank you!!

—Nina

Sent from my iPhone

On Oct 30, 2023, at 5:27 PM, Parul Wadhwa <parwad@gmail.com> wrote:

Yes, that works too.10-11am PST, Nov 14th it is then. I will send you a calendar invite this week. Thanks!

On Mon, Oct 30, 2023 at 3:25?PM Nina Paley <nina_paley@yahoo.com> wrote:

Hi Parul,

Can we do it an hour earlier?

—Nina

Sent from my iPhone

On Oct 30, 2023, at 5:19 PM, Parul Wadhwa <parwad@gmail.com> wrote:

Hi Nina

That's great. Tuesday the 14th of Nov works for me. Let's keep it at 11am PST?

Would you have about 15 minutes any day before that so we can discuss the lecture briefly? I can meet on zoom/phone any Friday for 15-20 mins. 

Thanks so much for your time. Looking forward to having you in class.

parul

On Fri, Oct 27, 2023 at 8:26?PM Nina Paley <nina_paley@yahoo.com> wrote:

Hi Parul,

Great! Any of those Tuesdays would work. How about the 14th?

—Nina

Sent from my iPhone

On Oct 27, 2023, at 9:27 PM, Parul Wadhwa <parwad@gmail.com> wrote:

Thanks for your interest, Nina. Yes, my class meets virtually every Tue 9-12pm PST. 

Would a meeting over zoom work for you?

Would any Tues between the 14th Nov-5th Dec work for you?

thanks,

p

On Fri, Oct 27, 2023 at 6:44?PM Nina Paley <nina_paley@yahoo.com> wrote:

Hi Parul,

I'd love to, but I live in Illinois. Would this be a remote video visit?

Thanks,

—Nina

Sent from my iPhone

On Oct 27, 2023, at 4:23 PM, Parul Wadhwa <parwad@gmail.com> wrote:

Dear Nina

My name is Parul and I am an artist and educator currently teaching at Northeastern University, Oakland as a Lecturer. My current offering is an Animation Basics course (syllabus attached) that introduces undergraduates to the 12 basic principles of animation and their applications in 2D and 3D using animation tools.

I am writing to you to invite you as a Guest Speaker to my class. 

I teach Tuesdays 9am-12pm PST  virtually so any coming Tuesday would work for me. Would you be available for about 40-45 mins + 10 mins Q&A to speak to my class? 

I was hoping you could share about Sita sings the Blues (which is my favourite piece of yours) in the context of the class. I was wondering if you could introduce your journey into animation and working on this film, the animation techniques you used and the storytelling process. Also, anything else from your work that you might want to include.

There is a stipend of $150 from the university for your valuable time.

Please let me know if you are available and interested. 

Looking forward to hearing from you!

Have a good weekend.

—

Sincerely,

Parul Wadhwa

MFA, Digital Arts and New Media

<ARTD 2370 + ARTD 2371 .pdf>