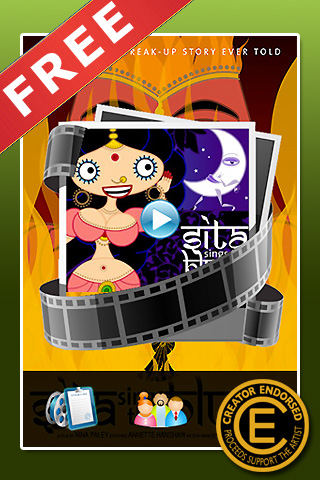 Hooray! The complete Sita Sings the Blues movie is now available FREE for the iPhone, rather than for $3.99. The former price was required because for every copy of Sita "sold," I had to pay almost $2 to extortionate corporate licensors. That's a flat fee; doesn't matter what the sale price is. So selling Sita apps for the customary $.99 would result in a huge loss for me, since I'd be paying far more than that to the licensors.
The solution of course was to make it FREE. They're all Promotional Copies. No sale, no license fee. To support Mars Yau, who created the app, and me, who created the movie, you can buy the Sita Wallpaper App for $.99. And of course you can always donate to the Sita Distribution Project.
If you have an iPhone please rate the app highly (5 stars? if that doesn't violate your conscience) to help it spread.