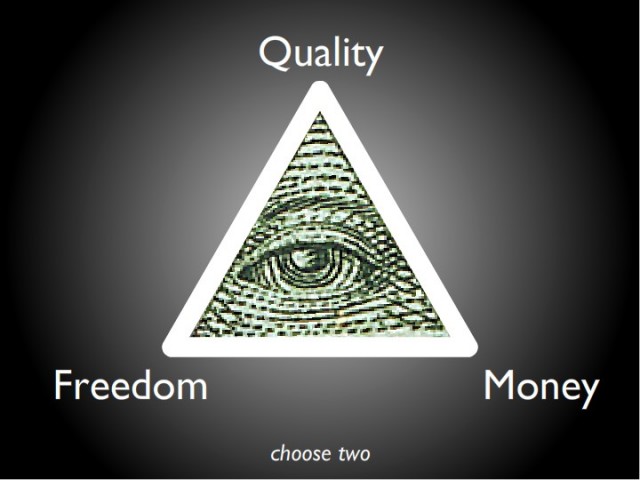 People seem to want to believe that just freeing works is some magic recipe for success. It isn't. But since people crave simple business models, I came up with one this morning:
Quality
Freedom
Money
______
Any Two = success
A very good (Quality) film can succeed if it is Free (Freedom) OR has a big promotional budget (Money). A Free film can succeed if it is very good (Quality) or, if it's not so good, it has lots of paid promotion (Money, because if it's not good people won't promote it on their own initiative). A film with lots of Money will succeed if it's good (Quality) or if it's Free. Imagine how much further a crap film could go if it's not only heavily advertised, but Free to share too.
With only one of these properties, a film is unlikely to succeed. If a film is very good but neither Free nor Moneyed, no one will hear about it and it won't have a chance to become popular. A Free film that sucks won't go far. A Moneyed film will garner attention only as long as it's being promoted; once ad spending stops, audience attention goes away.
With all three of these elements, you'll have a success the likes of which the world has never seen. Moneyed productions have yet to be Free, but maybe someday, for some reason, someone will pour tons of cash into promoting a Free, Quality production. Of course if it fails, that will be due to insufficient Quality, which can't really be measured and for which no one wants to take responsibility. If someone wants to try this experiment with Sita Sings the Blues, which is already considered "good" and is forever "free," be my guest!
Given the financial dire straits of the independent film industry, filmmakers should really be looking at Free, because they're unlikely to have Money. And everyone, always, should be focused on Quality, no matter what business model they prefer. Except Quality is a mystery, and worrying about it does not lead to better Art. But if you happen to luck into some Quality, you know what to do now.