You can buy it right now at CDBaby. Soon it will be at the Sita Merch Empire (where we'll get more profit per sale), but with today's snow it may take a while for the initial shipment of CDs to reach the order fulfillment warehouse.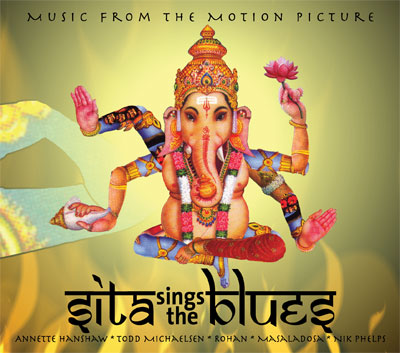 In semi-related news, I mention the soundtrack on this podcast interview with the CommandLine. I was all worried about being inarticulate, but actually I said some smart stuff. Thanks to Thomas Gideon/cmdln for asking smart questions, making smart comments, and making a smart show.
Oh, and DC was fun! I spoke at American University. Great audience, great hosts. (And AU's IP Law Clinic did all the initial legal research on the Annette Hanshaw songs I used in Sita Sings the Blues, for which I am forever grateful.) During my visit, everyone in DC was still talking about their weeks-past "snowpocalypse," even though the snow was mostly melted, just some patches on the sides of the streets. I thought, "big deal, I wish we'd gotten more snow in New York." Then I came back to New York just in time for a snowpocalypse here! I have a lot more sympathy for DC now.