Sigh. No one "owns" Sita Sings the Blues, or any of my Free works, but things like this fraudulent copyright claim keep happening: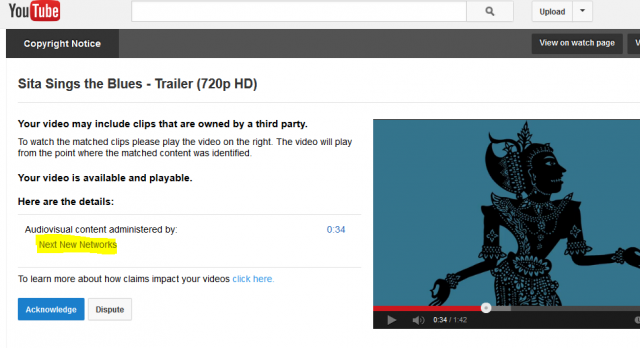 I've never had any problem with Next New Networks. I like its founder Fred Siebert. Since I believe the folks at Next New Networks are cool, maybe they could assist with a "teaching moment" and figure out where along the chain of bureaucracy this happened. It would be helpful and enlightening for many to see just how easy it is to make a false copyright claim in YouTube's hair-trigger content ID system.
Since Sita Sings the Blues is now CC-0 "Public Domain", I can't go legal over things like this, nor do I want to. I do wonder what happens with fraudulent claims over other Public Domain material. Do different entities just randomly claim PD works and then duke it out with each other? If PD material can be claimed by big corporations, that will exclude small players from using it because they don't have the resources to challenge said false claims. But don't get me started.

Update: Mike Schmitt, who took the screenshot at top, says,
"BTW, the copyright claim flags the 0:34-second mark in the trailer, which is the exact point at which the percussion-heavy song starts. So AFAIK it's a content claim against the song (since there seems to be some confusion here). The same entity holds a copyright claim against the other Sita trailer on my channel, which starts with a different song.
ETA: the video in question is here: http://www.youtube.com/watch?v=GI0ehPVUGzs "