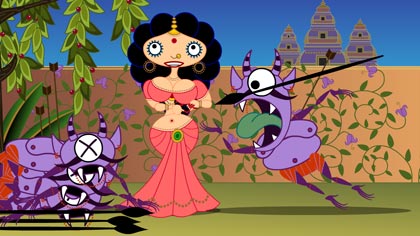 We have a whole mess o' festival screenings coming up in November. The ones I will actually be at, in person:
NEW YORK, Nov 8 and 9:
Saturday, Nov. 8, 11:00 am
Sunday, Nov. 9, 11:00 am
IFC Center (323 6th Ave @W 4th St., Greenwich Village)
These matinee screenings are part of the New York Children's Film Festival. (Sita isn't exactly a kid's movie, but it plays very well to older kids and teens and their parents)
SAN FRANCISCO, Nov. 13:
Nov. 13: 7:00 pm and 9:15 pm with a reception in between.
Opening the San Francisco International Animation Festival
Landmark's Embarcadero Center Cinema (Battery @ Clay st, downtown SF)
NEW YORK again:
Thursday Nov. 20, 6:00 pm
Saturday Nov. 22, 3:00 pm
MoMA (11 W. 53 Street, between 5th & 6th aves)
In the Film exhibition Best Film Not Playing at a Theater Near You (Gotham Award nominees)

Monday November 24: Panel Discussion
The five nominees for this year's Best Film Not Playing at a Theater Near You award gather for a panel discussion illustrated with film clips. Program 90 min.
MoMA's Theater 3, mezzanine, Education & Research Center
More November screenings that I won't be able to attend, but I hope you go if you're in the area:
Ft. Lauderdale (FL) Int'l Film Festival, Nov 7
World Film Festival of Bangkok (Thailand), Oct 24-Nov 2
Winnipeg Animation Festival (MN, Canada), Oct 29-Nov 2
Festival voix d'Etoiles (France), Oct 30-Nov 2
Moscow Big Cartoons Festival (Russia), Nov 1-16
Leeds Int'l Film Festival (UK), Nov 4-16
Holland Animation Festival (The Netherlands), Nov 5-9
Asheville Film Festival (NC), Nov 6-9
Flip Animation Festival (UK), Nov 6-8
Olympia Film Festival (WA), Nov 14
Beyond Borders Film Festival, (MN), Nov 15
Check out the occasionally-updated full screening list here.