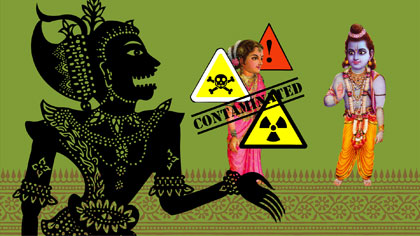 Come see Sita Sings the Blues in Queens!
Thursday July 21st
5pm to 8pm
Starlite Pavillion
130-05 101st Avenue
Richmond Hill, NY 11419 (map)
Admission: $5
I will be there for a panel discussion afterwards, along with Aseem Chhabra (aka Shadow Puppet #1), Ravisharon Kaur, and Bina Mahabir.
There's an extra special reason you should attend this screening: it was organized, at great effort, by a devout Hindu, Rohan Narine, for a largely Hindu audience. He originally set it up at his Mandir, but after a while someone nixed it. Then he rescheduled it at a Hindu senior center, and again, after a while, someone else nixed it. Finally he chose the neutral Starlite Pavillion, and of course the Hindutvadi fundamentalists want to "protest" it (in their usual classy way, by sending hundreds of batshit emails). Now, there have been thousands of Sita Sings the Blues screenings, but this is the first one to be specifically targeted. Why? Because this screening was organized by actual devout Hindus, and  the Hindutvadis can't stand that. So please, show some love for our real Hindu friends, and come to this screening.
Still not sure? Here's Hinduism Today's endorsement of Sita Sings the Blues.
Love,
–Nina
Update: Tyrants only have power if you give it to them. Unfortunately, the Starlite Pavillion just canceled the Sita Sings the Blues screening.