Funny how I have all these Sita Sings the Blues T–shirts, but none with a picture of just Sita herself. I want to remedy that. The question is, what color should the "Sita" shirt blank be? Colors I'm considering are: black, pink ("raspberry," according to the Bella shirt co.), or creamish-tan. Which color should I choose?
As always, click the thumbnails to see larger images. Also: I put the "Sita Sings the Blues" logo on this design, but I don't have to. Would you rather have a shirt with the logo, or without? So far none of the shirts I sell have the logo anywhere, making them kind of artsy and mysterious. Should I continue that trend?
Here's the design superimposed on the photo of a model wearing the Bella scoopneck "raspberry" colored shirt: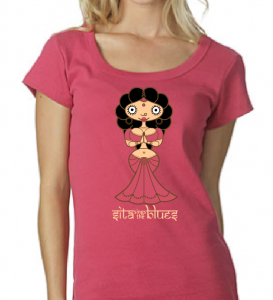 In related merch news, I'm finally going to produce some "Shiva Natraj" shirts. These will be blingy gold foil on beautiful shades of purple that I know are awesome: women's "currant" and men's "eggplant."
But do please help me choose a fabric color for the "Sita" shirt. Thanks!