I'll be returning to my old stomping grounds of Santa Cruz, CA in October (actually part of a longer North American film festival tour with Seder-Masochism, which I'll announce soon).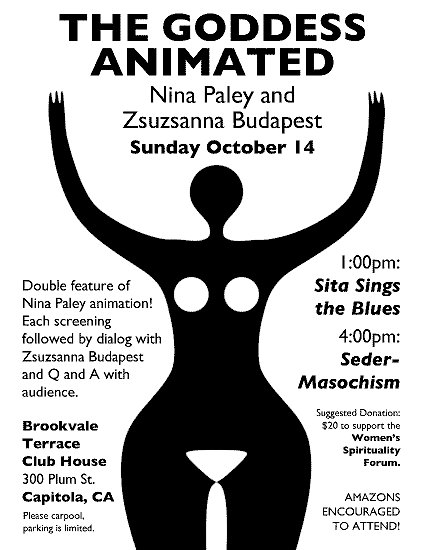 The Goddess Animated: Nina Paley and Zsuzsanna Budapest
Double feature of Nina Paley animation! Each screening followed by dialog with Zsuzsanna Budapest and question-and-answer with audience.
1pm: Sita Sings the Blues
2009 Dir. Nina Paley
Paley's award-winning 2009 animated musical interpretation of the Hindu epic Ramayana has earned widespread critical praise, a 100% rating on RottenTomatoes, and continued places on best-of lists. Roger Ebert wrote of it, "I am enchanted. I am swept away. I am smiling from one end of the film to the other."
4pm: Seder-Masochism
2018 Dir. Nina Paley
Loosely following a traditional Passover Seder, events from the Book of Exodus are retold by Moses, Aharon, the Angel of Death, Jesus, and the director's own father. But there's another side to this story: that of the Goddess, humankind's original deity. Seder-Masochism resurrects the Great Mother in a tragic struggle against the forces of Patriarchy.
Suggested donation: $20 to support the Women's Spirituality Forum.
Tickets at the door.
AMAZONS ENCOURAGED TO ATTEND!
Sunday October 14, 2018
Brookdale Terrace Club House
300 Plum St., Capitola, CA
Please carpool; parking is limited.