A new feature in which I recommend the work and websites of people who buy me lunch. Today's entry: Marty Wombacher!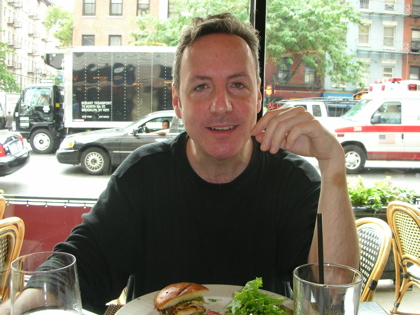 You may know Marty Wombacher as the publisher of Fishwrap, a 1990's 'zine about magazines, or as the author of 99 Bottles of Beer Off The Wall, an answer to Zagat guides. Lately Marty's been on fire with essays and anecdotes which you can read on his myspace blog. Now I happen to hate myspace – it's ugly, clunky, unweildly and occasionally even confusing design-wise, and the very word "myspace" is an embarrassment. I'm not registered with myspace, I avoid it…but I've been reading Marty's blog almost daily, due to the quality of the writing. If you still can't bear to visit any myspace page – and I can't blame you – you can buy Marty's upcoming, ink-on-paper book, The Boy Who Would Be A Fire Truck. Actually you can buy the book regardless.
Would YOU like to be featured in Links for Lunch? Then buy me lunch. My email address is at the bottom of the middle column, the one with the pictures linking to my movies and cartoons and stuff.