A new feature in which I recommend the work and websites of people who buy me dinner. Today's entry: Thomas Florek!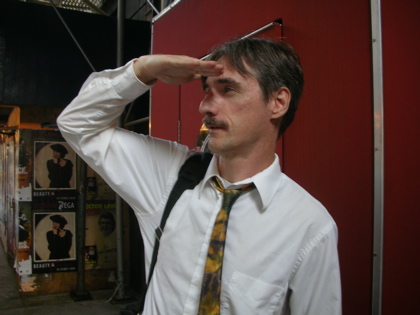 Songwriter. Filmmaker. Humanitarian. Thomas Florek seems determined to make the world a better place – by any means necessary. Already he's turned to such extreme methods as documenting philanthropic bike rides, making a feature doc about semi-obscure singer Jack Stock, and creating yarncore video Gangsta Knitter. He achieved the latter with his colleague Doug, with whom he forms the duo Tom and Doug. Florek is a supporter of the Christmas Resistance Movement, and if I recall correctly wrote a holiday jingle called "I Maxed Out My Credit Cards For You," which I can't seem to find on his web site. Most recently, his philanthropic nature led him to buy me a dinner of Indian haute cuisine at Devi. Thanks, Thomas!
Would YOU like to be featured in Eats for Endorsement? Then buy me dinner. My email address is at the bottom of the middle column, the one with the pictures linking to my movies and cartoons and stuff.