Judging from comments here, at Techdirt, and at BoingBoing, there seems to be much confusion about why I don't want DRM on Sita Sings the Blues. The simplest explanation is this: I am making my film available to all under an open license. Allowing a party to take the benefit of that license, but then limit the rights of downstream users is inconsistent and frustrates the original purpose of the open license — to promote and facilitate access and use of the work.
Some people seem to think DRM is irrelevant on "streaming content." I was one of them, which is why I was initially so indecisive about the Netflix streaming offer. DRM encourages people to think of certain liberties as being impossible, rather than merely taken away. Already many people think that "streaming" means "cannot be saved on my computer," instead of "optimized for real-time flow".  People make this false equation entirely because of user-side DRM.
So along with its other problems, DRM is a kind of anti-literacy device for the digital age.  The more hobbled people's phones and computers and music players get, the harder it is to remember what it was like when those devices served their users rather than the monopolists. The more deeply embedded DRM becomes, the more its restrictions will come to feel like "just the way things are", rather than an impediment that could conceivably be removed or worked around.
I respectfully submit a typical comment:
Its not a download or purchase , its "Free Streaming" . From my Roku box to my tv why should you or I care if it has drm.
This is a perfect example of the kind of illiteracy mentioned above. "…we're talking about a stream, which by definition is not saved on your computer".  This commenter and others have bought the industry's definition of "stream", even though there's nothing inherent in streaming that prevents saving. I can't blame them; until last week, I didn't think about what "streaming" meant either.
Here's another typical comment:
You're obviously making a symbolic stand here. That's fine. But please at least be honest about that instead of claiming that Netflix streaming is "breaking" my home electronics. My computer and my Xbox work just fine and my rights have not been violated in any tangible or meaningful way.
If data is sent to your computer, and yet your computer won't let you save that data, than an important function of your computer has been interfered with.  Who does your computer work for, anyway, you or them? It's not just a hypothetical breakage, either.  For example, if you wanted to divide the same incoming stream to two different computers in your house, similarly to how a "Y" pipe would do with water, Netflix DRM will prevent that.  Normally, your computer could do that just fine, but not when it's broken.
If the quibble is with the word "broken," we can use the less-inflammatory word "disabled," although people are eager to forget that "disabling" a computer means "breaking it in increments."
♦♦♦♦♦♦♦♦♦♦♦
My rejection of DRM is not a condemnation of Netflix (I like Netflix!) nor of those who use this very convenient service. I made this difficult decision as the author of Sita Sings the Blues. The only reason Netflix has DRM on its streams is because of pressure from the "content industry." Well guess what – I am the content industry too, and I say no to DRM.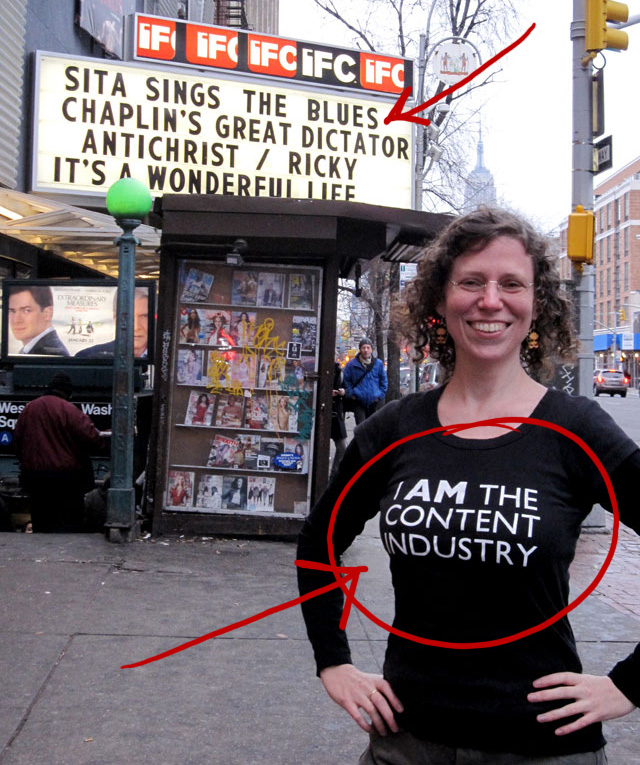 Thanks to Karl Fogel for contributing to this article.