Heads up, California peeps! July 20 I'm hosting a screening of Sita Sings the Blues to benefit the Electronic Frontier Foundation and Cartoon Art Museum.
Date:
Time: 7:00 PM – 9:00 PM

Address: Delancey Screening room
600 The Embarcadero
San Francisco, CA 94107
The next day, July 21, I'm returning to Santa Cruz for a screening of Sita at the Nickelodeon!
Special Screening and Q & A with Writer/Director Nina Paley
July 21st 7pm @ The Nickelodeon
210 Lincoln St.
Santa Cruz, CA (map)
Meanwhile the Cartoon Art Museum is having an exhibit of my work, Before Sita Sang the Blues: Spotlight on Nina Paley.
This retrospective will feature a selection of Paley's syndicated comic strips,  illustrations, and a series of prints, paintings and behind-the-scenes materials from Sita.
See old gems like this: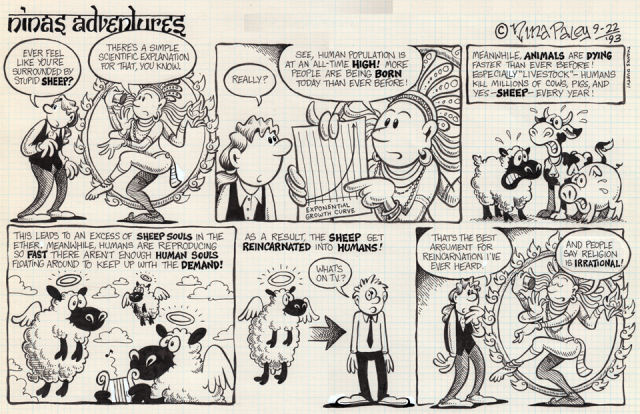 I'll be hanging around until early August. So if anyone in the Bay Area wants to hire me for speaking, now's the time to save big!