Notice: This has been popular! New orders temporarily suspended while I work on backlog. I'll offer Hundred Dollar Drawings again soon.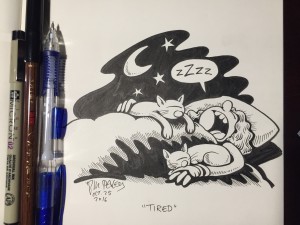 $100: Tell Nina what to draw* and she'll draw it. It could be as vague as a word ("quadruped," "equinox") or more specific ("a cat driving a car," "a sun and moon shaking hands") or even more specific ("a tabby cat driving a convertible sportscar over a cardboard box," "a sun and moon shaking hands over planet Earth, sky behind them half night and half day"). Nina will email you a photo of the finished drawing, and post it on her blog and social media.
*Specify drawing in Paypal checkout
+ $25: We'll ship you the original art. Sizes will vary but it will be on 8.5 x 11″ or smaller paper.
+ $100: I will also make a "Making-of" video of the drawing, such as the above.
+ $100: Drawing cleaned-up and reproduction-ready for ANY USE YOU WANT!
FAQ
Q: What if I don't like my drawing?
A: Too bad, sorry.
Q: Can you submit a sketch and let me comment for revisions?
A: No. If you want revisions, commission another $100 drawing, and a third, fourth, etc. You can get 10 $100 drawings for less than my usual professional rate.
Q: Can I use the drawing as a commercial logo for my business?
A: Yes.
Q: Can I use the drawing for advertising or other commercial purposes?
A: Yes, anything you want.
Q: Isn't that crazy cheap for commercial art?
A: Yes. But some of these drawings are also non-commercial. It's all less stress for me, and I don't care what happens to the image after I draw it. (Actually I do care – the more it's used, the better.)
Q: What about copyright?
A: Like most of my work this is Free Culture. There's effectively no copyright to license or buy. You can do whatever you want with the art you commission, but it's non-exclusive. I will be posting it on my blog and social media.
Q: What if I want exclusive rights?
A: Then you'll have to pay more than $100 – same as most professional commercial art of this caliber. Shoot me an email to discuss.
Q: What if Nina finds my drawing instructions abhorrent?
A: I will refund your money and not do the drawing. Or I'll keep the money and willfully misinterpret your request. That might be more interesting.
Q: Can you do a caricature if I send you a photo?
A: Not very well, but I'll try. I am not a caricaturist so likenesses not guaranteed to be recognizable or remotely able to fulfill hopes and dreams.