Background
A few years ago, when I shared this article about Caitlyn Jenner and another one  about Rachel Dolezal, many angry liberal friends called me "transphobic," and told me to "educate myself." They apparently didn't know I had spent many years deeply involved in various queer scenes in San Francisco, and had trans friends, and was gender dysphoric myself (it resolved in my mid-20's, which is not unusual.) Since I couldn't "educate myself" much more on trans people and queer theory, I considered what I really hadn't educated myself about: radical feminism. Like everyone else, I had been denouncing "TERF"s without reading anything they'd written. So I started reading, and quickly realized I was a gender-critical radical feminist. (If you're wondering why, I suggest you "educate yourself" about radical feminism. This video is a good place to start.)
Saying you're a gender-critical radical feminist in public is like saying, "I'm a witch! Burn me!" So I spent about a year and a half in seething, cowed silence. But finally, on February 25, 2017, I "came out."
The TERFening
In late February I noticed my liberal friends were sharing this "meme":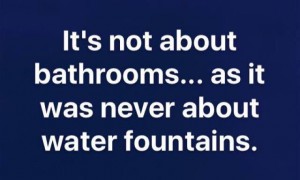 So I posted this on Facebook (which I now call fecebook):

You can try to read all 1000+ comments here, although fecebook organizes them so poorly they're hard to navigate.
Now it gets rather convoluted. Some of the comments have been documented anonymously here, along with annotation. I am "user J."
Meanwhile a friend took this screenshot of a fecebook page devoted to stalking and harassing "TERF"s like me: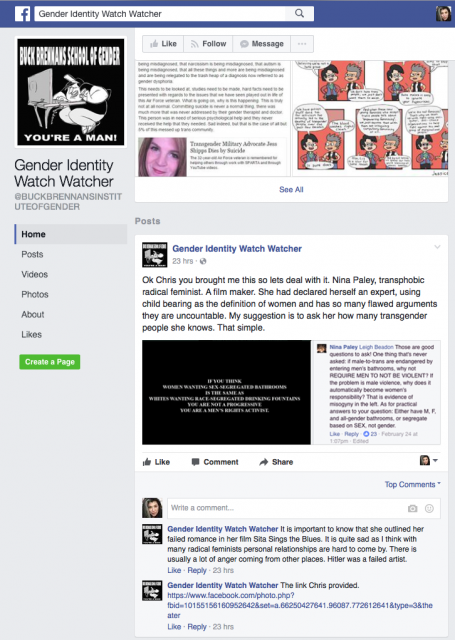 (This stalker page was since removed, which is unfortunate because no one should be censored online. When "activists" seek to ban pages like this, they actually help harassers by covering their evidence.)
Shortly thereafter, I was blocked from fecebook due to this offending comment I made, also to someone named "Chris," just like the "Chris" named on the stalker page above: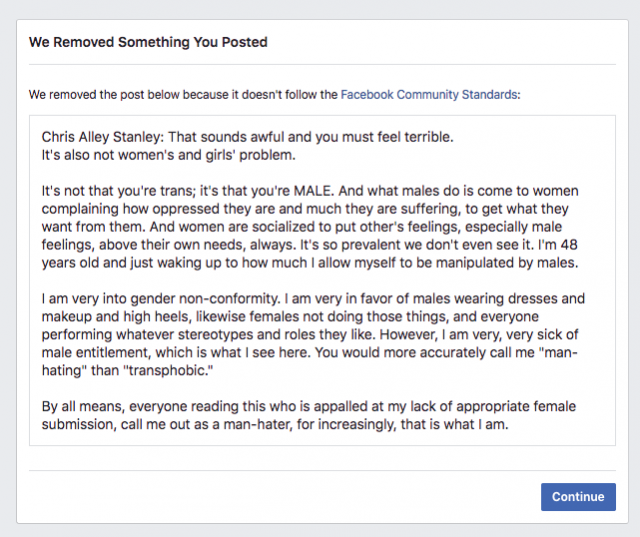 That comment was in response to this ("User C" is Chris):
(More screenshots and annotation here.)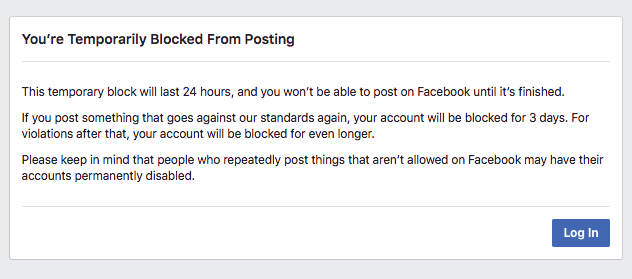 When that ban was over, I returned to fecebook to document the first ban: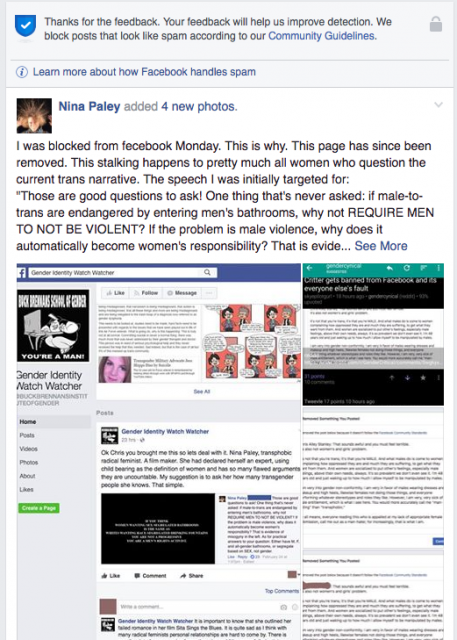 See at the top it says FB thought it "looks like spam"? That's because I took that screenshot the following day, when I was once again banned from fecebook (I could still read, but not post, comment, or use messenger). My harassers/stalkers presumably mass-reported it as "spam" so fecebook would automatically remove it and ban me, with no investigation.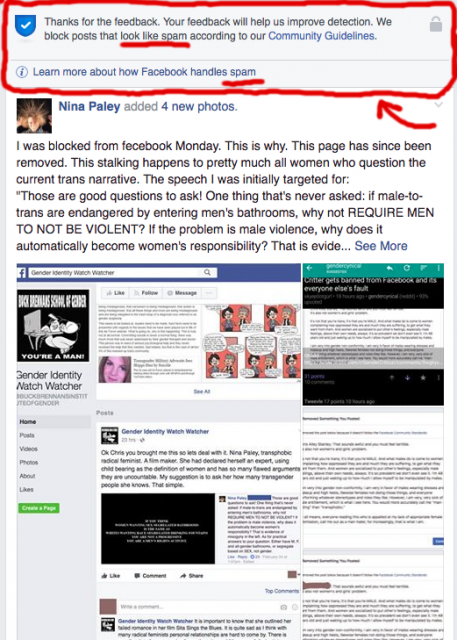 (The very first comment, on a post documenting my online harassment and silencing, was from a woman chastising me for being "transphobic and harmful"):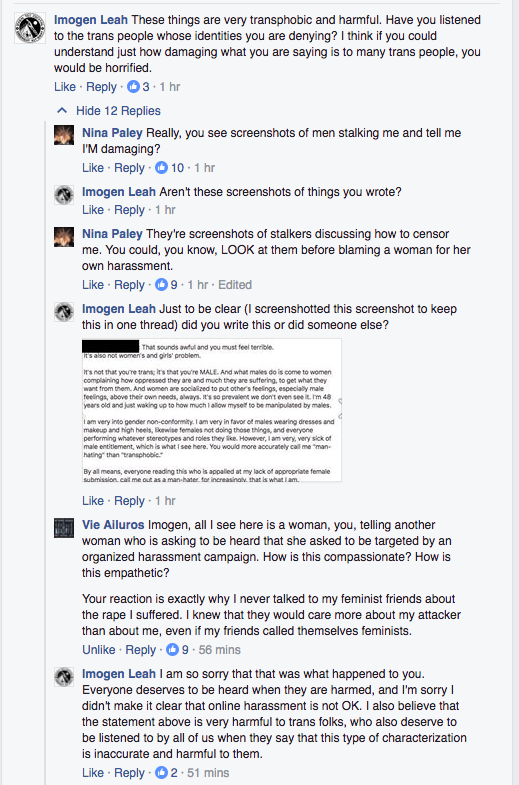 This time the ban was 3 days: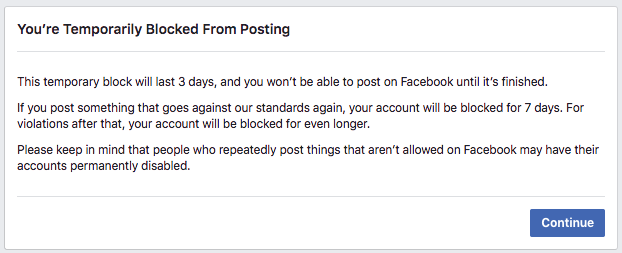 Meanwhile, on reddit….
Since I was banned on fecebook, I posted about it on a gender-critical feminist forum on reddit. This subreddit has it's very own "stalker sub," and a friend sent me this screenshot: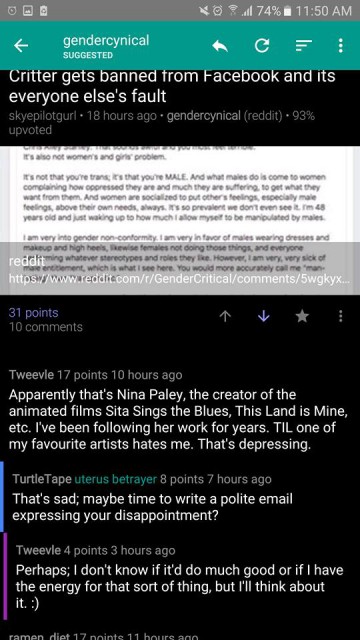 The "polite email expressing your disappointment" consisted of my new account getting permanently banned from reddit on a technicality. I tried to fix it:

And was sent this response from the moderator responsible:

"Witch hunting and harassment," yeah.
A week after that I was dis-invited to a $2,000 speaking gig at a college. They'd already sent me the paperwork but I hadn't signed it yet – lucky for them I guess. I can't get a straight answer as to what happened. I asked if it was because of my politics, and was told, "It's more about the pressures involving my job than anything else. I hope to speak to you more about it in the future but right now I am not able to. I hope you can please understand." It's called no-platforming, and it's been silencing feminists for a few years now.