I have done it, and it is paved. Some parts are terrifying, but at least there's no gravel. Let's begin:
1. This is the way cyclists from Urbana get to Kickapoo State Park. County Rd 1700 N is quiet and pleasant and even scenic in places.

2. Continuing to Kickapoo. There's a bridge here that's closed to cars, but you can walk your bike over it. You can also walk your velomobile over it, though it's a bit trickier.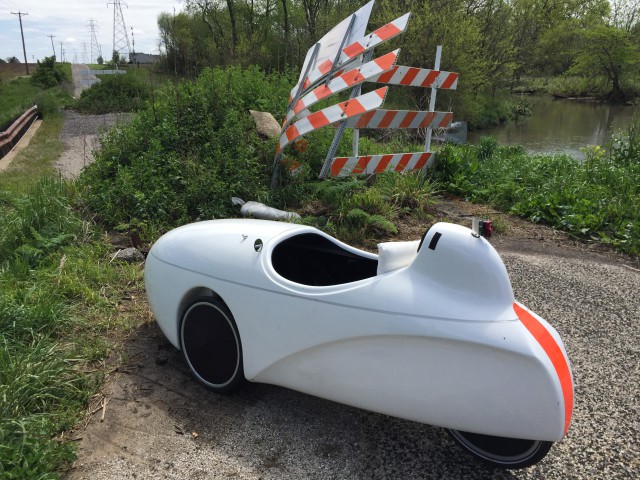 The water was extra high due to weeks of heavy rain.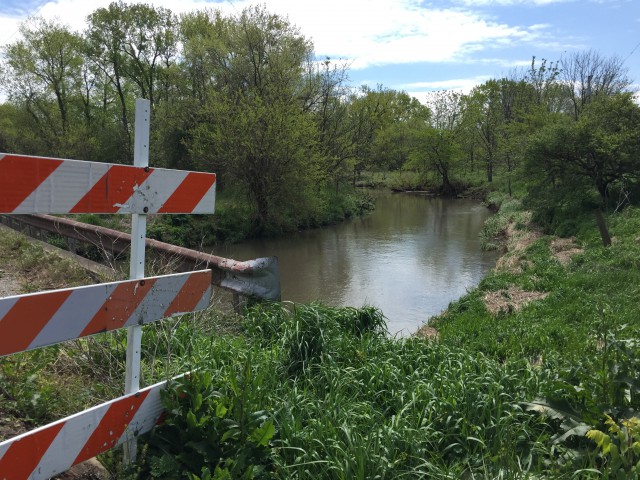 3. Getting from Kickapoo to Danville was less fun. People drive fast on those curving roads, and there's no shoulder most places, and where there is shoulder it's full of debris.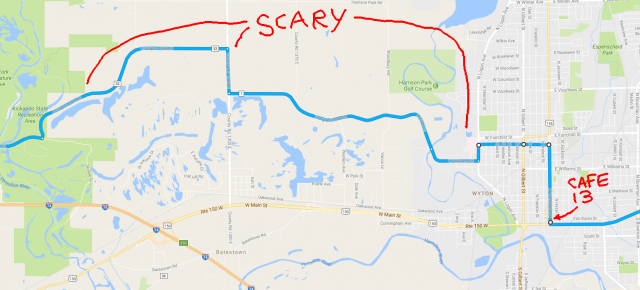 I stopped at Cafe 13 for lunch. Frosty, my velomobile, attracted a lot of attention in Danville, so I kept a close eye on her through the window.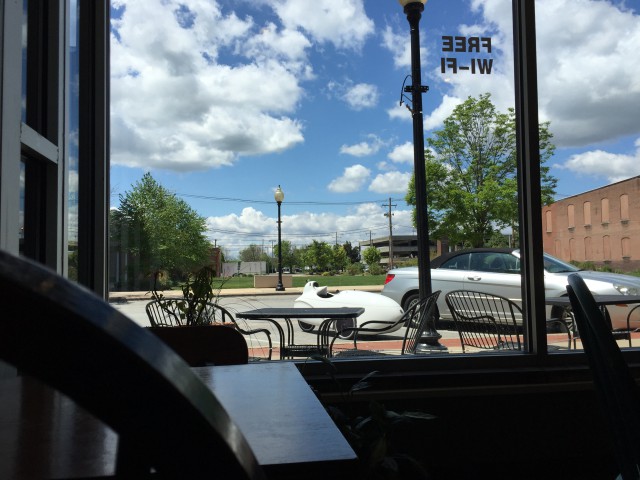 I also ate this delicious cheddar-and-veggie crepe: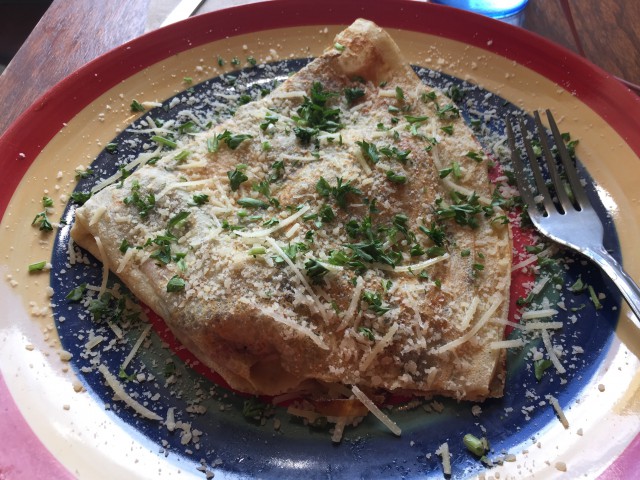 4. Onward from Danville. Fast drivers, no useable shoulders, and on my trip (Saturday May 6, 2017), 20+ mph crosswinds that blew the velomobile around. The faster she goes, the more she blows. It can be fun on a quiet road, but with the cars whizzing by it was scary indeed.

5. After crossing the state line (I would have taken a photo but there was no shoulder to stop on) route 136 continues to be terrifying all the way to Covington. Here there are significant grades, no shoulders, blind curves, crosswinds, and speeding cars. It's probably pretty but I can't say for sure, since I was distracted trying not to die.
6. Right after Covington comes Dixie Bee Road, a beautiful, quiet respite from the madness of route 136.

Oh how happy I was to pedal along it.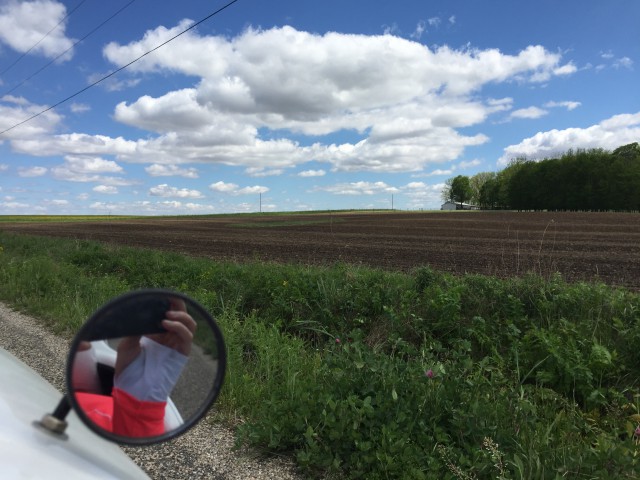 Of course even it had to be marred by the occasional cars: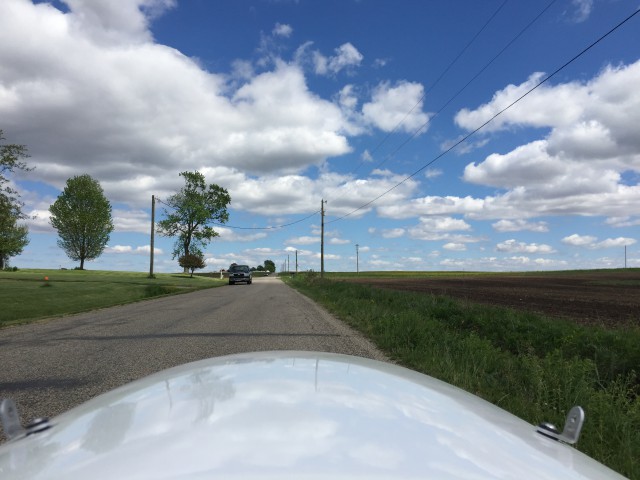 But mostly it was the kind of relaxing, pretty country road I love to bike on.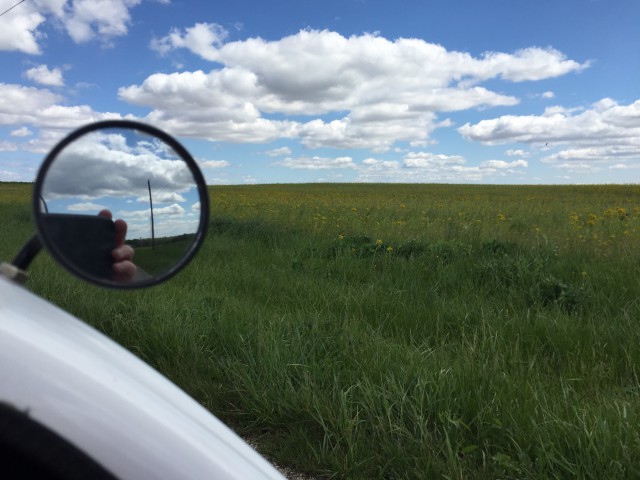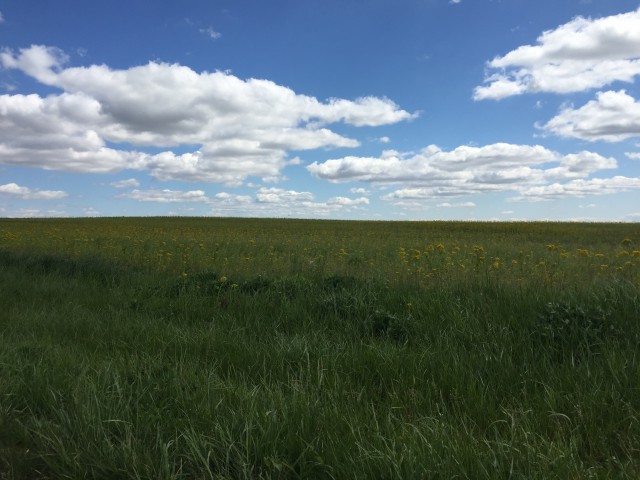 7. Eventually Dixie Bee rejoins route 136, much of which is OK.
I pulled off here to guzzle a can of soda, with about 20 miles to go.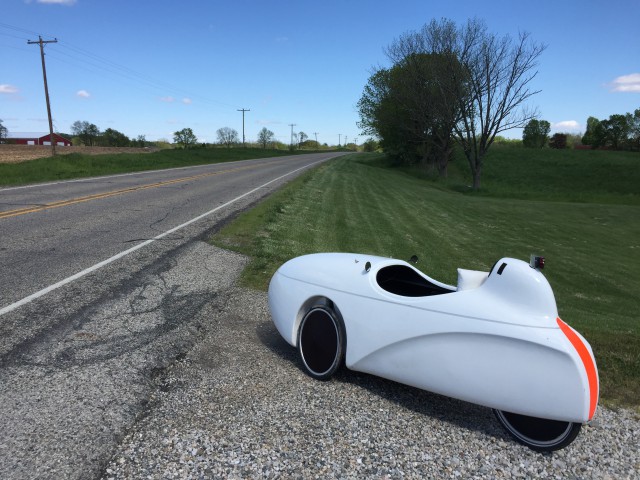 8. Route 136 got scarier entering Crawfordsville. Hills, cars, winds, etc. Plus I was getting hanxious. In the middle of town there are nasty angled train tracks, the kind that eat bike wheels. I stopped and walked Frosty across, annoying car drivers behind me. 

But at last I made it to this really nice bed and breakfast (I reserved a room as a birthday present to myself), which had guinea fowl outside my window.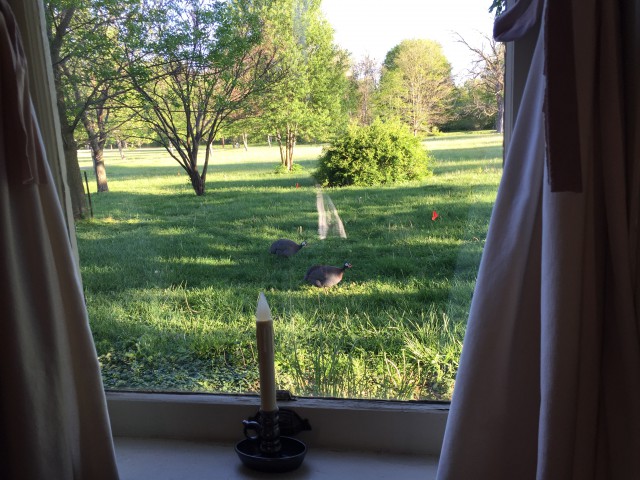 An excellent shower, some food, and a night of sleep later, it was time to hit the road again at 8:15 am. I left early in the morning because I was afraid of encountering gravel, which Frosty can barely move on. The only person I'd heard from who had bicycled from Urbana to Indianapolis had recommended route 136 the whole way, because so many Indiana country roads are unpaved. But I wanted to avoid cars as much as possible, and take back roads wherever I could. My research included studying these maps, but they were apparently made in 1999 and differed somewhat from what Google Maps showed. I used a combination of the cyclist association pavement maps, Google, and intuition to find my way, and I am here to tell you that way is paved!
9. Busy route 32 goes to an old frontage road. The pavement was old and uneven, but I didn't care. There was no traffic and it was peaceful and pretty. It continued like that all the way to Mace. Then I had to get on 136 for a while, but it wasn't bad, especially at 9am on a Sunday morning.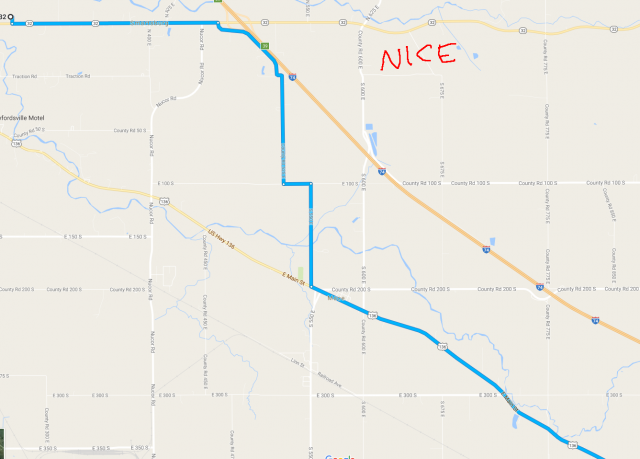 10. In New Ross route 136 intersects W 500 S. It is a wonderful quiet country road.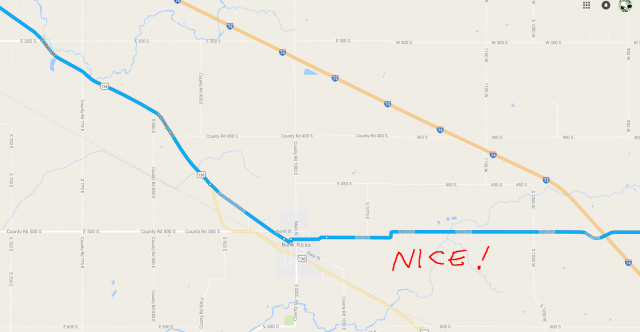 11. Instead of turning to gravel, W 500 S turned into fresh, beautiful, smooth-as-silk pavement.

It was glorious. Look how smooth that is.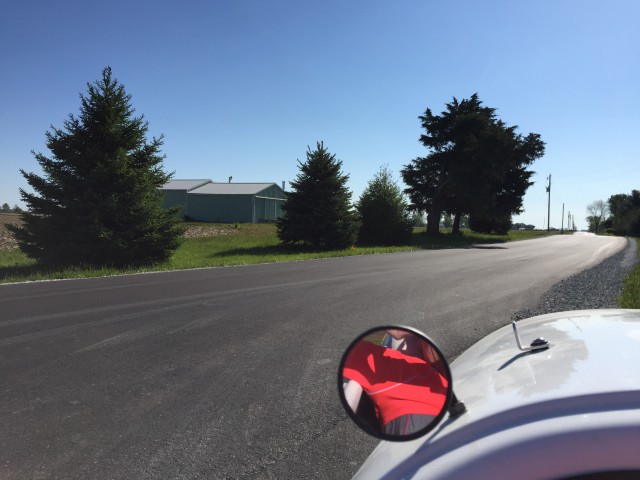 12. It continued to be beautiful and paved and quiet, except for that small stretch of route 39.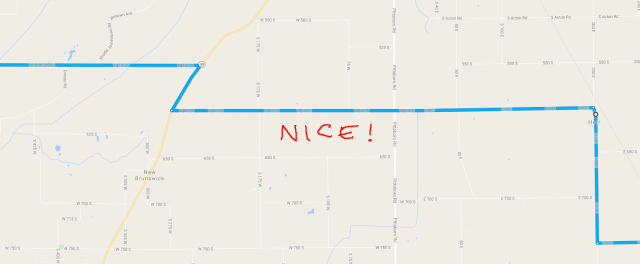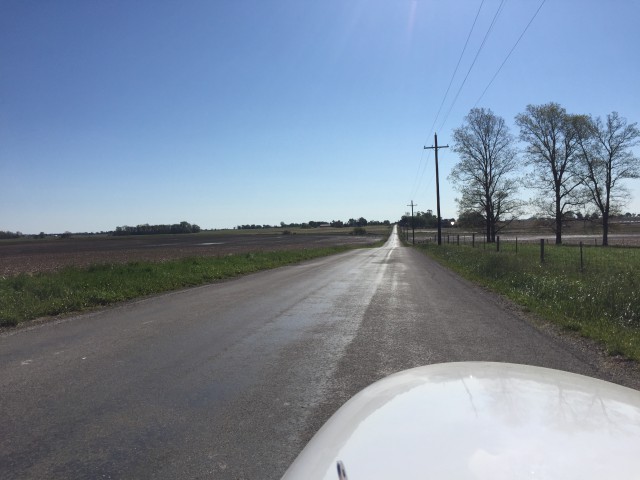 13. The roads were still nice as I approached Indianapolis.
14. And then, suddenly, they weren't nice any more.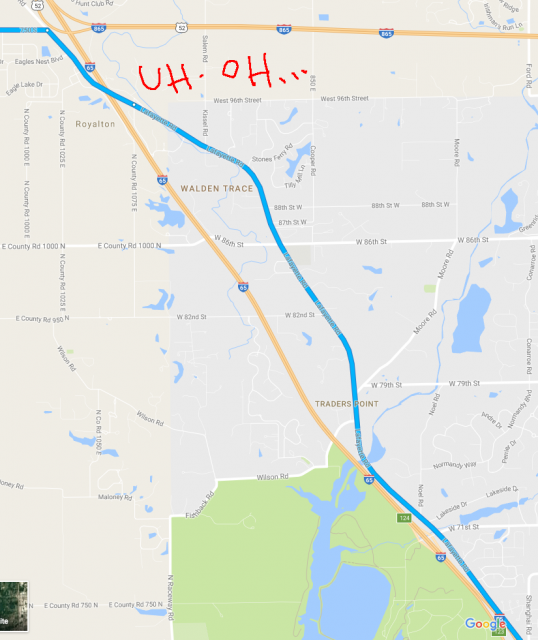 15. I took Lafayette Road because it's shown as a bike route on Indianapolis bike maps. The "bike lane" is a tiny, debris-filled shoulder on a busy 4-lane road with fast traffic. It's safer to ride outside these "bike lanes," instead occupying a traffic lane to discourage drivers from passing too closely (as they inevitably will if you use the "bike lane," where they're also less likely to see you at all). I was grateful for the uphill grades, because the furious pedaling allowed me to work off my constant anxiety. Downhills were worse, since I couldn't pedal and my legs were shaking. I admit I rode the brakes on many downhills on this trip. I go slower on unfamiliar roads.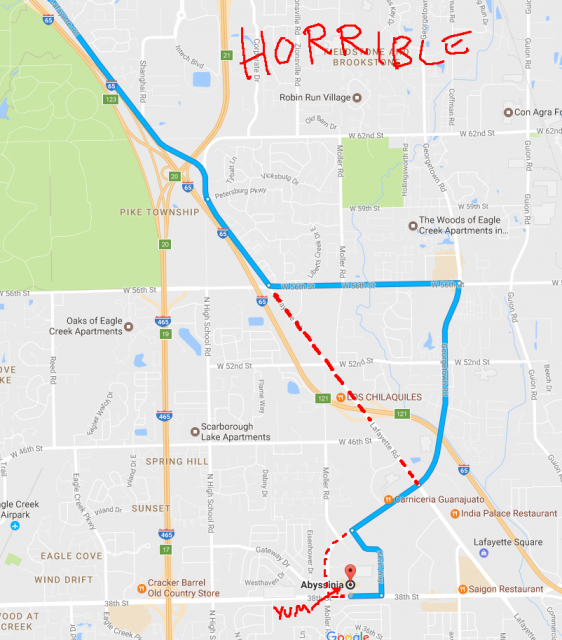 Other than those last hellish miles in Indianapolis, it was a lovely morning's ride, ending with an Ethiopian lunch.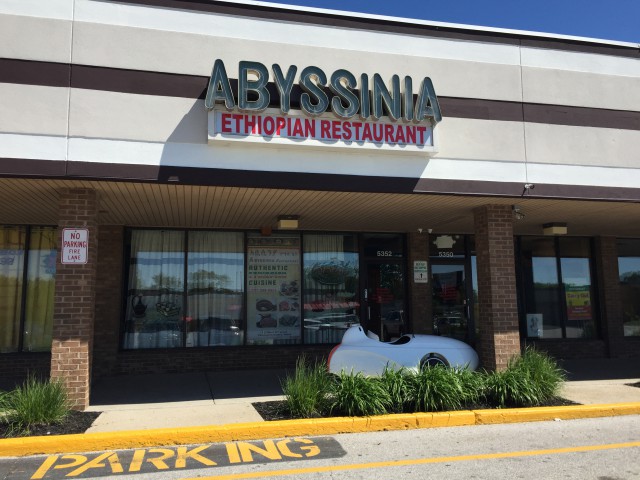 16. After lunch I pedaled about 5 more godawful miles on Lafayette to meet some friends at this park: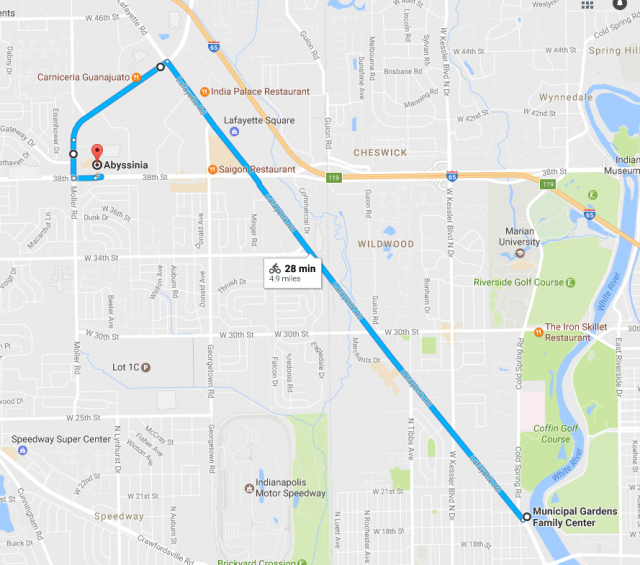 It was worth it. We even saw some herons flying over the flood-swollen White River (but I didn't catch any in my photos, sorry).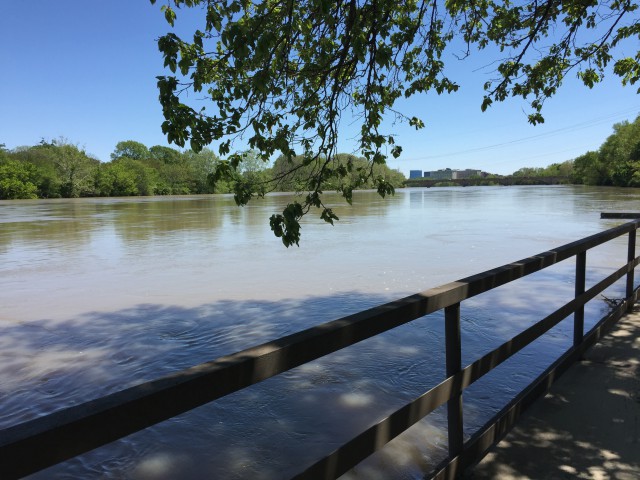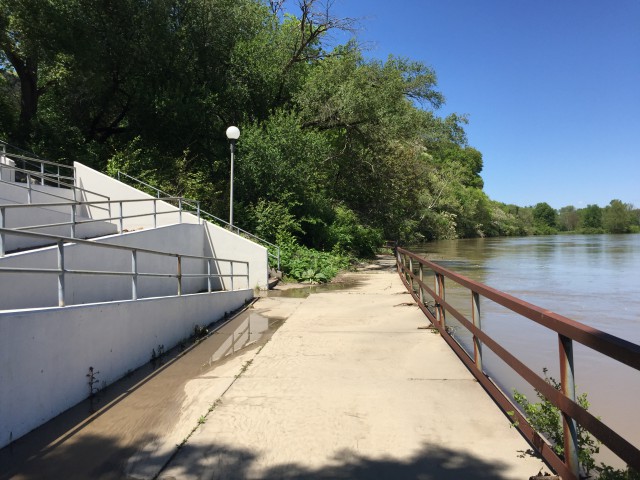 17. And then I pedaled all the way back to Urbana.
Haha, no, then my friend showed up and we strapped Frosty to the roof of his car and drove back. Happy Birthday to me!