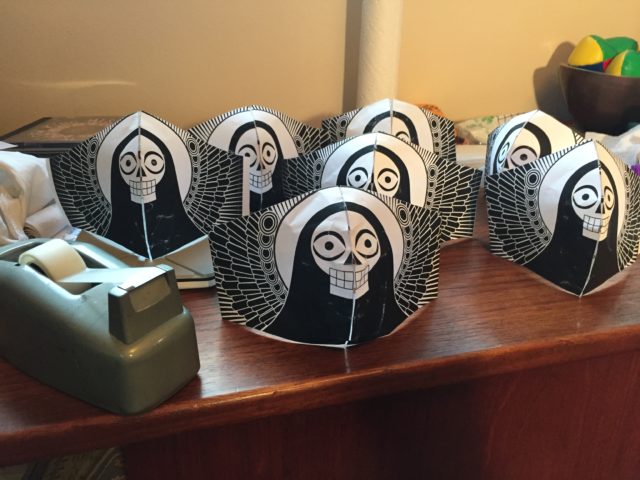 "Show more wing," said the peanut gallery on fecebook. To make the Angel O' Death's face slightly smaller to make room to show a little more wing, I had to make all these paper prototypes. Each one is different. Resizing the image is an extraordinary PITA because the distortion increases at the center seam and I have to manually adjust it, print it, cut out the pieces, tape it together, turn it inside out, and then look at it head-on to see how bad the distortion is. The smaller Death's head, the wider I have to make it, proportionally, going through this process over and over.
Finally I sent a new image to Theo, who laser cut new printing plates.
Unlike the first batch, these don't have handles, making them easier to charge with ink, but much more difficult to use with the registration frame. So I just printed them on the uncut cotton yardage I picked up and laundered (to pre-shrink) this morning.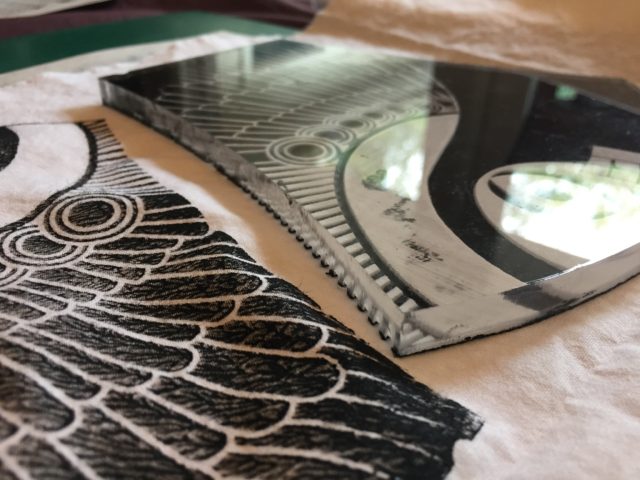 Looks pretty good, I think. I slather on a lot of screen printing ink with the brayer (rubber roller) to get a dark impression with swirly texture in the large flat areas.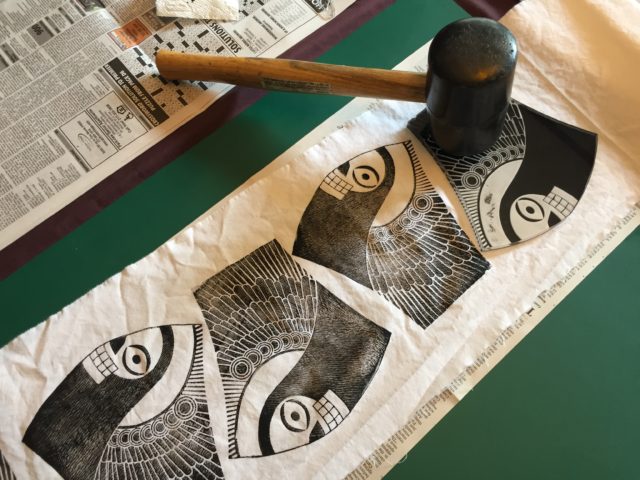 I give the block a few whacks with the rubber mallet, because I read that traditional wood-block fabric printers hit their blocks with a hammer. I got all these impressions with no finger burnishing, so some labor was saved there.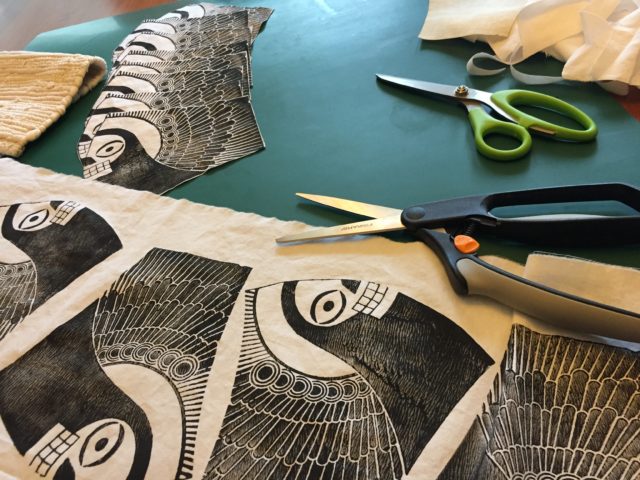 But alas, labor was added when it was time to cut them out.
Cutting is time-consuming and fraught, which is why Theo uses his laser cutter to save vast amounts of production time. Even if we get it screen printed, it's not certain the Angel O' Death design on fabric can be laser cut, because the image needs to be aligned so precisely. For all-over fabric patterns, you can cut almost anywhere, but just a few millimeters off will make Death's face all wonky.
Today's test batch yielded enough for 8 masks. It looked (and felt!) like it should be more.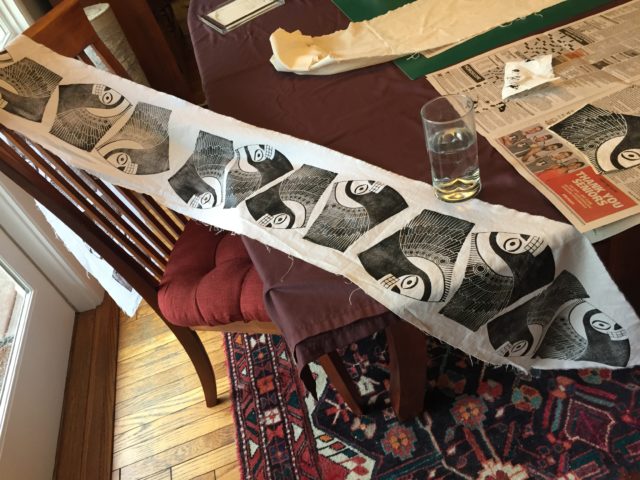 After cutting, I ironed the 16 pieces to heat set the ink.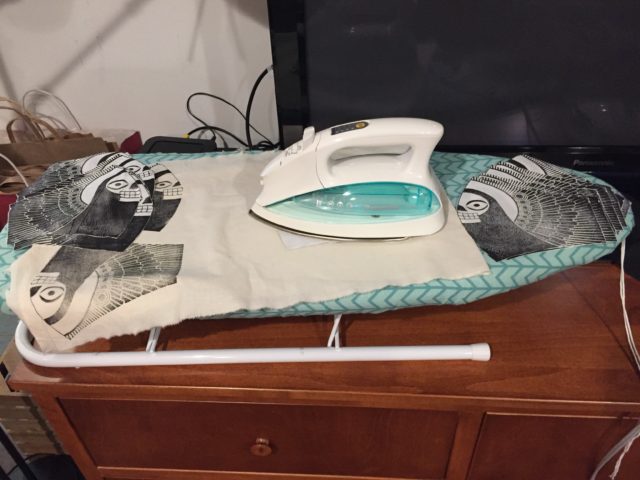 Next, my Momz will sew one into a full-fledged mask, and if it looks good design-wise, I and/or Theo will prepare an image file to be screen printed this week or next (by the only local screen printer to answer their phone! I called 3, multiple times). Screen printing will also require a lot of work prepping and cutting, as well as money, but it'll be less labor (for me) than block printing. It will also look less "artisanal," but some people don't want artisanal, they just want a big black and white Angel O' Death on their face in a pandemic, and that's what I aim to deliver.
UPDATE: Here is Version 2 sewn together by my talented Momz and modeled by me:
I've made one more modification, to make the Angel O' Death even smaller and the wings even bigger. One more test and it's off to the screen printers.