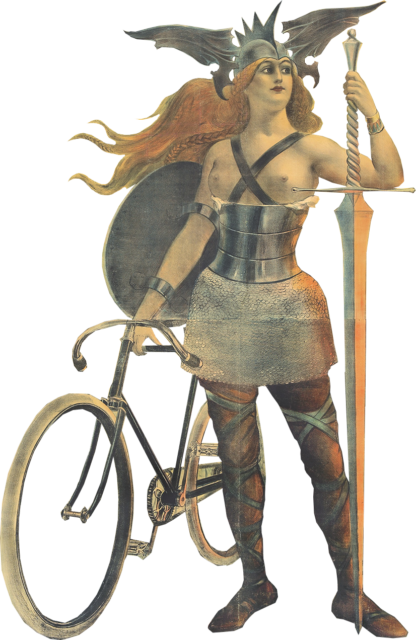 EXORCISE BIKE
(A ritual prayer for Titania's exorcism, to be performed next week after she comes back from a thorough cleaning and parts replacement.)
In the name of Velocipe Cycladia,
Goddess of bicycles and protector of riders,
Muse of mechanics and engineers,
Who hast inspired and brought forth the greatest achievement of human technology: the Bicycle;
We confidently undertake to repulse the attacks and deceits of poor maintenance.
Cast out from this Bicycle all corrosion and corroding agents.
Defend her components from gungeing up, her metal parts from bending and snapping, her chain from stretching.
From cracks and gouges, we beg You, Great Goddess, preserve the structural integrity of her frame.
Let not her sprockets wear down, nor her bearings become pitted.
O Lady Liberator, keep forever lubricated and freely moving her chain, bearings, sprockets, cables, pulleys, and pivot points.
Protect her tires, that they not be pierced or punctured with road debris, nor worn to the casing; and keep her tubes free of leaks and tears. Grant that her struts and spokes be strong, and her wheels true.
May her bolts remain bolted,
her fasteners fast,
her clamps clamped,
her loctite tite,
and her nylocs locked.
May any mistreatment, abuse, weirdness, improper maintenance, and sadness instilled in this machine by previous handlers, be cast out now and forever.
We drive you from this bicycle:
all unclean spirits,
all corrosive powers,
all cracks and abrasives,
all incorrect lubricants, solvents, and salts.
The sacred sign of the Wheel commands you, as does also the power of the mysteries of Velosophy.
Deign, O Goddess Cycladia,
to grant this Bicycle's rider the foresight to maintain her,
to clean her as needed, and occasionally lube her chain;
to check tire pressure and brakes before each ride;
to replace parts as they wear out;
to apply grease before bolting.
Grant this rider the strength, courage, and humility to bring forth this Bicycle unto a qualified Mechanic when necessary.
Fill this rider with the spirit of love and dedication worthy of Your blessed Bicycle, that together they glorify Thy creation.
May Velocipe Cycladia be with this bicycle,
and with thy spirit.
Amen.