This summer I was surprised by several out-of-the blue, generous gifts. One of them was from illustrator Nina Bunjevac, with whom I communicate occasionally on social media – we have a little Mutual Admiration Society going. She sent me a set of beautiful French tarot cards, which I received last week and promptly stared at for several hours.
Although we share a first name, I promise that doesn't bias me. Bunjevac's line art epitomizes what I've always thought line art should be. She's a direct creative heir to one of my all-time favorite illustrators, Virgil Finlay, and maybe a more distant cousin of Gustave Doré. Her lines go all the right ways, in intricate, mesmerizing patterns, without getting "busy." Meanwhile she has a brilliant sense of overall design, so her drawings satisfy my eyes on both macro and micro views.
On a long bike ride recently, I contemplated animating one of her cards. I chose the Wheel of Fortune, La Roue, because it looked like Nina had already animated the eyes opening and closing, and I wanted to see them blink.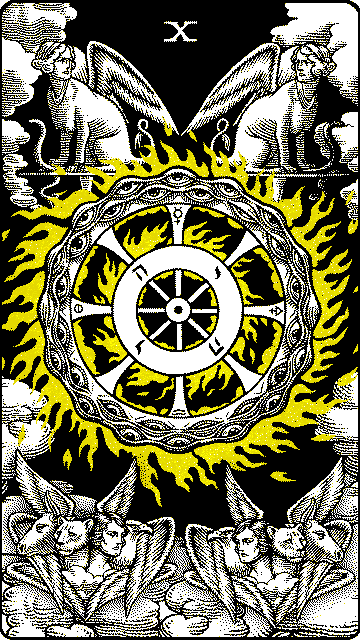 The animation itself is pretty simple, a 16-frame cycle at 12 fps. On the other hand, cutting pieces of illustration out of their backgrounds in GIMP is a time-consuming PITA, but sometimes I just gotta see what it'll look like.
Speaking of the Tarot, many of its images derive from the Apocalypse (the Book of Revelation). The Wheel card, for example, depicts the 4 Heavenly Beasts or Living Creatures, which are also essentially the Seraphim of Ezekiel. Here's my version from my stalled Apocalypse project:
It's stalled because I'm just not feeling apocalyptic right now. The weather's still decent, and I'm healthy and biking in the beautiful outdoors and getting swell gifts like Nina's tarot cards. Life is good! Of course, this can and will change; the wheel of fortune keeps on turning. When it does, I'll be back to animating the End of the World.