I was invited to participate in a "Studio Process" for a graduate student's thesis project, and here's what came out of me: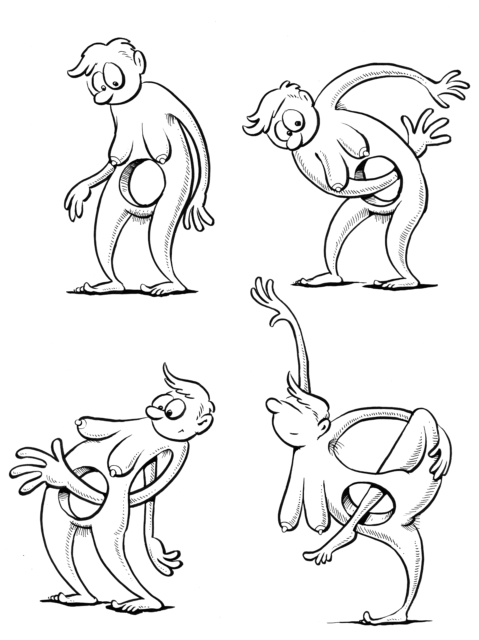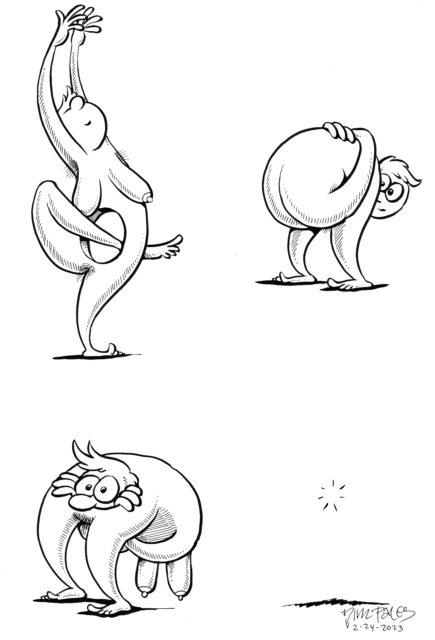 After we art-ed, we were asked to write "witness statements" about what we'd made. I wrote this:
I laughed a lot making this.
I laugh looking at it.

I see a cartoon of a naked woman (obviously based on me) discovering and exploring a hole in her abdomen, in 8 sequential images.
Although you'd expect a hole in the Self to be cause for sadness and grief, this woman enjoys it the more she explores.
In the first image she looks surprised, skeptical, and concerned, as she has just discovered her hole.
In the second image she puts her hand through the hole, to emerge out the other side. She is testing that the hole is real.
In panel 3 she put her opposite hand through the hole, back to front. She seems to be gaining confidence as the hole becomes a reliable part of herself.
In the fourth panel, she performs a serene yoga move, standing elegantly on one foot as she places her opposite leg through her hole, back to front.
In panel 5 she does another poised and competent pose, balancing while placing one foot through her hole front to back.
I don't know how panel 6 will be "read" by viewers, but my intention was to show her putting her head through her hole front to back.
In panel 7 she peeks through her hole as she's inserted her head back to front. Her flaccid menopausal breasts hang down comically in every drawing, but especially this one.
In panel 8 she has disappeared. Up her own hole? Or through it? Has she attained perfect peace, Nirvana? Or has she vanished into obscurity? Or absurdity?

This hole is not an ass-hole. It might be an Existential Grief hole. Or it is the space left from my hysterectomy? Certainly I had that in mind when I started drawing. I am aware that many women experience grief after hysterectomy, but I had none; more relief, and optimism of a future free of pain, at least free of the abdominal pain I suffered from fibroids and complications. Indeed, I have been much healthier since my hysterectomy, which coincided with menopause. Perhaps I have a hole where my hysterectomy grief is supposed to be.

Quite aside from being happier and healthier sans uterus, I still experience grief over other things. Where is my life's meaning? Cancelation is a near constant source of grief. I am aging, and have to accept the loss of my youth and cuteness. I grieve my mother's progress toward death, and the demises, recent and impending, of younger friends. I often wonder what I am doing here, what is the point, and that feels like a hole, which I call my Existential Grief-Hole. But even that I am exploring and becoming friends with.
Afterwards I made a little animation of it, because I can: