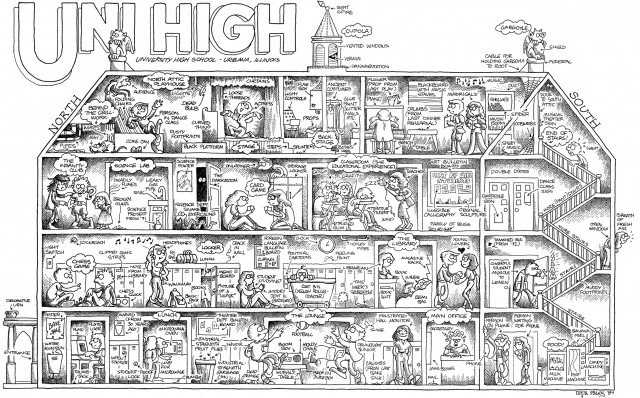 Super high-res (800 dpi) image at archive.org!
I recently dug up, scanned and restored this cartoon I drew in 1984 for the Uni High yearbook. It makes me nostalgic not for school (for which I still carry much resentment*) but for the glorious escape drawing provided those years. There were no art classes at Uni while I was there, for which I am eternally grateful. While my liberal friends are mostly "arts education" boosters, I owe my survival to Art staying beyond the reach of school, teachers, and institutionalization. School ruined math, literature, physical exercise, social interactions, and pretty much everything else that could be beautiful – thank doG it didn't ruin drawing too.
*Dropping out of the University of Illinois at the end of my Sophomore year was the first Great Decision I ever made. My second Great Decision was freeing Sita Sings the Blues and dropping out of Copyright. I've only made two Great Decisions in my life, but they're plenty. Dayenu.