An ongoing feature in which I recommend the work and websites of people who buy me dinner. Today's entry: Ken Levis!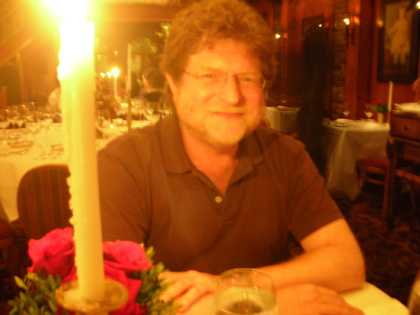 This is a blurry picture of my dear friend Ken Levis (bonus photo: Ken & Bubba). Ken is a documentary producer, and a damn good one. He's also a writer, editor and director, not to mention a total mensch. Ken has won a ton of awards, and his friends love him so much we even forgive him for working as the official court documentarian of Thomas Friedman. Ken's most recent film, Struggle for the Soul of Islam: Inside Indonesia, has been widely praised. Yet in spite of all his achievements, Ken still doesn't have his own web site. Get on it, Ken! And thanks for dinner (look at that swanky restaurant he took me to)!
Would YOU like to be featured in Eats for Endorsement? Then buy me dinner. My email address is at the bottom of the middle column, the one with the pictures linking to my movies and cartoons and stuff.