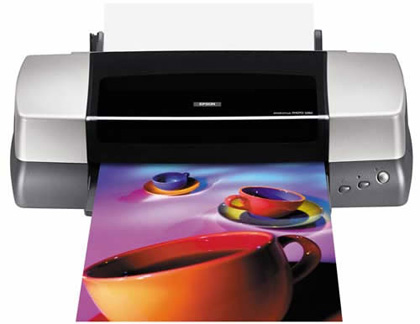 I'm selling my lightly-used Epson printer to get a new one that's exactly like it except it uses archival inks. 'Cause I'm gonna make a bunch of art prints and if the ink fades in 100 years, I'll feel bad. Actually I'll be dead by then, and probably civilization as we know it will have collapsed even sooner, but someday when alien archeologists pick through the remains of our decadent and self-destructive society, I'd like them to see crisp, clear, brilliant colors on those "Sita" prints. So, to make room for the new printer, the old one (which I bought a year ago) must GO!
Prints up to 13×19!
Color prints are beautiful, but supposedly lightfastness is only guaranteed 25 years
Mac and PC
Comes with paper roll feeder and other crap I don't use
Shiny silver!
4 extra "genuine Epson" (overpriced retail) ink cartridges included: 2 color, 2 black
All this for just $200! The inks retail for $100 alone, which sucks but they do last a while. The printer also does plain ol' letter size and is a fine home or office printer. Buyer must pick up from mid-town Manhattan (Hell's Kitchen, convenient to all Times Square trains). You can use the box from my new printer to carry it, since my apartment is too small to store boxes. Act now while supplies last!