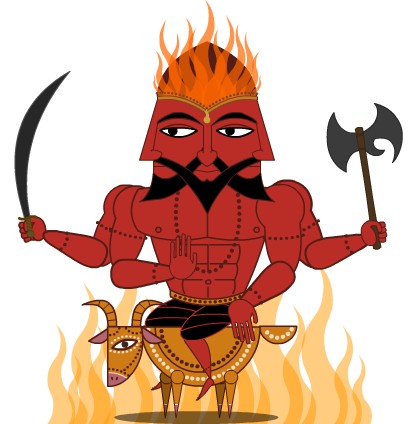 One of the most frequent questions I hear about Sita Sings the Blues – from desis, no less – is "Who is that red dude on the goat? Is that Satan?"
This is Agni, people. The Vedic god of fire! God of priests and Priest of Gods! I know he's not worshipped much these days, but he was a big deal back in Valmiki's time. When Sita enters the fire, Agni carries her right back out, unscathed.
Agni's vehicle is the ram. I screwed up by putting him on a male goat, rather than a male sheep, which I learned is what a ram is while researching this post. Oops. Although he's sometimes depicted riding a chariot pulled by goats, so it's sort of a compromise. But he's still Agni. He's got two heads, one for the creative, useful power of fire and one for its out-of-control destructiveness. He's got multiple arms. He's red.
He's Agni.