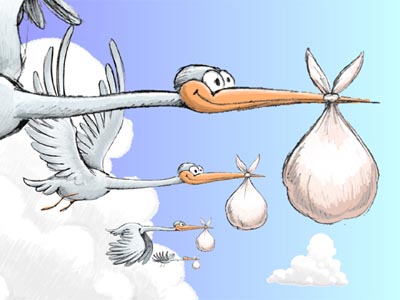 My short film The Stork went missing recently – in fact its entire host, clusterfunction.com, was alarmingly missing from the interwebs for a while. But it's back now (whew!), and cluster-functional as ever. Nonetheless, here's a link for another host, Channel13. (The clusterfunction link can always be accessed by clicking the little picture of a stork head on the right-hand column of this page. Click all the different pictures and see what happens!)
Channel13, like Frederator before them and every other corporate or commercial or just plain big web site wants me, the media creator, to direct my fans to their site for their benefit, throwing in a small bone – you can vote for my film, and if it wins it'll be broadcast on Channel 13 next Saturday, and I'll get $500. I can tell you that in spite of countless friends and family voting for the Sita Trailer, it failed to win the "Freddie Award" – meaning some other creator managed to send even more of their friends and family to the site (for free of course). So I'm not very optimistic about "winning," and I'm pretty ambivalent about these contests, as they exploit small non-commercial fan communities. However, I want both the Sita Trailer and The Stork to be seen by as many people as possible, so I'll continue to let bigger websites use them as hit-bait under the guise of a contest. I guess. Maybe.
Oh yeah, feel free to vote. Or not.
UPDATE: "Stork" didn't win, but did lead for a while. Thanks to everyone who voted for it!