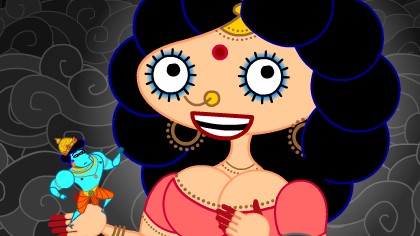 My main goal with Sita Sings the Blues was always to have people see it, but the movie business makes that very difficult. I've been trying to go the movie biz route, really trying, with a sales rep and everything, but I'm about to throw in the towel. Distributors gain exclusive rights, and if they don't exploit those rights competently, your film remains unseen (and for a little indie feature like mine, they offer to pay shit for those rights). Television actually pays very little for indies – about 1/6 what studio films get. Then there's the problem that I can't afford to sell my own film, due to the cost of officially clearing rights to the underlying compositions (the Hanshaw recordings aren't protected by Federal Copyright law but the songs' underlying compositions are still controlled by publishers and estates). I already owe $6,000 just for "festival rights" – the right to lose money sending the expensive prints to film festivals. To officially sell DVDs, I'll need to purchase even more expensive rights – at prices designed for moneyed studios, not broke artists – and buy "E and O Insurance," and doG knows what else. Yeah, yeah, I knew this going in, but I expected a distributor to pay for some of it. These costs are a pittance by studio standards, nothing at all really, but I'm still an "indie," and no matter how many awards Sita wins, no distributor is going to spend real money on her.
I just want people to see the movie.
So last night I thought, maybe it's time to investigate Plan C – giving it away for free. But how? Free online video like youtube is too low-quality, plus it's not set up for feature-length works. I'm happy to give the film away for free, but I don't want it to look like crap! There are higher-quality online venues like itunes, but those aren't free. I'm pretty adamant about it being free, because
a) I can't afford to sell it (see above)

b) no one should be denied viewing for lack of funds

c) I detest the movie business and their Digital Rights Management, and don't want my film used to support their bullshit.
Yes, it would cost money to give Sita away – someone would have to donate a lot of server space and management. But it could be a worthy cause. Has anyone ever given away a really excellent, award-winning feature film online before? Maybe we could start a new trend. I'd ask for donations, of course – to me as an artist, not for the film – and there's always merchandise, if the film gets really popular. I know many readers of this blog and fans of Sita are progressive, creative computer types. Any ideas? Any friends in high places who could help? I made Sita by ignoring the rules of filmmaking, I'd like to distribute her the same way. Information wants to be free, and so do I.