First, read this:
Music Industry Killing Internet Radio.
Now read this:
Spreadsheet of what same Music Industry wants me to pay them (.xls).
View spreadsheet as html here.
To recap:
Sita Sings the Blues includes 11 songs recorded by Annette Hanshaw in 1927-1929. The recordings themselves are not protected by Federal Copyright. The underlying compositions are. So we (my sales rep's law firm, to whom I now owe additional thousands of dollars) approached the so-called music publishers to negotiate rights. After all demanded $500 per song to permit the film to play at festivals (for which I make no money and am in debt), here's what they "estimate" for me to legally sell DVDs:
$15,000 to $26,000 per song.
Said "publishers," entrusted with compositions that should have been in the Public Domain decades ago, include:
Universal Music Publishing Group (UMPG):
None will accept a royalty based on the film's revenues. Right now the film has no revenues, because it isn't released; but no distributor will release it without the rights cleared first. Catch-22. Historically, distributors would sometimes front large sums of money for such rights-clearing purposes, but not this year. American distributors are going bankrupt and offering miniscule sums (if anything) for indies right now.
Of course $220,000 is peanuts to a big studio, but it exceeds the entire budget of Sita. Do the publishers know that? We've informed them. Do they care? No. It's fine with them if Sita is never released. Which makes them a bad parasite. Successful parasites don't kill their host bodies. If they actually paid attention and negotiated realistically, they could make some money. Instead, they ensure Sita – and countless other independent films – will never have a legal release.
Yes, yes, I've already heard this other professional advice: hire a seasoned Music Supervisor who is on drinking-buddy terms with Music Industry reps. Over drinks, the Old Boys lower the price. Thus the money gets spread out over more and more industry middlemen. I've also been advised to just "raise more money" (the music publishers are likewise advising the internet radio stations they're killing to "make more money"). Only by paying off Music Industry extortionists can I court professional distributors. But given today's film glut and weak market, it's highly unlikely I'd even make money doing this. The Music Industry would be enriched while I continue to starve.
As long as I'm not making any money (I'm just going further into debt, actually) I'm sure as hell not going to pay any to the Entertainment Industry. I can not make money on my own just fine, thankyouverymuch.
Pirates grow more attractive every day.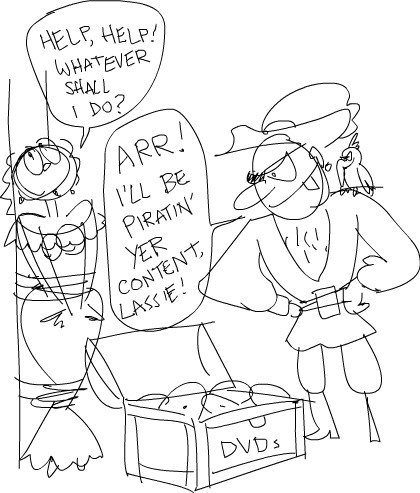 P.S. – To the well-meaning ignoramuses who keep sending me helpful emails telling me to "just swap out the music": shame on you. I know you mean well, but you should actually watch the movie before telling an artist to destroy a work of art in order to satisfy extortionists. Your advice only confirms the artistic and moral bankruptcy of the movie business. Beyond that, the authentic songs from the 20's make a point inherent to the film, which fakes inherently cannot make – possibly there's a Fair Use argument there. But my first point is more important.