On March 7, New York's WNET Channel13 will broadcast Sita Sings the Blues. WNET hopes to make a compressed version available for streaming on their web site even earlier (they're aiming for February 26; we'll keep you posted).
But we also want to release it freely for decentralized audience distribution all over the web. To that end, we're looking for multiple servers to host 500-600GB of data for public download (this includes the film-resolution image sequences as well as HD and compressed versions). We're in touch with the usual suspects, but if you want to offer server space to join this project, please contact Karl Fogel of QuestionCopyright.org.
Note that we're still in negotiations with the old music licensors, who may or may not allow us to freely share my film. PBS can broadcast and stream it regardless, due to special conditions in US copyright law. But the more"seed" sites we have lined up before the release, the better.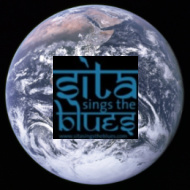 From Karl's QuestionCopyright post:
We'll need some "seed" sites to host it: Internet servers with the capacity to offer about 500-600GB of data for public download. If you or your institution has that kind of bandwidth and storage, please contact us. We'll work out a way to get the data to you.

Why March 7th?

That night, Sita Sings The Blues will be broadcast on New York's public television station WNET — Channel 13 (see here for details). Public television has a special exemption written into U.S. copyright law, such that they can show the film even when it's still in copyright jail for everyone else. However, Nina Paley has made progress on finalizing contracts with the music composition copyright holders, and we believe we'll be able to release the entire film by then. Since the New York showing will expose the film to a large new audience, when those people go to recommend it to all their friends, we want their friends to have an easy way to get it.

Note that free distribution really means free: you will be able to watch the film on your computer, make DVDs and distribute them, and hold public screenings (the film will circulate online in high-resolution formats appropriate for screenings). Your activities can be commercial or non-commercial, that's up to you.

Our thanks to all who have donated so far to enable this experiment in decentralized distribution! But we can still use help: the rights clearance process — or rather, the "restrictions clearance" process — is not cheap. So if you've been considering donating to support Nina's effort, here's that link again.