I've updated the pedigree charts I posted a few days back.
Although I use an attribution copyleft license (CC-BY-SA), I recognize that expecting attribution for every re-use is a bit unrealistic. Sure, it's reasonable for the first few generations: most people can name their mother and father, and many can name all 4 grandparents. But expecting them to name all 8 great-grandparents is a little much. Who knows the names of all 16 of their great-great-grandparents, or all 32 great-great-great-grandparents? And so on.

Likewise, I expect people to cite Sita as a source in the first few generations of remixes. I don't think I need to legally coerce people to name me as the source author, any more than legal coercion is needed for most people to name their parents. Or grandparents; a remixed remix can still cite this source. But a remixed remix of a remixed remix? How much "Sita" is even left at that point?

Sure, I'd like to be credited in works containing 1/144th dilutions of Sita, but is that reasonable?
Here the analogy between memes and genes weakens, because memes don't recombine sexually like genes do. Making Sita's "memeology" match the biological pedigree chart was awkward; cultural works can have many more than two "parents" for every "child." I had to omit many of Sita's other "parents," like 2-D animation (cut-out animation, Flash, computer science, Fleischer Bros., Eduard Muybridge, etc.), to make the charts match. With all those "parents" mixing willy-nilly into all those "children," dilution of attribution could happen in even fewer generations.
Take this still from Sita Sings the Blues: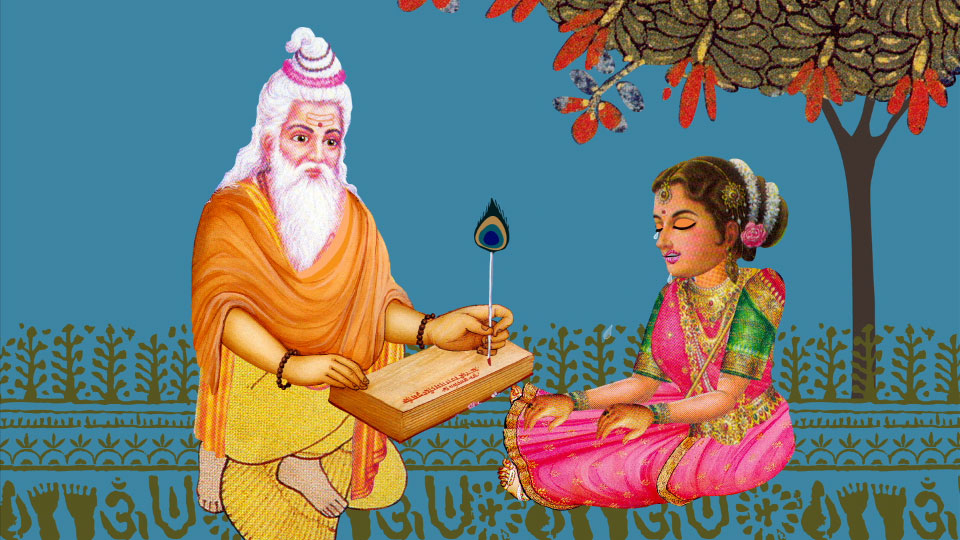 It's a collage made up of more than 15 disparate elements. Just the pattern in the background is comprised of 3 different traditional textile print designs. The border with the little feet and om symbols is obviously made up of many other elements, combined long before it ever reached my eyes. The tree comes from a reproduction I scanned from a book (lost in the Great Bedbug Infestation of 2008, so I couldn't find it even if I wanted to); it comes from a painting, which may have been almost identical to many other paintings of its time, depending on whether it was produced in a big workshop. Surely it borrowed techniques from earlier paintings, which were based on earlier paintings….And that's not even addressing the bits that make up Valmiki and Sita in the foreground, which were taken from more sources than I can recall.
I did "paint" the peacock feather by my own hand, so that's "original." Except the idea comes from dozens of paintings of Valmiki transcribing the Ramayana, and calling a peacock feather "original" because it wasn't collaged in from another image, is just stupid.
My point is, even though attribution is important, it has its limits, which hopefully you can see in the illustrations above.