I finally started the second in my series of "4 Elements" quilted tapestries: Water. Here's the design:

Now, I've been avoiding proper pattern-making. I just print the thing out on multiple sheets of 11×17 paper, which I tape together and trace onto more taped-together sheets of freezer paper. Then I cut those out with a rotary cutter…
…and use them as templates, which I iron to the fabric (freezer paper peels off easily leaving no residue).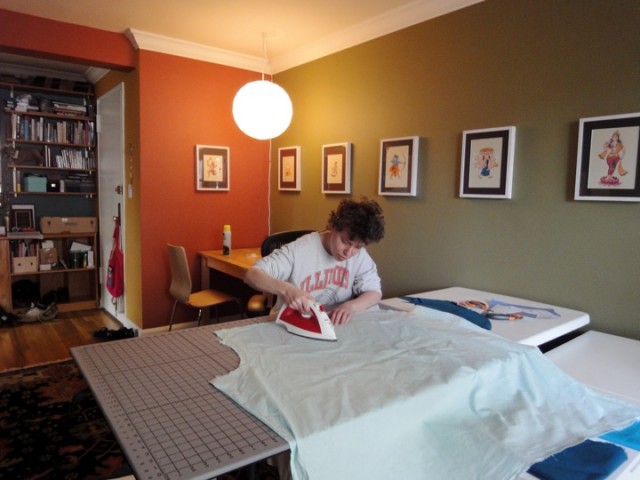 I leave a little extra "seam allowance" on some edges, but don't take the time to really plan the construction in advance. That makes my piecing process fraught with anxiety and mistakes. It was so nerve-wracking this time, I vowed to learn how to make a proper pattern for the next one ("Fire").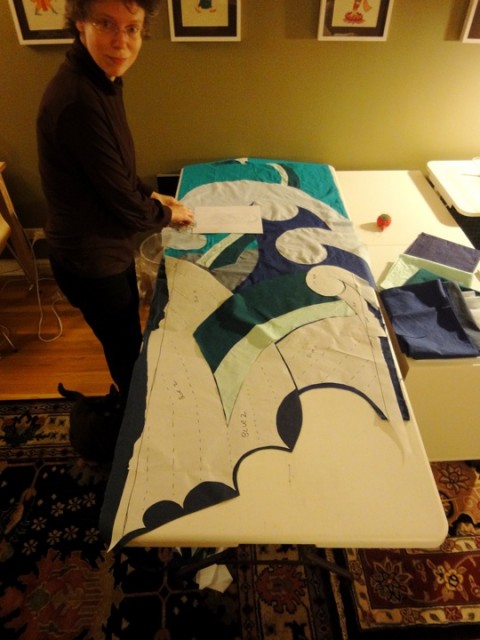 If you look carefully at the above photo, you'll see Bruno the cat hanging around my ankles. He's been demanding a lot of attention lately. I think he's jealous of the quilt.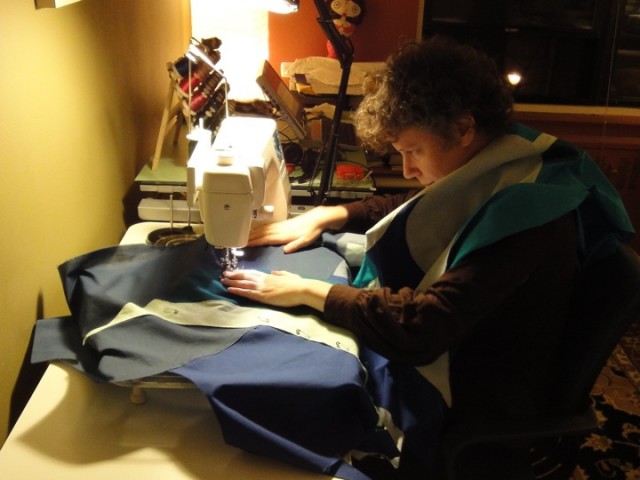 I had to rip out and re-sew some parts. I even re-cut one piece. All while promising myself that next time I would make a proper pattern. Another reason to make a real pattern: to share with others. I would love it if people copied my quilts! But if piecing them is this nerve-wracking for me, it'll surely be worse for others. In fact it's highly unlikely anyone else would go through it at all, without a proper pattern.
Here's "Water" basted up and ready to quilt. Free Motion quilting is the fun part! But I'm going to take a break before I start, to recover from the anxiety of cutting and piecing without a proper pattern.
Photos by Ian Akin