Here's a very small mini-quilt I made to inaugurate my new, larger, smooth-like-buttah sewing machine.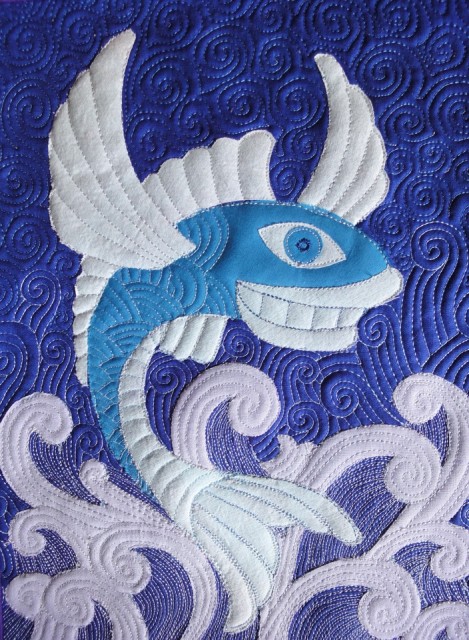 It's only 9 x 12″. Unlike the digital vector art I'm used to doing, the smaller the quilt, the less time it takes. It only took one day from start to finish.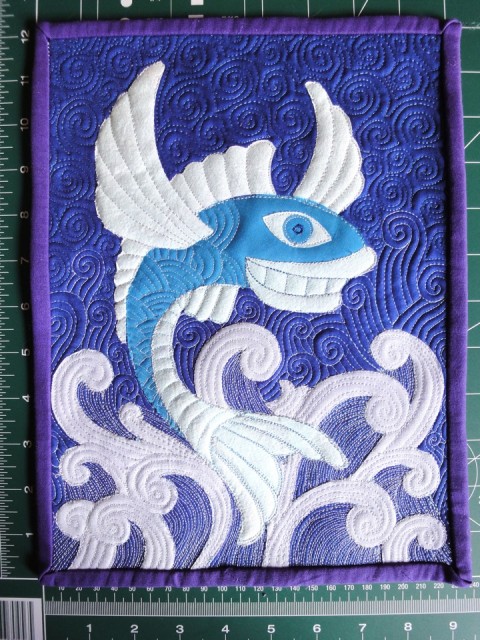 Here's the same thing about 9 hours earlier:

Granted, it was a long day. But still, one day.
I still dislike binding, and the binding on this one is rather irregular. But it's practice, which supposedly will make me better at it.
"Flying Fish" was sort of a test run before my next big piece, which is going to depict "Water" to hang next to "Earth." (It's also inspired by Leah Day's upcoming "Transformations" free motion quilt contest, but I don't think it qualifies – it's slightly over the size limit, and I can't identify all the patterns I used – and I'm not sure I could part with it forever for $50, minus a $10 registration fee. Ach, quilting is so expensive to do and its products are so undervalued! But I love it. Who am I to argue with my Muse?)
Anyway I spent last week doing other work – no sewing – and it's hard for me to switch gears between projects. I'd lost my momentum, and I'm still very new to quilting, and I didn't want to ruin a bunch of fabric while I felt out of practice. Also my new bigger sewing machine arrived last week, but I hadn't tested it yet. I was in fact afraid to test it because it arrived without a protective plastic bag, just crammed in its foam packing shell, and because it had  a rough trip it was covered with little broken foam bits which clung to every part with static electricity.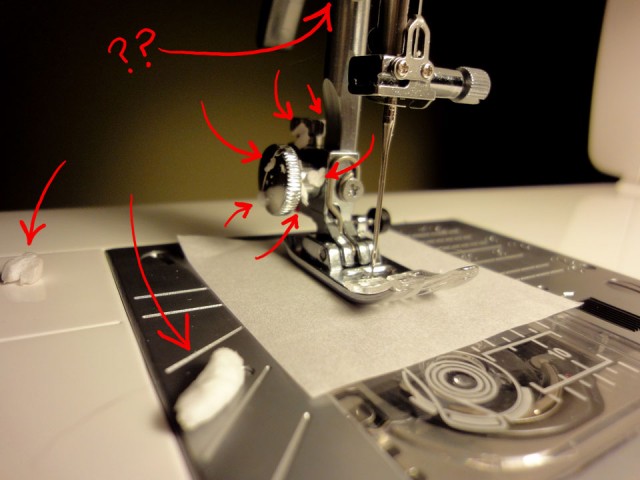 It's not a sealed machine, so little foam bits got on the inside too – how deep in, I could not know. I thought I might have to return it, actually (why was it not wrapped in a plastic bag before shipping? Every accessory, including the instruction manual and the warranty, was sealed in its own stupid plastic bag, but the machine itself was naked. Sheesh.)  I vacuumed it as best I could, then procrastinated firing it up until I'd finished 10 new Mimi & Eunice comics and a more-work-than-I-expected illustration/design gig for the Brooklyn Museum (more on that later.)
In the end, my fears were unfounded. The thing runs like a dream.