Here's what I've been working on the past couple weeks: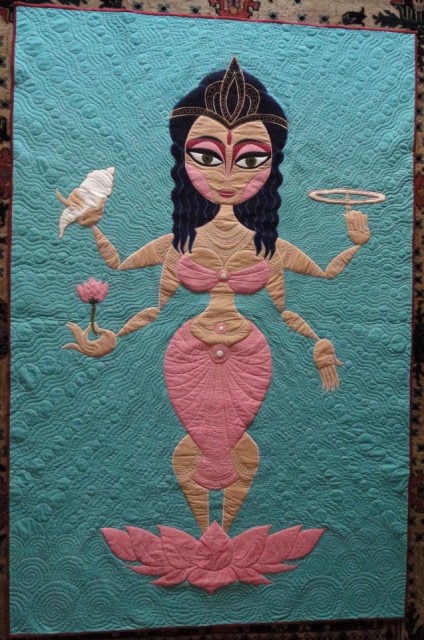 Yep that's "Laxmi" from Sita Sings the Blues. Cotton fabric, polyester batting, polyester thread. 52″ wide by 72″ high – twice as big as any of my 4 Elements panels. I might sew some shiny gold sequin things coming out of Her open hand to symbolize the gold coins that are often shown pouring out of it.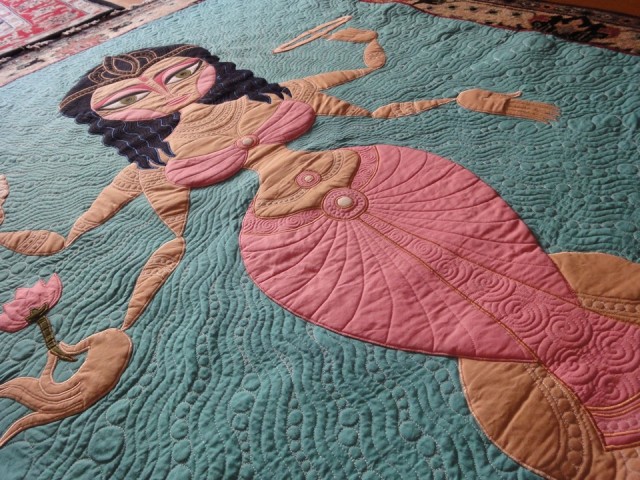 I again used my "Trapplique" technique, combining trapunto and applique by quilting pieces first, then applying them to the background with a satin stitch. It makes a nice sculptural bas-relief effect.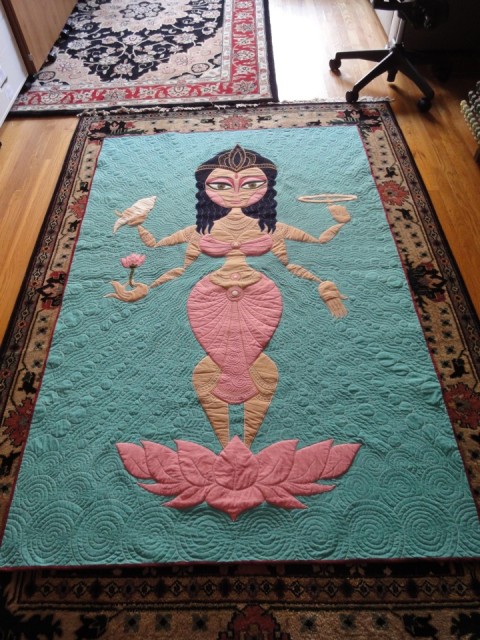 Don't worry, this Devi is now hanging on my wall. The floor is no place for a goddess, but it was the only area in my apartment large enough to position the pieces, trim the edges, and photograph the results. (The wall she's hanging on now doesn't have enough light or space around it to get a decent photo.)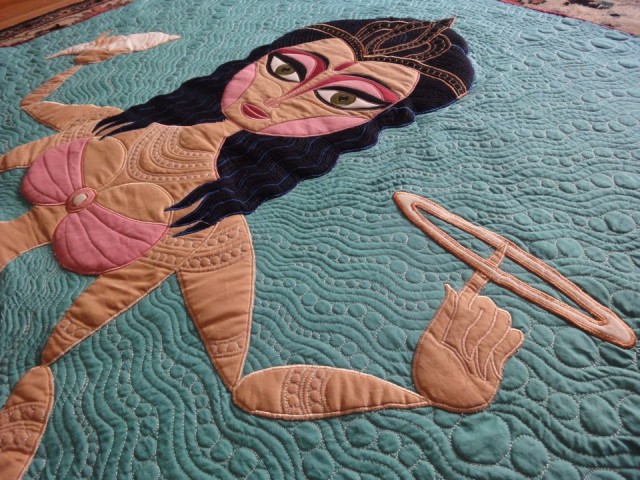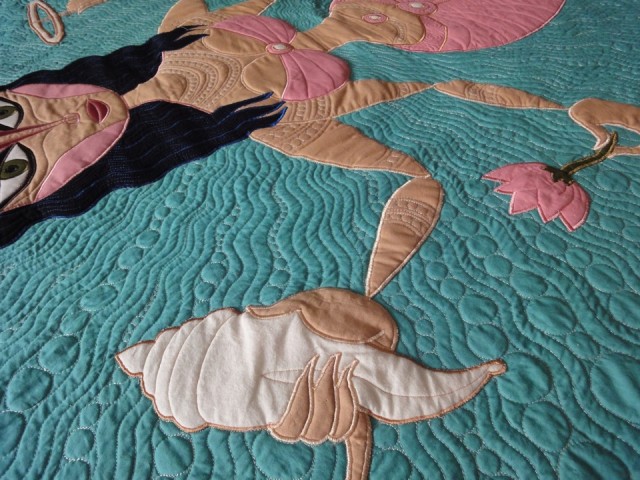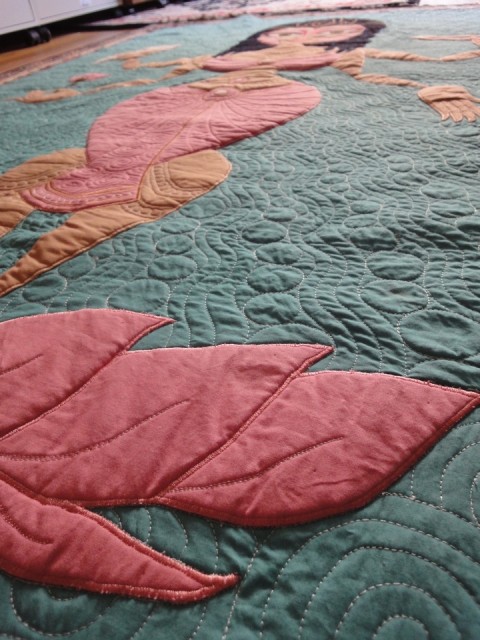 It took a long time, just over 2 weeks during which I didn't do much else. Here's the back:
Notice the hanging sleeve at the top, and the signature tag I accidentally sewed on sideways.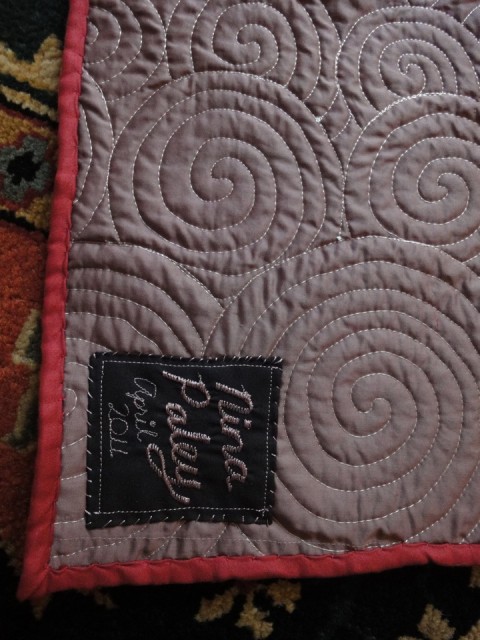 Oops, right? Whatever, it still works.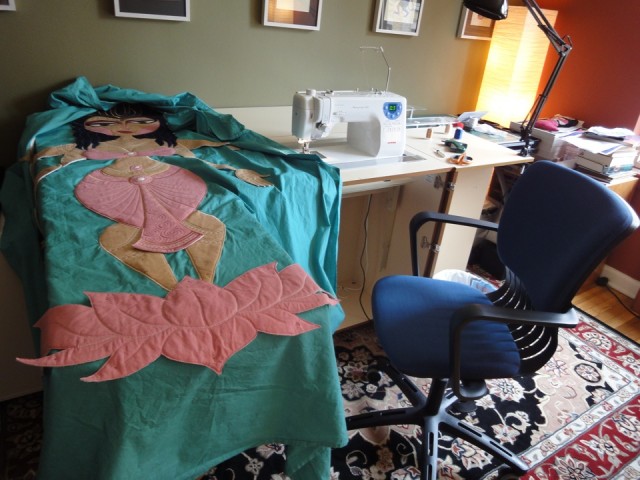 Here's the work-in-progress on the AMAZING used sewing cabinet I scored on Craigslist. This thing is the shizzle. Here's an awful yet informative corporate video for it, which is basically porn for sewists.  I love this thing, because when I'm done with a project…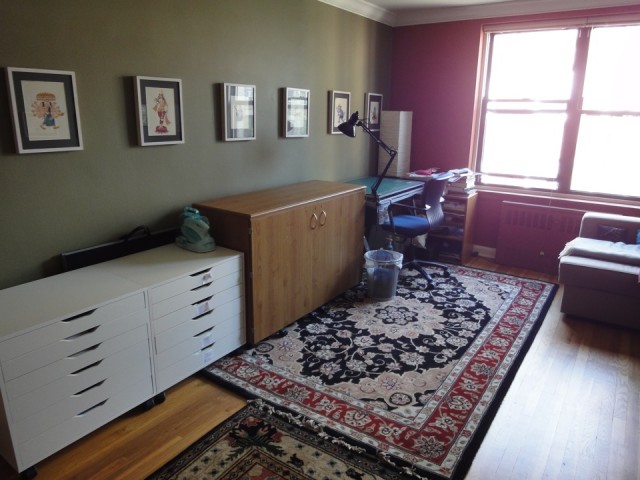 …it folds up like this. What a sewing nerd I've turned into.
Anyway, I'm guessing nobody can afford to buy the "Laxmi" quilt since it took almost 200 hours to make, and at a reasonable hourly rate we shudder to estimate the price tag. But unlike most quilts you can get a cloisonne pin or necklace of the same design for much much less, because we just happen to have said merch for Sita Sings the Blues.