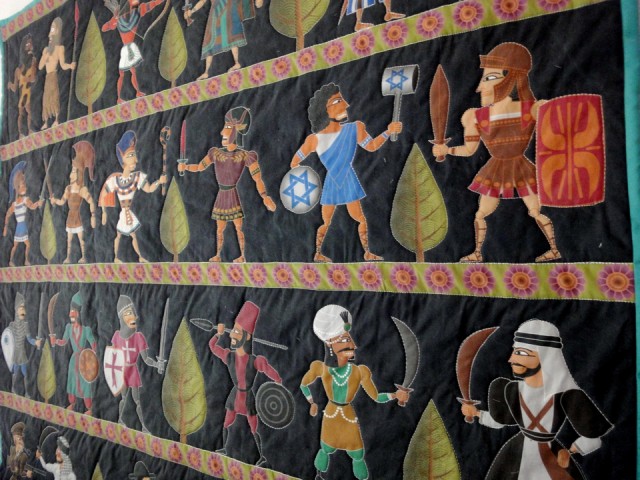 I've had some requests for This Land Is Mine quilts. I can produce a small edition of them if the price is right and the buyers are there. The question is: how to price them? I've sold signed limited-edition prints in the past for $350-$500. This quilt is essentially a print on fabric, but requires an additional day of work for me to layer, free-motion quilt, and bind it (and sign it too of course). So I'd want no less than $500 a piece. However, it's technically a quilt, one of the most under-valued art forms out there. Plus it's rather small (about 34″ square), and meant for the wall – not even a particularly useful quilt. And it's not even pieced.
So I'm doing an experiment: auctioning this one on eBay.
If you have other ideas about pricing more artist-made, signed TLIM quilts, let me know in the comments. What would you pay? What size edition would be acceptable? Would an open edition make any difference? Realistically, I probably don't have time or stamina to make more than maybe 10 of these, so I could easily claim "50" as the limit to an edition and it would functionally be open. Any other thoughts most welcome.
And you can bid on it here.