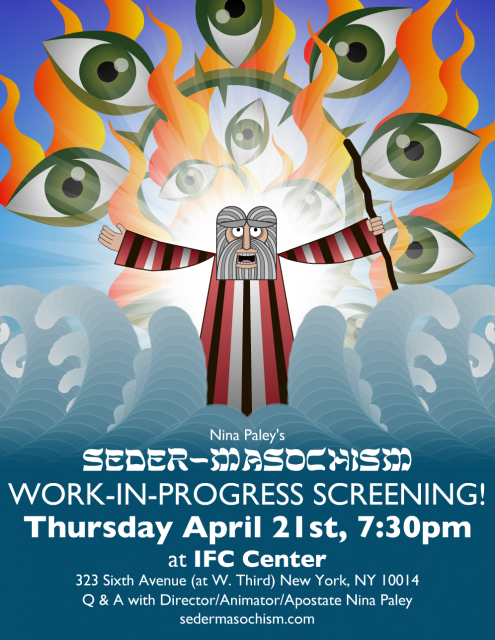 Thursday, Apr 21, 2016 7:30 PM EDT
IFC Center, New York, NY
You must purchase advance tickets for this event.
All singing! All dancing! All 40+ minutes of my feature-film-in-progress, Seder-Masochism! This is not the finished movie, but the core musical scenes animated in Flash. While I take a production break to learn new software to make the rest of the film, let's watch all these crazy scenes together in a theater. Featuring:
Goats!
Egypt!
Plagues!
Death!
Idols!
Commandments!
Unsubtle phallic imagery!
…and MORE!
FREE MATZOH!
Big thanks to my friends at GKIDS for making this happen.
Seder-Masochism is Nina Paley's second feature film, currently in production. Like its predecessor  Sita Sings the Blues, it's an animated musical – but this time it's based on the Passover story, the Book of Exodus. In spite of being an irreverent atheist, Nina is also a card-carrying Jew, entitling her to make scenes such as the now-famous This Land Is Mine:
Here are a few stills and animated gifs from the project: