Update May 2022: New Inflation Pricing! Hundred Dollar Drawings are now Hundred-and-Fifty Dollar Drawings
Sorry 'bout that, this is the first time I've raised the price since 2016.
*****
See all Hundred Dollar Hundred-Fifty Dollar Drawings here
I will draw your request for a mere $100 $150. If you want the original drawing shipped to you, you MUST add $25. If you want the image cleaned up and reproduction-ready, that's another $100 now FREE. Please use PayPal links below (scroll down).
As this is an evolving experiment for me, I will be imposing ever-changing rules and restrictions.
UPDATE 10-2-2020: I like drawing animals (real and fictional). Or as vegetarians say, "anything with a face." Just FYI.
New Rule as of October 26, 2020:

$50 upcharge for bicycles.

Because as much as I love bicycles, they are a pain to draw. So add $50 if you want something like this.
Rules:
No caricatures

Requests must be 2 words (or fewer)
You read that right, two words! Because I had the most fun drawing two-word requests last time. These included Raeanne's Wild Cosmos: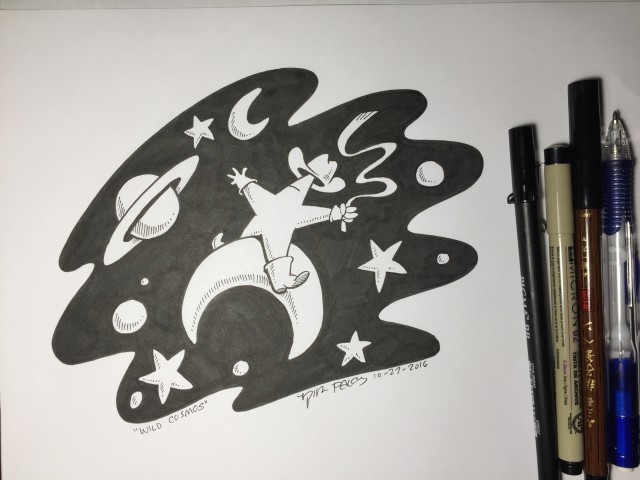 Alistair's Brilliant Mistake: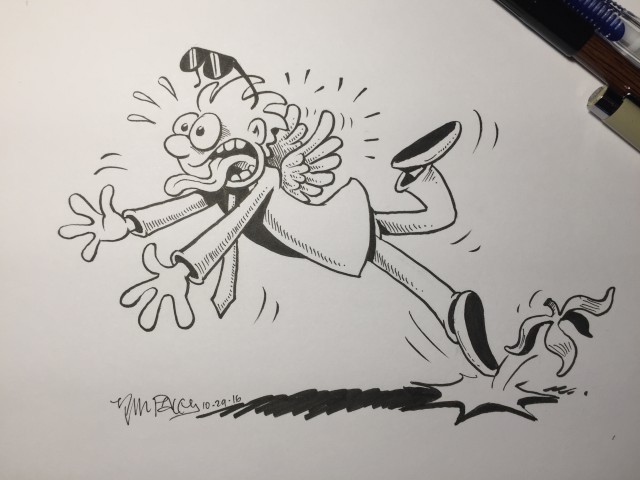 and Pat's Hindu Bali: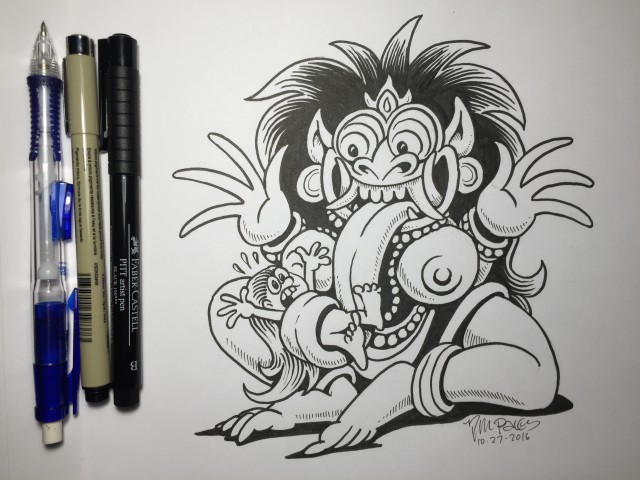 As always, if you have a special request, don't want to follow the restrictions, want a regular commercial contract, etc., you must contact me and offer way more money, because $100 $150 is crazy cheap. I'm not saying I'll do it, but if I do, it will definitely cost more.
Order a Hundred Hudred-Fifty Dollar Drawing:
$100 $150: Tell Nina what to draw in two words. Nina will email you a photo of the finished drawing, and post it on her blog and social media.
*Specify drawing in Paypal checkout
+ $50: if you want a bicycle anywhere in your drawing (see above)
+ $25: We'll ship you the original art. USA ONLY! Sizes will vary but it will be on 8.5 x 11″ or smaller paper.  9×12″ Bristol (thick) paper in a sturdy cardboard mailer.
Due to the pandemic, overseas shipping is extremely unreliable right now. Please only choose this option if you're in the US.
+ $100 $150: I will also make a "Making-of" video of the drawing, such as the above.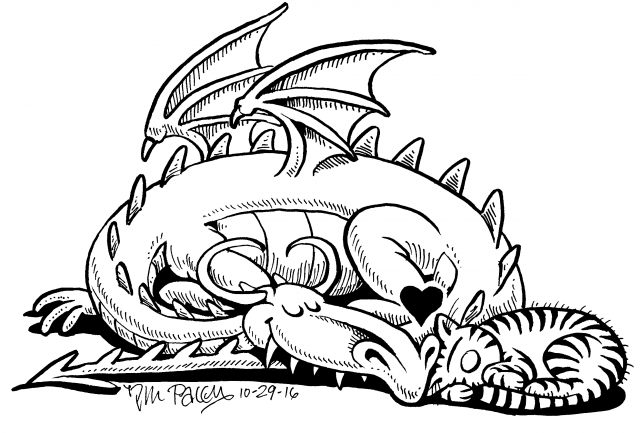 + $100: NOW FREE (because I have a decent scanner finally)! Drawing cleaned-up and reproduction-ready for ANY USE YOU WANT!
FAQ
Q: What if I don't like my drawing?
A: Too bad, sorry.
Q: Can you submit a sketch and let me comment for revisions?
A: No. If you want revisions, commission another $100 $150 drawing, and a third, fourth, etc. You can get 10 $100 $150 drawings for less than my usual professional rate.
Q: Can I use the drawing as a commercial logo for my business?
A: Yes.
Q: Can I use the drawing for advertising or other commercial purposes?
A: Yes, anything you want.
Q: Isn't that crazy cheap for commercial art?
A: Yes. But some of these drawings are also non-commercial. It's all less stress for me, and I don't care what happens to the image after I draw it. (Actually I do care – the more it's used, the better.)
Q: What about copyright?
A: Like most of my work this is Free Culture. There's effectively no copyright to license or buy. You can do whatever you want with the art you commission, but it's non-exclusive. I will be posting it on my blog and social media.
Q: What if I want exclusive rights?
A: Then you'll have to pay more than $100 $150 – same as most professional commercial art of this caliber. Shoot me an email to discuss.
Q: What if Nina finds my drawing instructions abhorrent?
A: I will refund your money and not do the drawing. Or I'll keep the money and willfully misinterpret your request. That might be more interesting.
Q: Can you do a caricature if I send you a photo?
A: No.
First Hundred Dollar Drawing experiment archived here.