An ongoing feature in which I recommend the work and websites of people who buy me lunch. Today's entry: Stephen Hersh!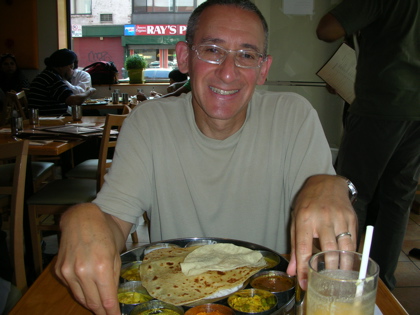 This is kind of late, as I last lunched with my old pal Stephen Hersh back in July. And Stephen doesn't have his own web site, so finding related links was a challenge. But what a brilliant guy he is! Stephen wrote and drew Bliss, one of my favorite comic strips ever. We both left Universal Press Syndicate around the same time, after which the late, great Jay Kennedy of King Features recruited us to co-create The Hots. Steve wrote, I drew, and after a year I retired to pursue Sita Sings the Blues. Here's an old King Features press release about a series of Hots Passover strips we did. And that's it for Stephen Hersh links. You're more likely to find his work on TeeVee: he writes commercials for Chunky Soup and V-8, among others. Anyway, our lunch was delicious – look at that tasty thali from Saravanaas he's eating. Let's do lunch again soon, and get web sites, people!
Would YOU like to be featured in Links for Lunch? Then buy me lunch. My email address is at the bottom of the middle column, the one with the pictures linking to my movies and cartoons and stuff.