I just finished #3 in my 4 Elements quilt series.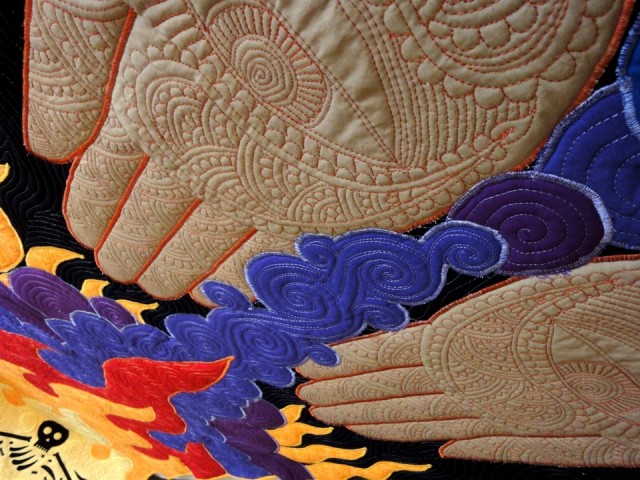 This tapestry is a lot more colorful and contrasty than the others. It uses that "trapplique" technique I posted about before – that piece was a study for this one.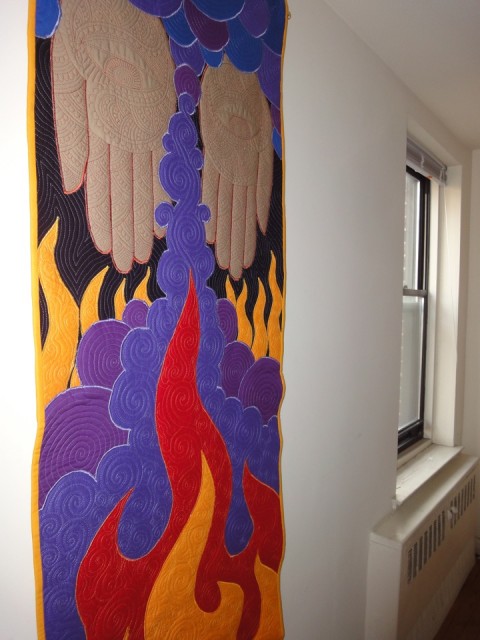 What did I learn?
Doing a large piece entirely by trapplique-ing quilted elements may be overkill. It certainly used a lot of fabric and batting – twice as much batting as the same size on one layer would use.
Next time I may try to combine more flat piecing with trapplique, so the trapplique bits stand out more.
A good thing about trapplique is it allows me to move around and edit design elements as I go along, which I prefer to committing to a final design before I even start sewing.
"Quilter's Dream" polyester batting is better for this than the "Warm & Natural" cotton batting I used (because it's what I had on hand), which is much flatter.
I'm still learning. I'm also still wondering why I'm doing this insane, time-consuming hobby. Maybe that's just the PMS talking. I now have an apartment-ful of fabric and thread and batting and supplies, so I'm reluctant to just quit before they're used up…but the more I use, the more I buy to replace. Oh, you are a cruel mistress, quilting hobby!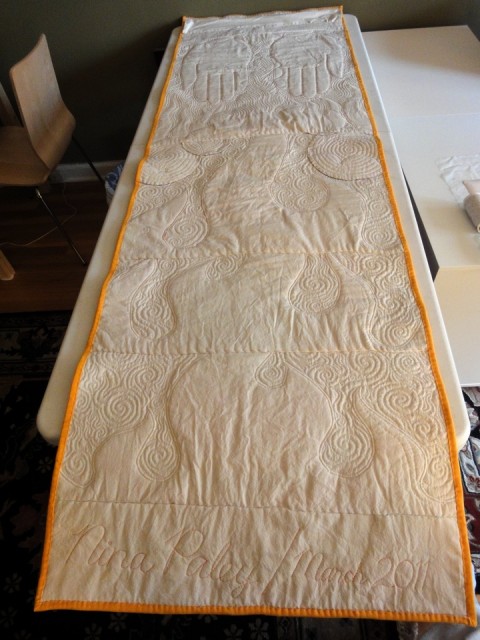 The back side of this one isn't beautiful, but it could be worse. Sewing down the various floppy parts down before binding helped a lot. Also: this was possibly my best binding job yet. It still takes hours though.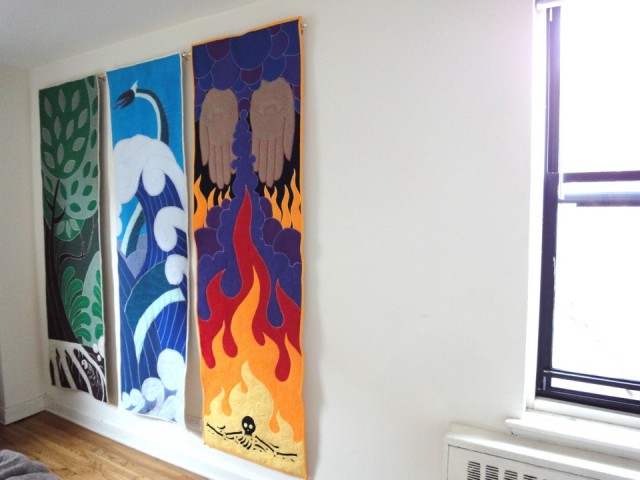 I still intend to re-do "Water." I'll do that next, actually, before "Air." I might not even do "Air," depending on how long my patience holds out. This hobby is insanely time-consuming. Did I say that already?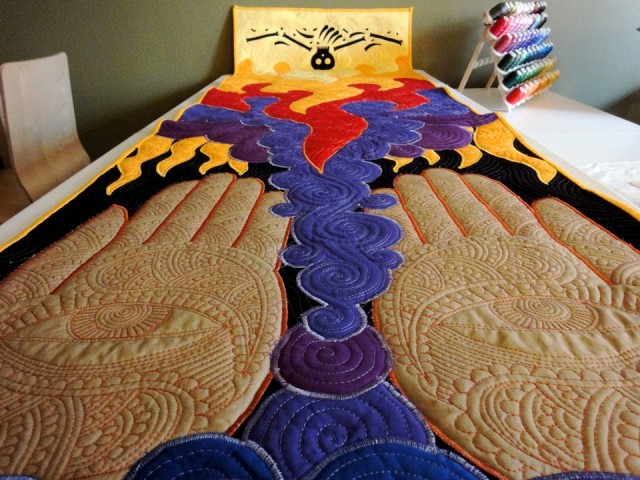 These are the hands of a feminine (because of the mehendi) Agni receiving the fire – in this case the burnt remains of a human wafting upwards. There are eyes in the palms looking down toward the burnt skeleton at the bottom (this photo is "upside-down"). I couldn't help thinking of my friend Manish Acharya, who died suddenly and was cremated last year. It's weird that the idea of the piece came out all cartoony and cuddly.

Sorry for the low light – even though we've "Sprung forward" an hour, there's still not much daylight at 6pm.