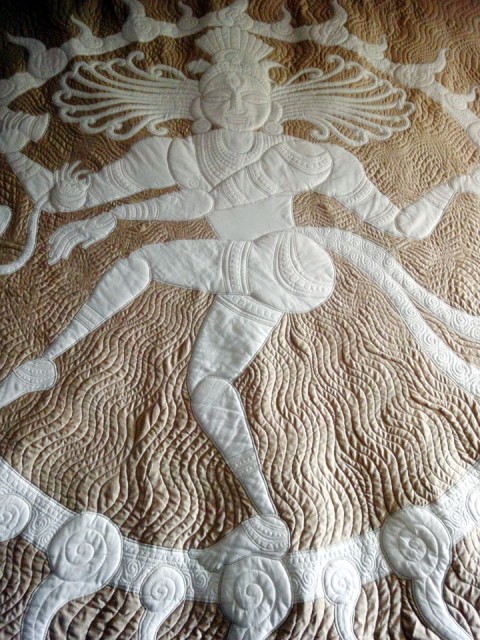 This is now hanging where Laxmi was. The photo below should give some sense of scale: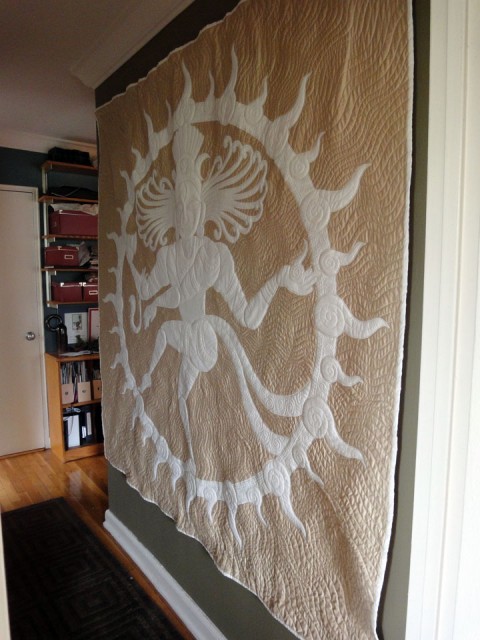 It's 71″ x 71″ – almost 6 feet by 6 feet!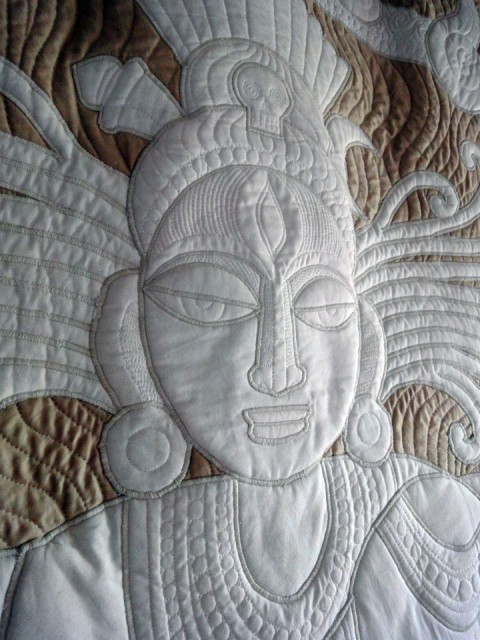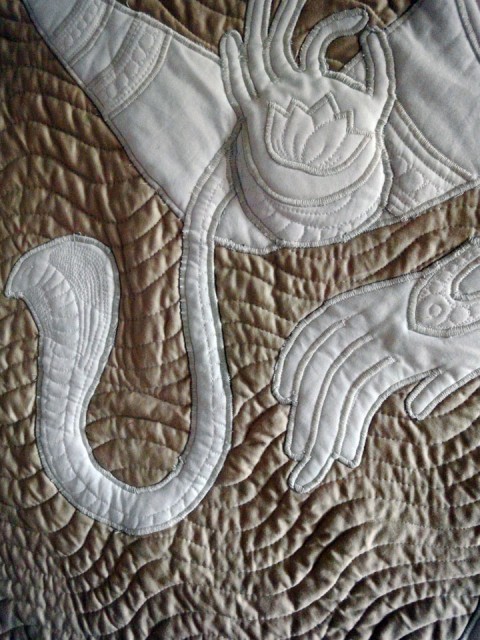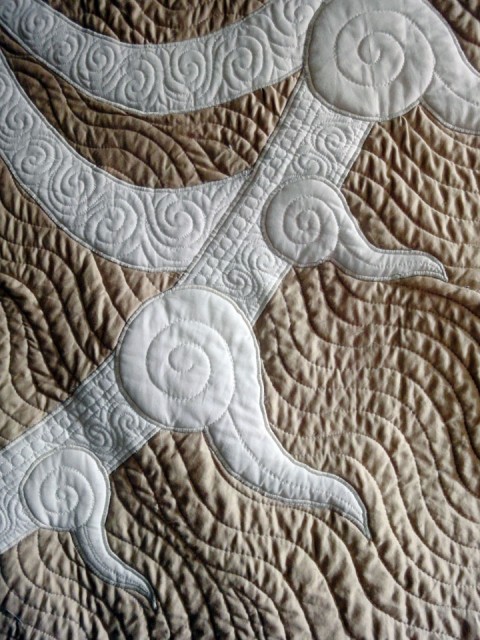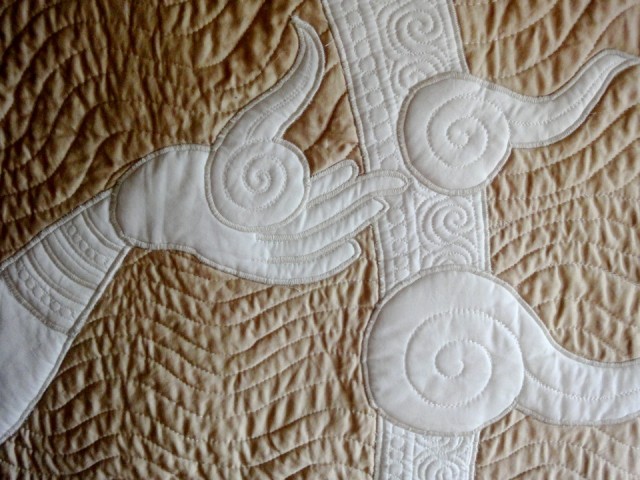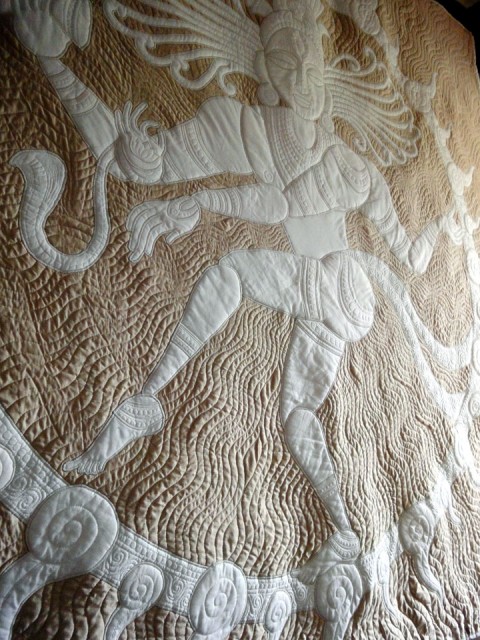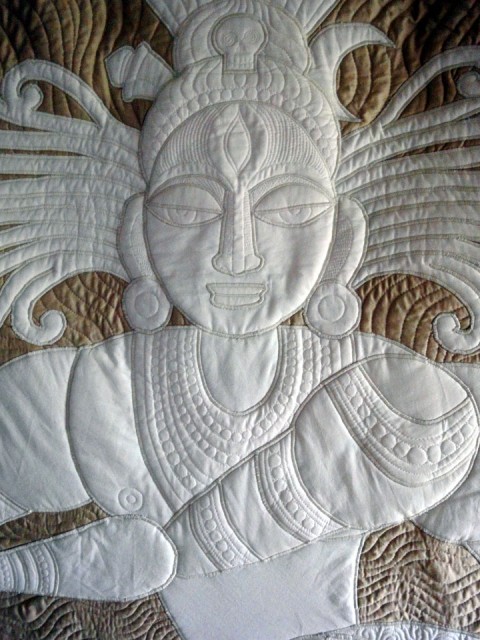 Wanna see work-in-progress documentary pix? Read on!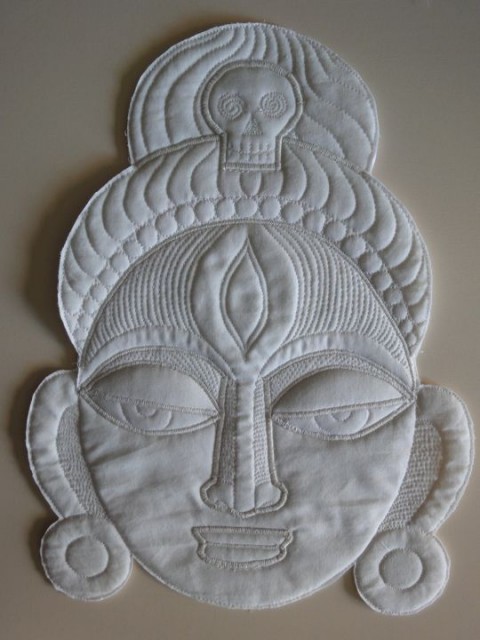 I did the head first.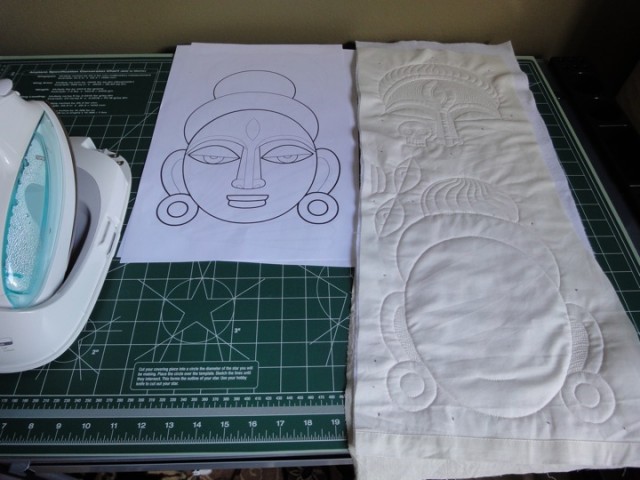 It was free-motion quilted, in pieces, which I assembled and sewed together using a satin stitch – a technique I call Trapplique.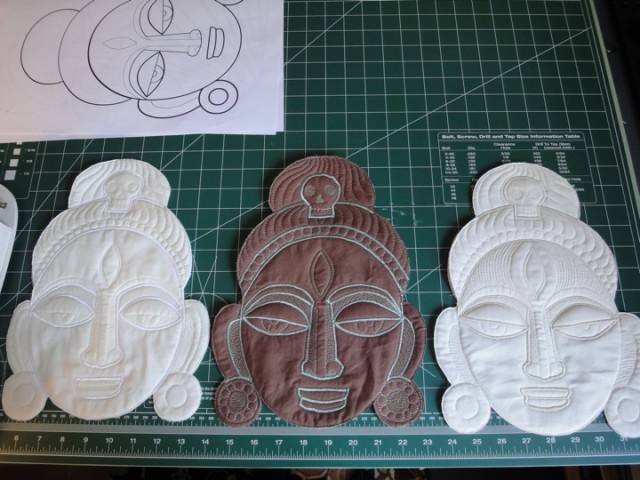 I experimented with brown fabric and grey-green "patina" thread, to evoke the bronze statues this design is based on. However the bas-relief sculptural effect of the trapplique works better with lighter fabrics, which distinguish shadows better. And I wanted to tone down the color contrast on my quilt, since I loved how the all-white nude turned out.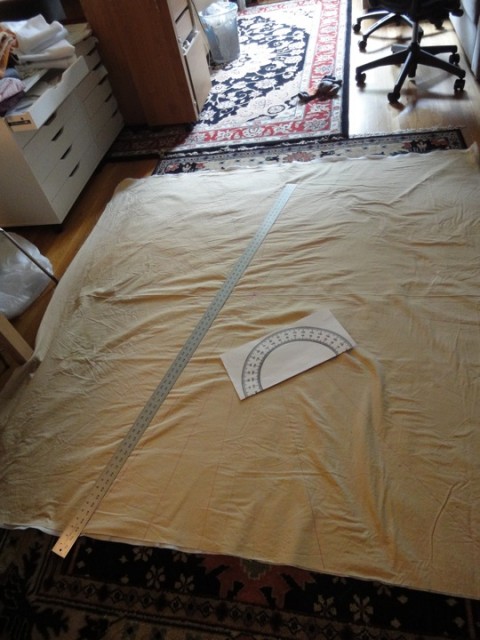 For a very slight contrast with the white foreground, I chose a pale gold sheet for the background. (This whole thing is made of cotton sheets I fished from the discount bin at Century 21 downtown, now my 1-stop quilting-fabric shop.) I printed out  a protractor to help me space the radiating lines. My 72″ ruler, bought on impulse a few weeks ago, proved an indispensable tool.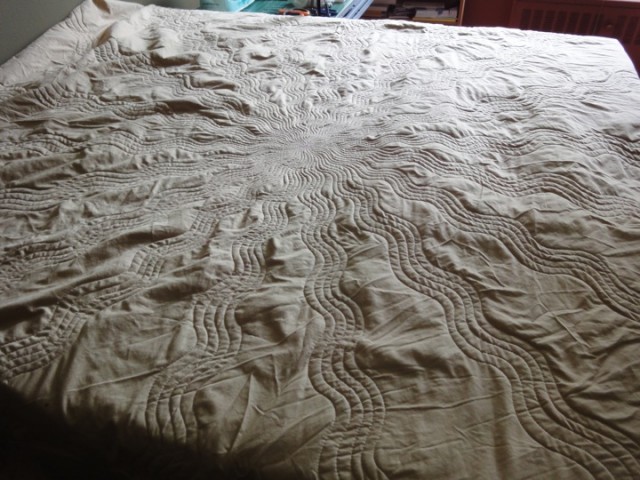 It took me 3 full days to quilt the background – much longer than I expected! It was so simple in my mind, but I'm continually surprised by how long the physical execution takes.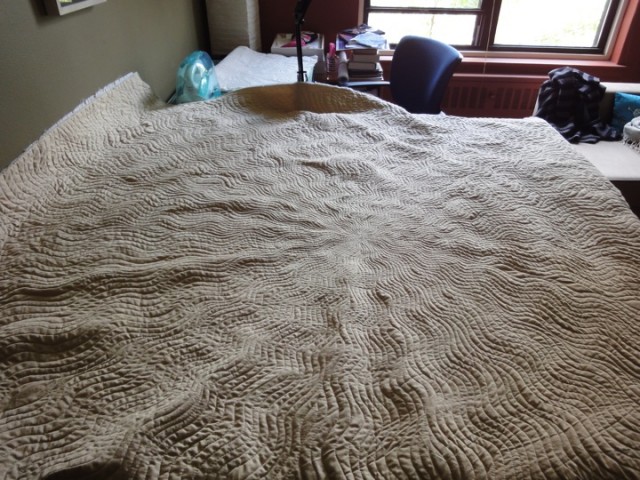 Here is is, all quilted.
The white cotton is translucent enough to place over printed templates and trace with an air-soluble pen. After tracing, I basted and sewed before the ink vanished.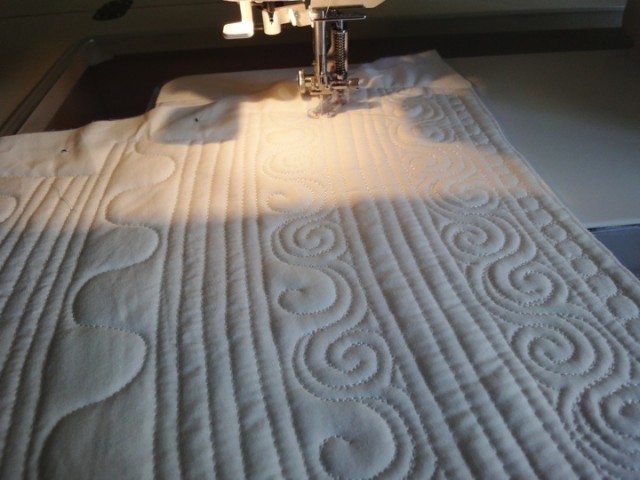 My templates were guidelines; I filled in some details freehand.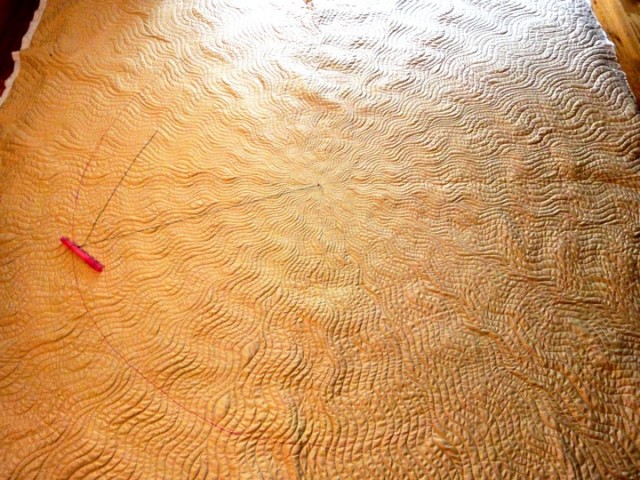 Finally it was assembly time. I drew a circle by tying one end of a thread to the center of the background, and the other to my air erasable marker, to make a giant compass.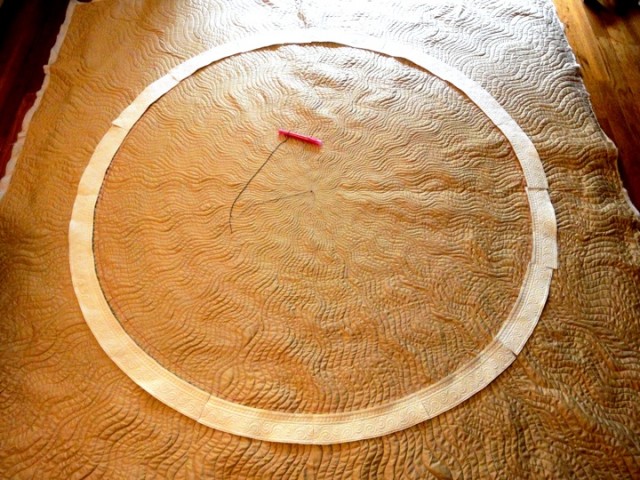 My careful planning paid off, as all those pieces fit together to form a circle. It reminded me of stone-cutting and masonry.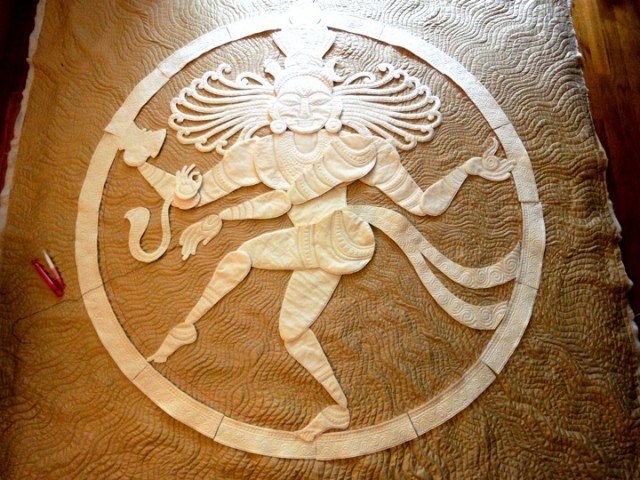 I arranged my pre-quilted pieces (some of which already had trapplique "jewelry" sewn on) and traced around everything with the air soluble pen. That way I didn't have to baste anything together. I just placed each piece more or less against its traced outline, and sewed it down.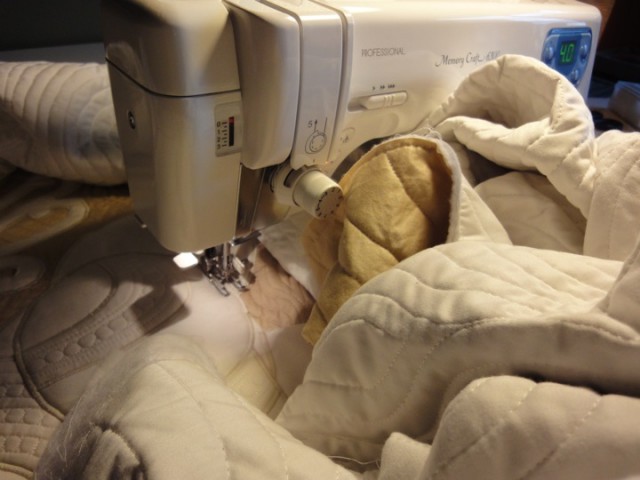 This is the hardest part. It would be so much easier if I had a long arm zig-zag sewing machine, but they are rare (specialized for sail makers) and cost a lot and take up a lot of space. So instead I have to stuff everything through the 9″ throat space of my domestic machine. I start in the center and work outwards. I'm developing muscles in my left shoulder I didn't know existed.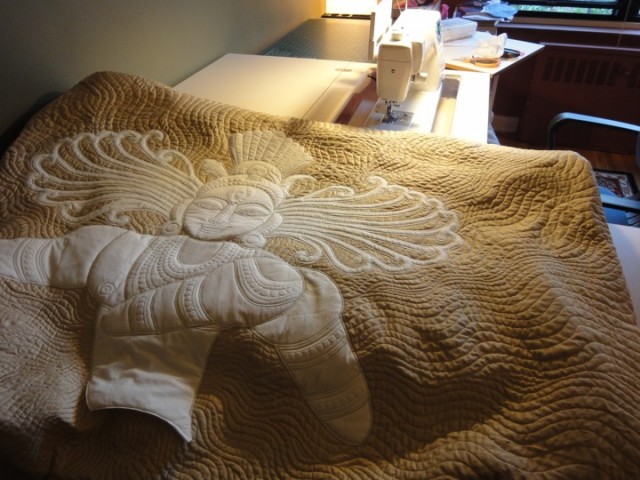 Here the center pieces have been sewn down – the hardest part accomplished.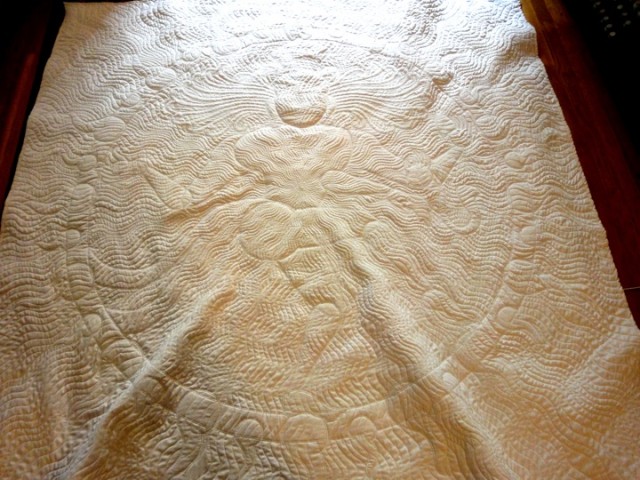 And here's the back, before I added hanging sleeves. Now go back to the top, to see the finished front!