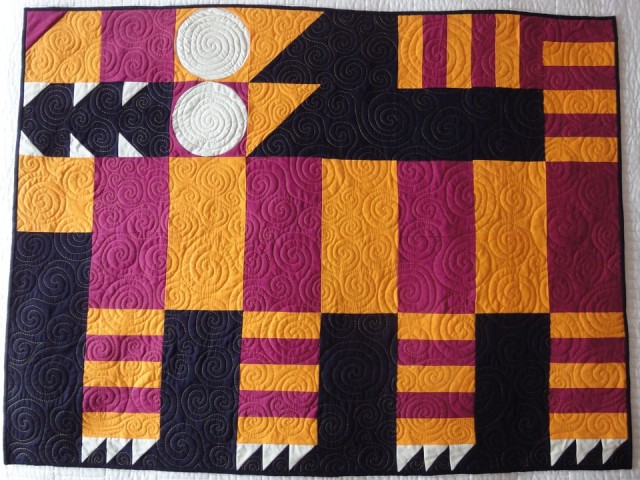 Il Gatto, approx. 36″ by 48″. (It's actually well squared with nice right angles, the photo distorts it because I held my wide-angle-lens snapshot consumer camera out over a bed to take the picture.)
This is my first all-traditionally-pieced quilt, no trapplique or applique, just squares and triangles sewn together with 1/4″ seams. Since I don't get excited about traditional quilt designs, but wanted to try traditional techniques, I designed this insane vicious cat. After Kaye England's class last month I bought some of her fancy acrylic rulers, a straight stitch plate for my Janome, and some cotton thread. They paid off: although the top isn't perfect, it came together pretty darn well and hardly required any trimming.
For the eyes I did curved seams, which was tricky and imperfect but sufficient for this project.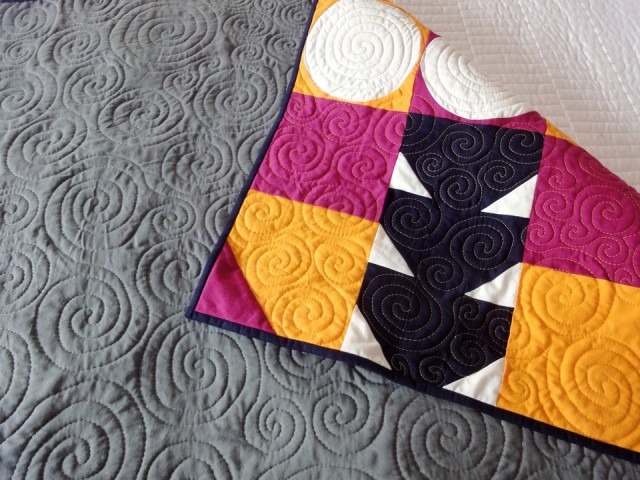 And here's the back. I free motion quilted simple spirals all over because they're relatively quick and contrast with the straight seams.
I'm getting a little tired of FMQ on my domestic machine. I tried a sit-down 16″ long arm quilting machine a few weeks ago and loved it: it was fast, and I could really see what I was doing. Now I really feel the constraints of my Janome, especially how hard it is to see past about an inch. I have yet to try an articulated long arm on a frame, but that's next. Will it be even more like drawing? Can I get some longed-for spontaneity into quilting with one of those?