In the last month I traveled to Ottawa, Vancouver, Mill Valley, San Francisco, Santa Cruz, and Los Angeles, to attend numerous screenings of Seder-Masochism, including the festivals below: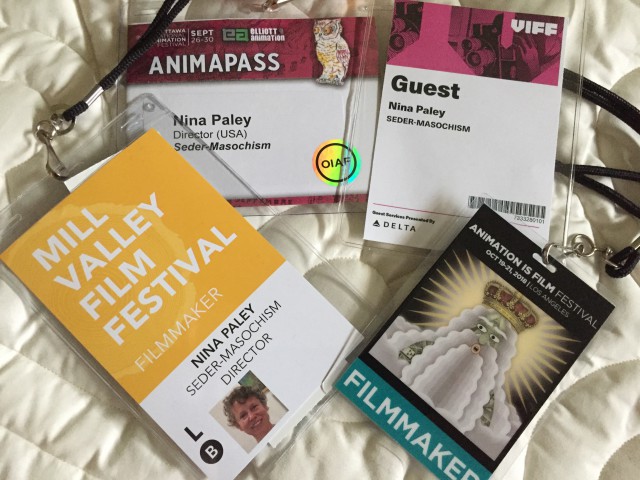 This is a LONG post with lots of photos, so start after the fold.
My trip started on this bus from Urbana to Chicago: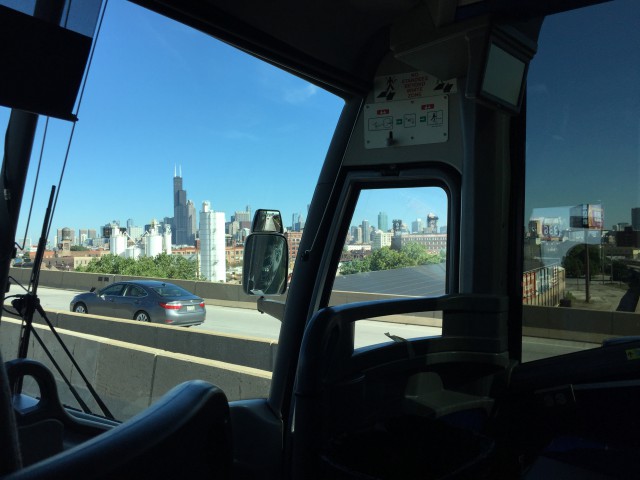 I'm amazed to say that all my flights were on time.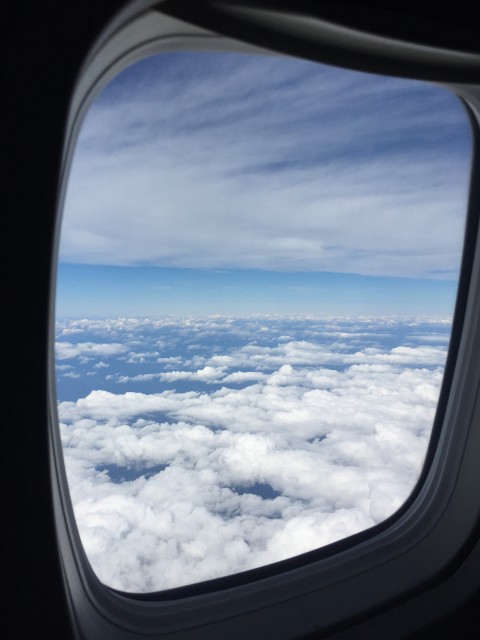 When I arrived in Ottawa, the festival had lost my hotel reservation, and I had to stay a long distance away from the action. But at least there was an Ethiopian restaurant on the way to the theater: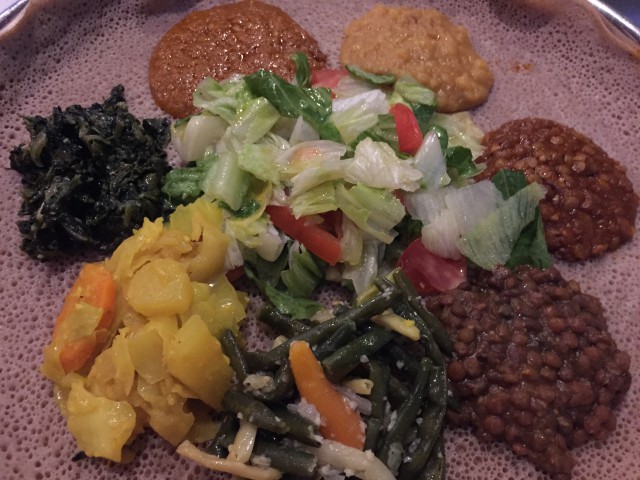 I had to spend 2 nights away from the festival center. Since I hate cars (I get carsick) I chose to walk back and forth, about 35 minutes each way. My route took me through a park that had streetlights much like those in Urbana's State Streets neighborhood.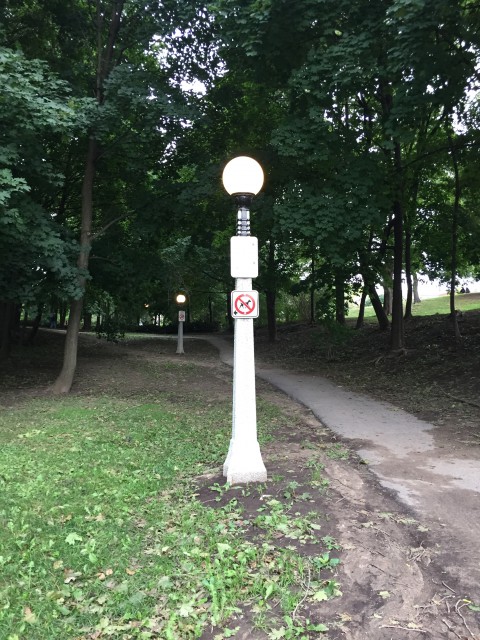 Finally, due to the kindness of Brent Smith, I got a room in his friend-shared suite downtown. What a relief!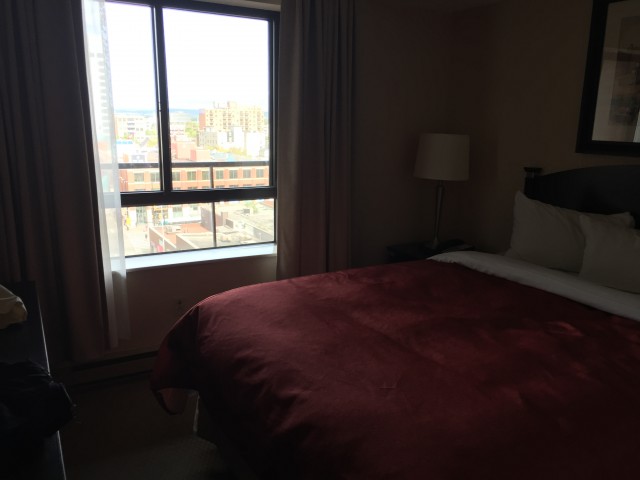 I also got a cold, which sucked.
Here is what looks like a (former?) synagogue around the corner from the ByTowne Cinema in Ottawa, where Seder-Masochism played twice: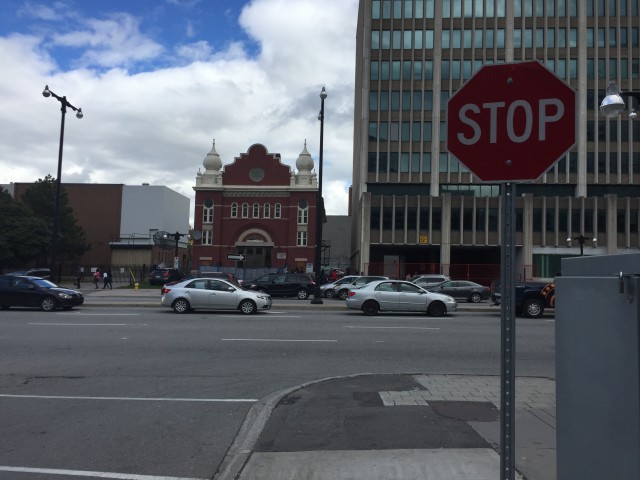 Here is Sharon Katz and my old pal Chris Landreth and a colleague of his, in a beautiful converted church Sharon is a shareholder of: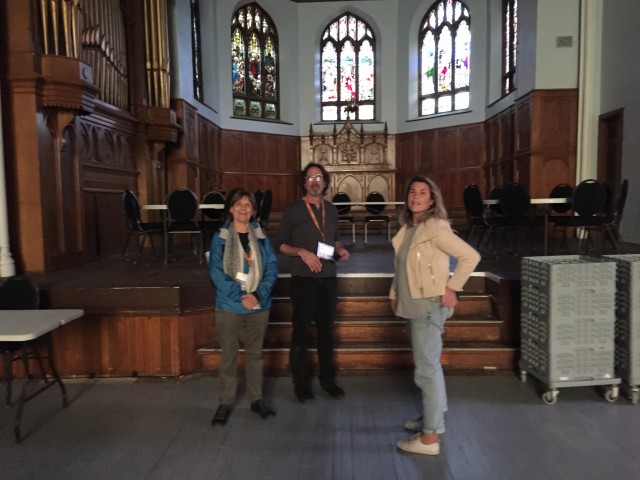 I saw so many beloved old friends and colleagues in Ottawa! But I didn't get pictures of them. And I had a cold. But seeing them warmed my crusty old heart and was worth the trip.
Then my cold and I headed to the Ottawa airport, where I saw this lone copy of 1984 in the book shop: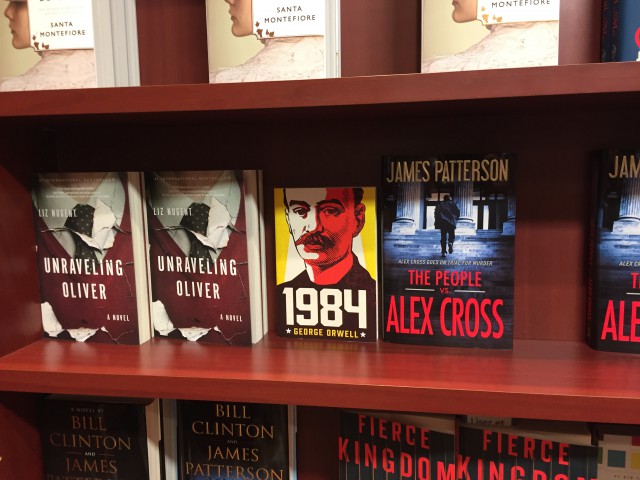 I flew to Vancouver, where I stayed with my old friend Ducky, who also had a cold, and her partner Jim. Their apartment has these amazing views:
This was the first in a series of amazing homes I stayed in. After 2 nights I shifted to the festival-provided hotel, the Sutton Place, which was luxurious and comfortable and had a bathtub into which I submerged my stuffy snotty head a few times.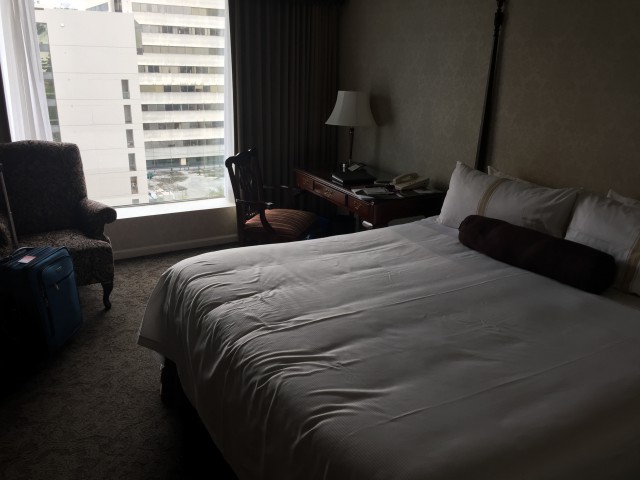 Here is Seder-Masochism in VIFF's program, which I forgot to take with me: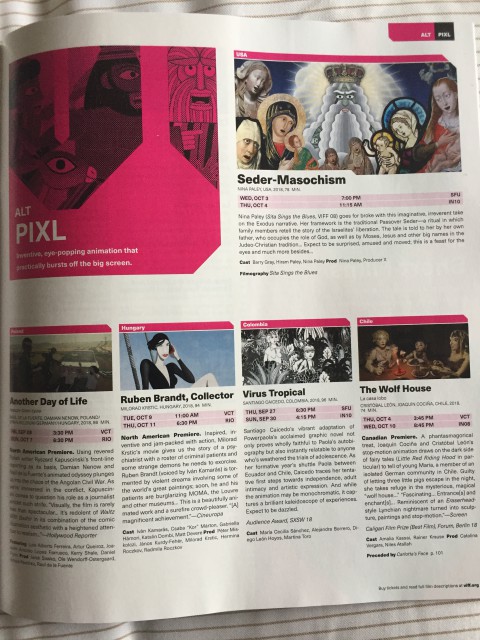 The screenings in Vancouver were fantastic. Other filmmakers I spoke to there also said their screenings were fantastic. The festival organizers somehow got perfect, appreciative audiences for all our diverse films – and diverse they were.
Next, my cold and I went to the Vancouver airport, where I met old San Francisco pal Chris Lanier, who just happened to have 15 minutes to share with me next to Orange Julius before we headed to our separate destinations.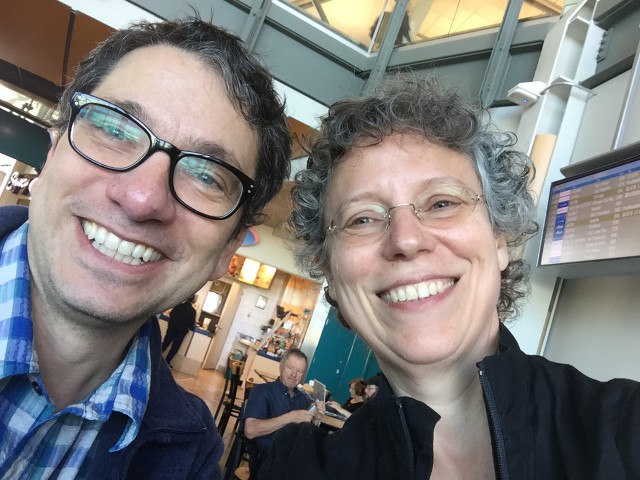 Bye-bye, Vancouver!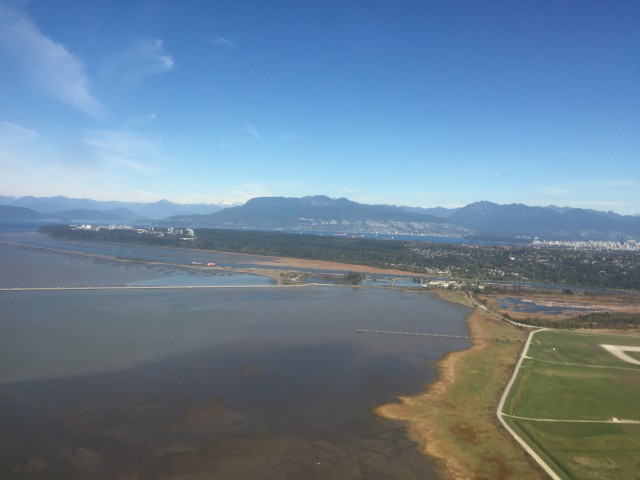 Hello, San Francisco!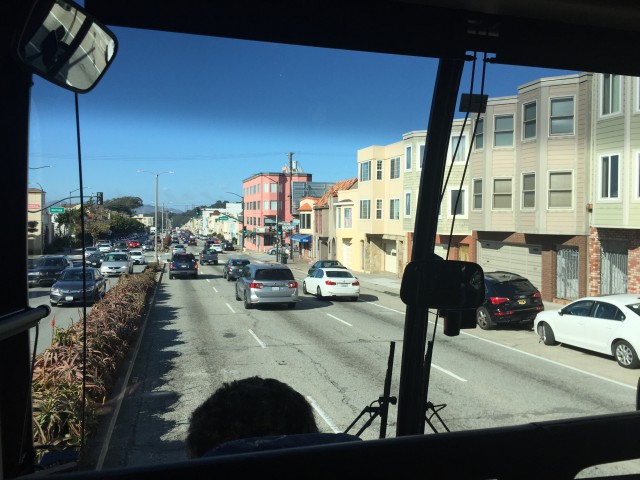 On the Marin Airporter bus I had "all the feels" seeing the city I loved and lived in from 1991-2002. It's still there!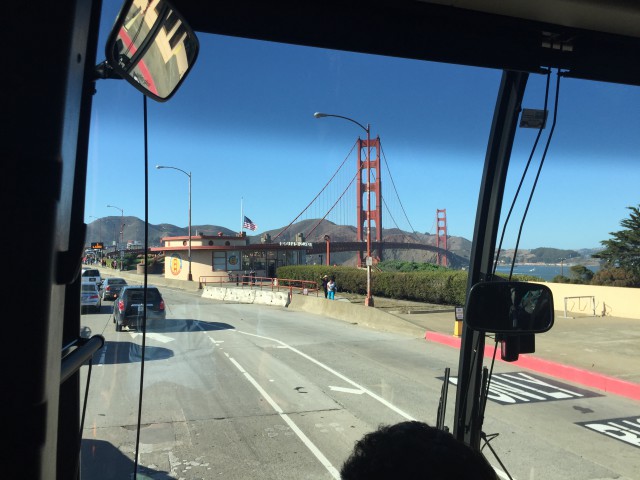 In Mill Valley I was picked up and hosted by the lovely Michael "Lippy" Lipman and his wife Suz. I <3 them.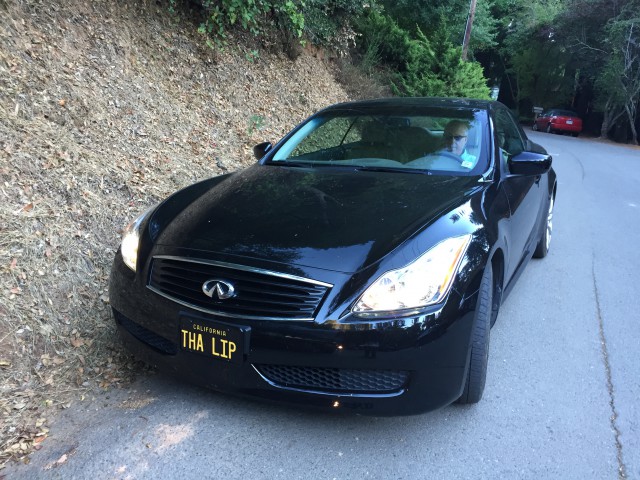 Suz lent me her mountain bike, which I rode a few miles before realizing upwrongs are too hard on my post-surgical lady-bits. (Fortunately I have a collection of recumbents to ride once I get enough post-travel sleep.) This was my first trip since surgery, and while I'm mostly recovered, the stress did take its toll sometimes.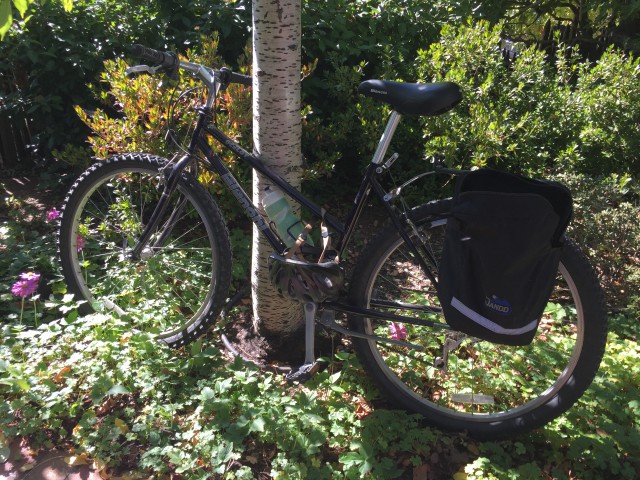 Here is the Filmmaker's Lounge in lovely downtown Mill valley:
Why is it so empty? Because the filmmakers were in this remote hotel in San Rafael:
I stayed there one night before begging Lippy and Suz to take me back, which they did. Meanwhile, I got to enjoy lots of this: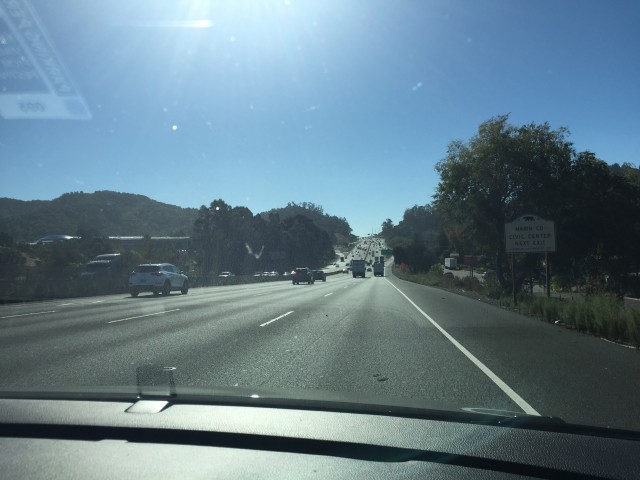 The first Seder-Masochism screening was at the Lark Theater in Larkspur, and it was wonderful. I saw many old friends and met new ones In Real Life I'd formerly only "known" online. Here I am on the glamorous red carpet: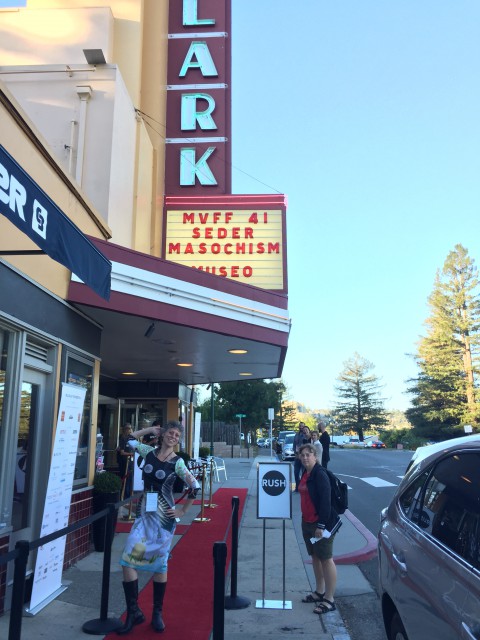 The second screening was at the beautiful Rafael Film Center in San Rafael: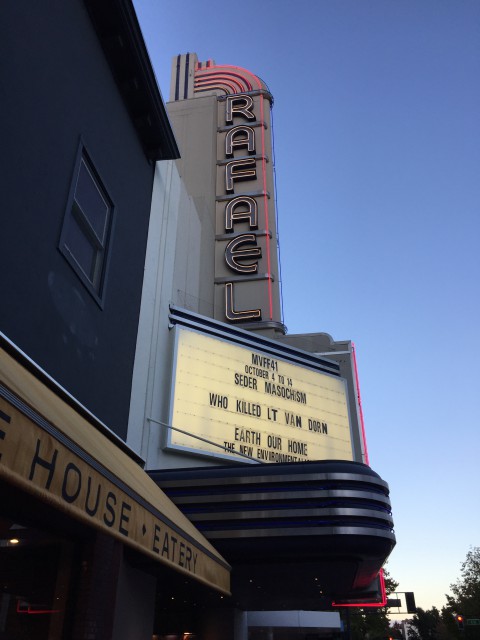 It was a smaller but lovely screening room. At the end of the night I asked if anyone could take me to San Francisco the following day, and someone said yes! Thanks, Linda!!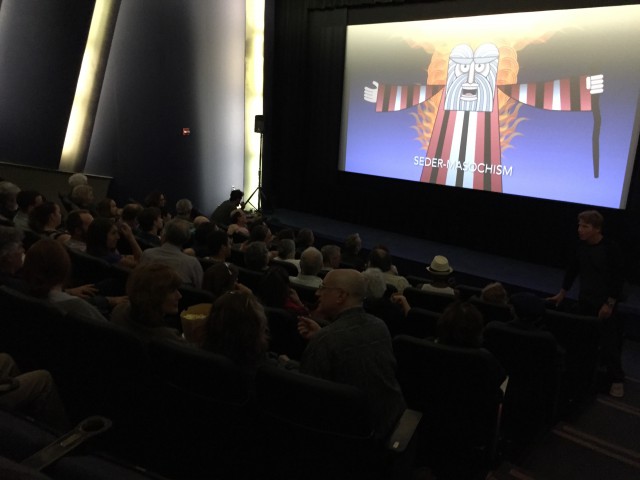 In San Francisco I visited my old pal Karen Hellyer's class at the Bay School in the Presidio: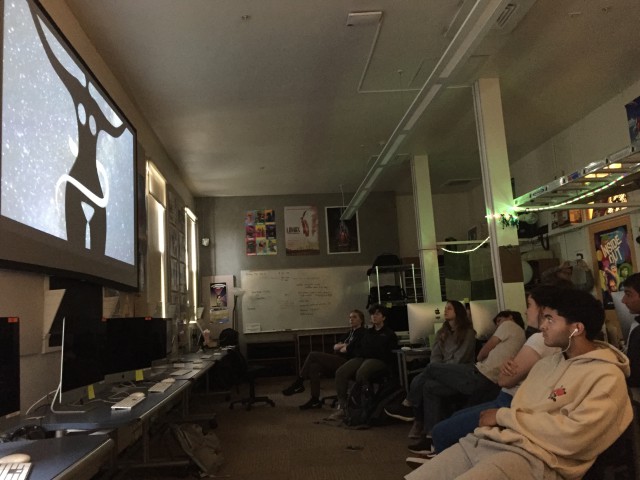 And then walked all the way to my old stomping grounds in the Castro: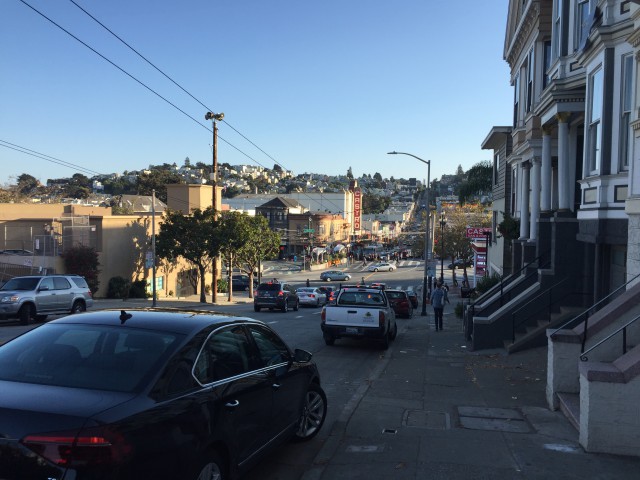 to Portrero Hill, where I had dinner at the SF Center for the Book: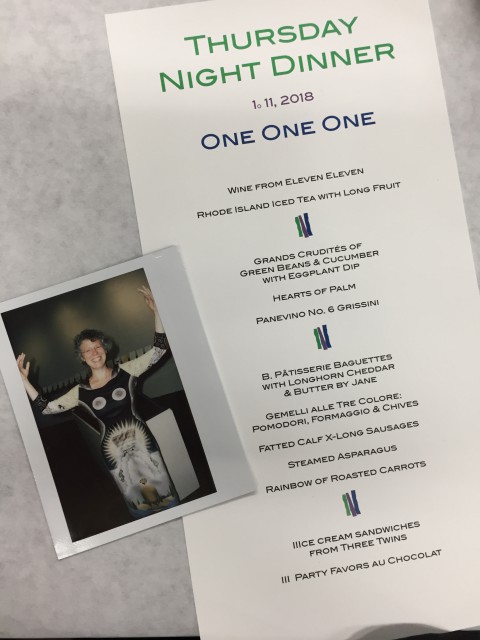 Many Polaroids were taken, including this one with friends, which I love: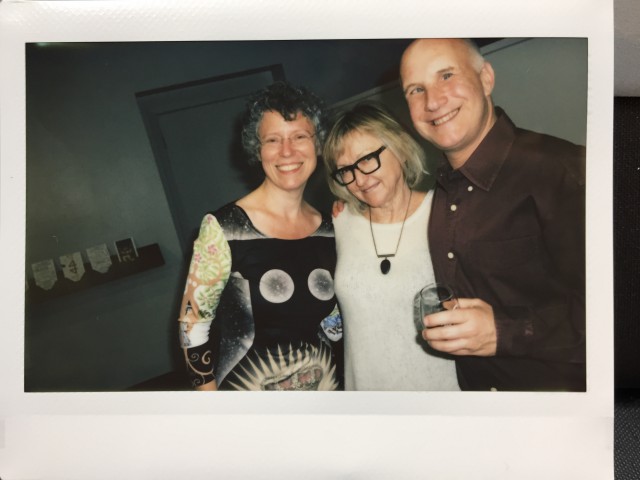 That night (Thursday) Brewster Kahle hastily arranged a "pop-up screening" of Seder-Masochism at the Internet Archive a mere 2 days later (Saturday).
What a lovely audience! I love the Archive in so many ways.
The following morning my old friend Jym rented a GetAround car and drove me to Santa Cruz, which gave us a precious 2 hours to catch up. I had ALL THE FEELZ, remembering my 19-year-old self that first fell in love with the place in 1987. Santa Cruz has changed, and I've changed even more. As we drove in to Capitola I spotted one of my favorite restaurants, Dharma's (formerly McDharma's), still in the same location, still with the same delicious vegetarian food, only 3 times more expensive now. SO MANY FEELZ.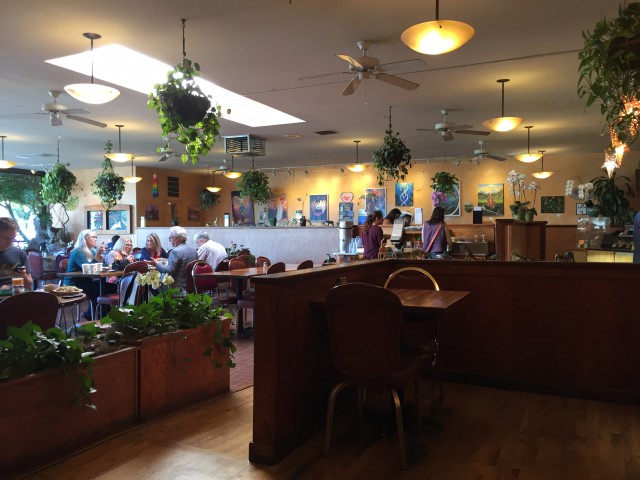 Then it was time for back-to-back screenings and yakking with Zsuzsanna Budapest and a coven's worth of feminist witches. It was fun, but by this time my brain was worn to a nub from travel and sleep deprivation (at least I was over my cold!) and I felt like this: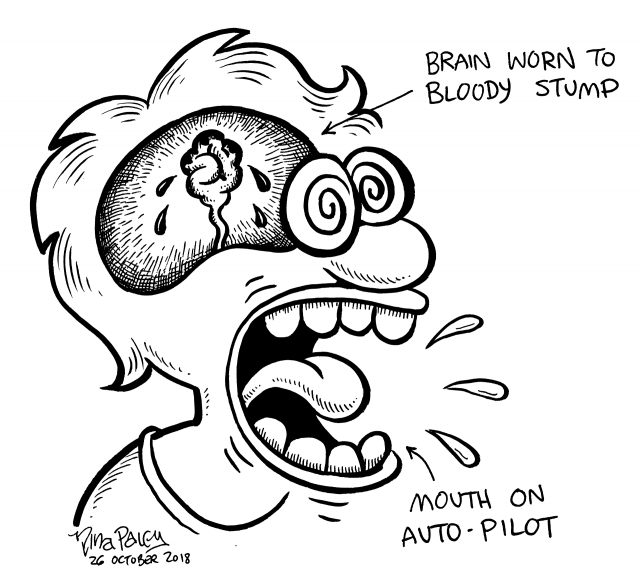 Luckily I was whisked away by a friend afterward and got 2.5 days to recover in her quiet home in the mountains above Monterey Bay: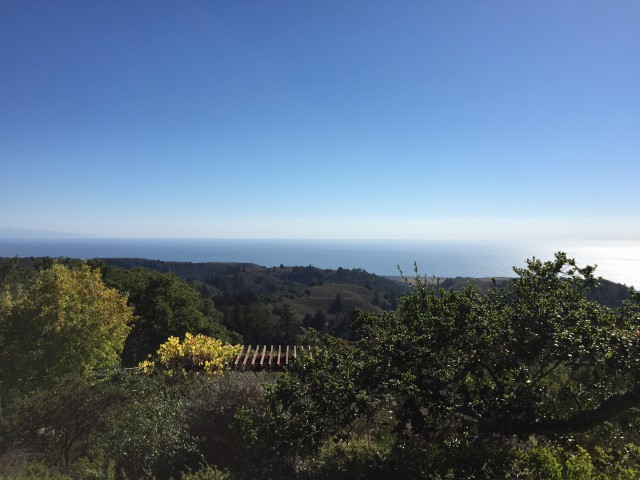 I did not want to leave, but nonetheless dutifully reported to the Salinas Amtrak Station, thanks to my very-longtime friend Dian. Did I mention how generous friends and even strangers were to me on this trip? Fills me with gratitude and love, y'all.
My journey on the Coast Starlight started here: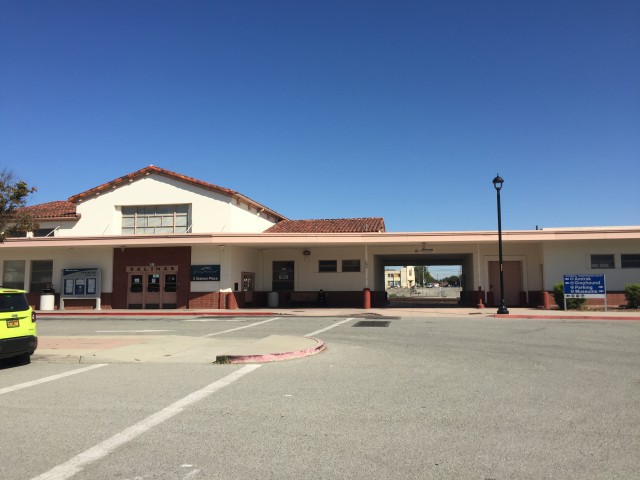 and passed this prison: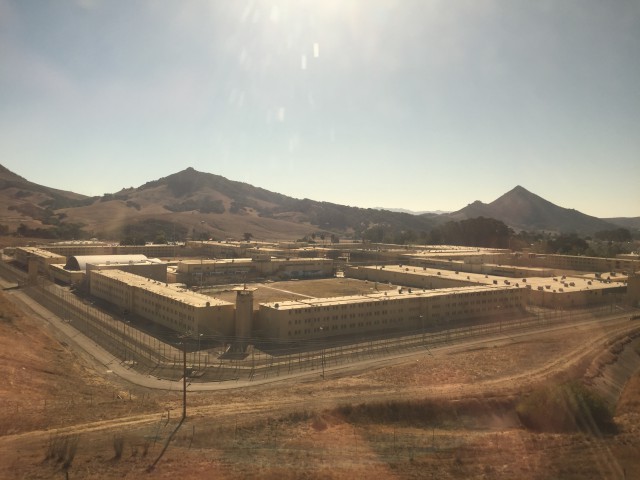 and then went for miles and miles along the coast:
It wasn't even late! Still, 9 hours in a shaky moving box tired me out. I don't know how some people are such hardy travelers. Even under the best conditions, which I mostly had this trip, my brain feels like it's being dragged along rough pavement.
I spent my first night in LA at yet another beautiful home in Los Feliz. The next morning, my host took me on a walk up to the Griffith Observatory: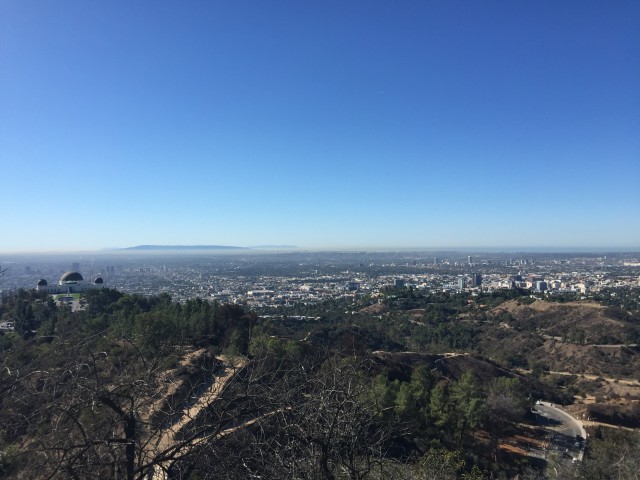 The Griffith actually has some of my animation in its permanent exhibits, which I visited over a decade ago for its grand re-opening. But this time the building was closed until noon and we didn't want to wait around. Because I had my festival-supplied Hollywood hotel to get to!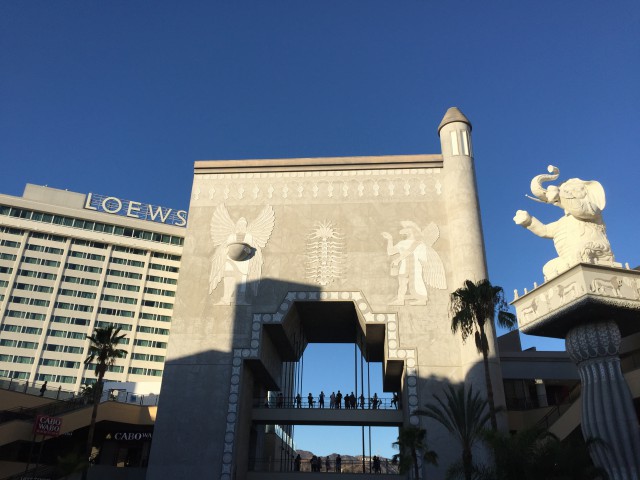 After I checked in, my formerly-online-only friend Laura Molina trekked into Hollywood so we could become real-life friends: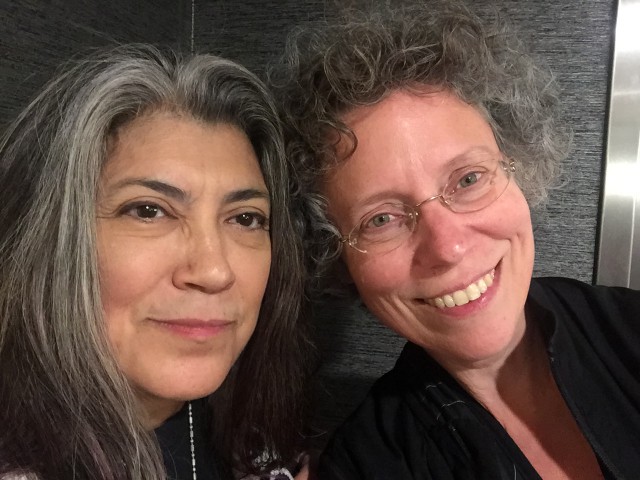 Then I got back to my hotel room, where I enjoyed this view: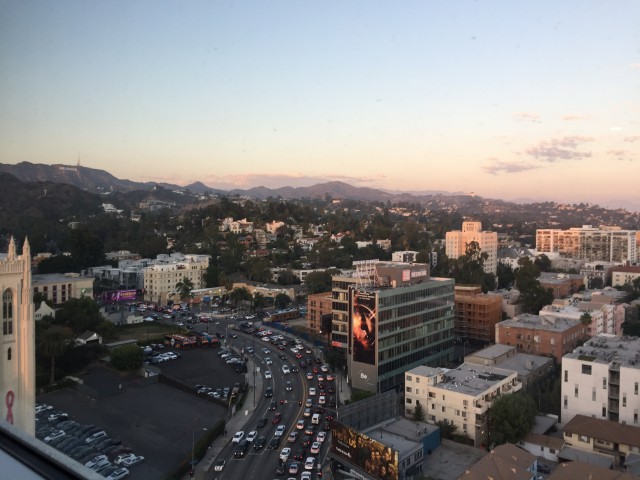 I asked for a high floor when I checked in and actually got one, which is rare.
Late that night, SpecialManFriendâ"¢ arrived from the eastern side of the country, to briefly visit family in LA and concede to being my "arm candy" at the Animation Is Film festival. Here are his legs by the hotel pool, which we didn't swim in because it was too crowded with other tourists: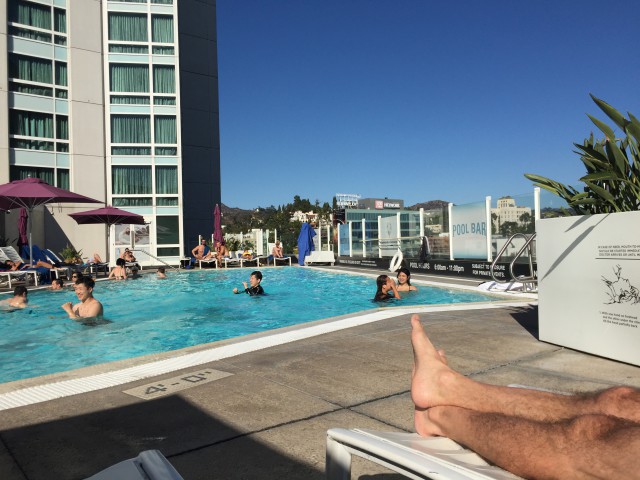 So glamorous, but even more glamor awaited us at dinner with Roger Allers and friends at Hollywood institution Musso & Frank's. At long last, SpecialManFriendâ"¢ and I experienced Lobster Thermidor, which has been a running gag between us for 2.5 years.
So that's off our bucket lists.
I don't have photos from the actual Seder-Masochism screening, since I was too busy yak-yak-yakking to take pictures. But here are some things I did take pictures of: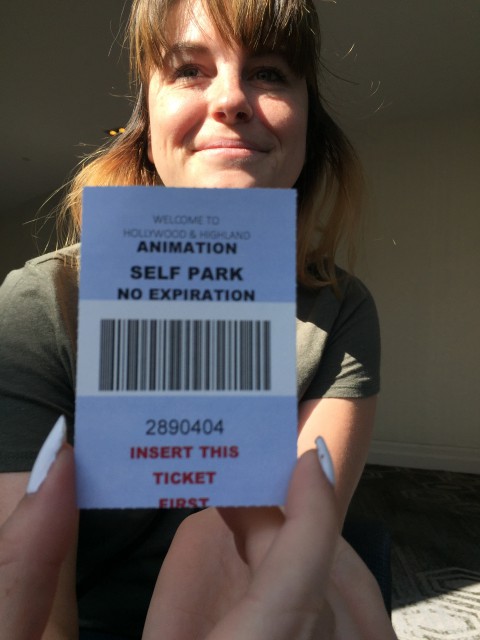 My "handler" at Animation Is Film's Sunday press junket, holding up what is called "validation" in LA. If only all validation were so easy to obtain.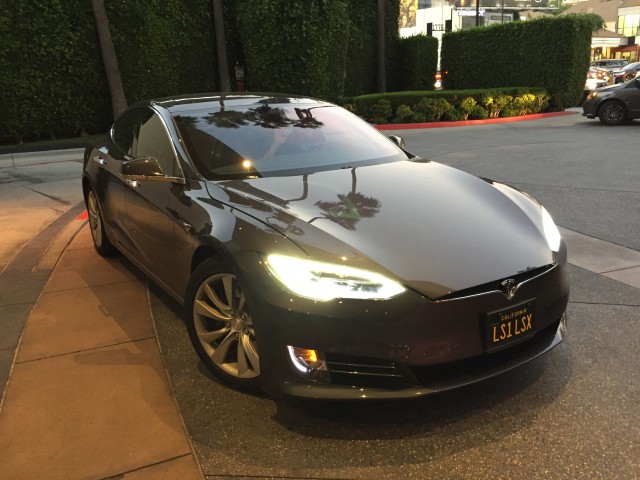 Paul Debevec's Tesla, the second Tesla I rode in in California. Both times the driver accelerated super-fast in an extremely short stretch of road, making me scream. So that's off my bucket list now.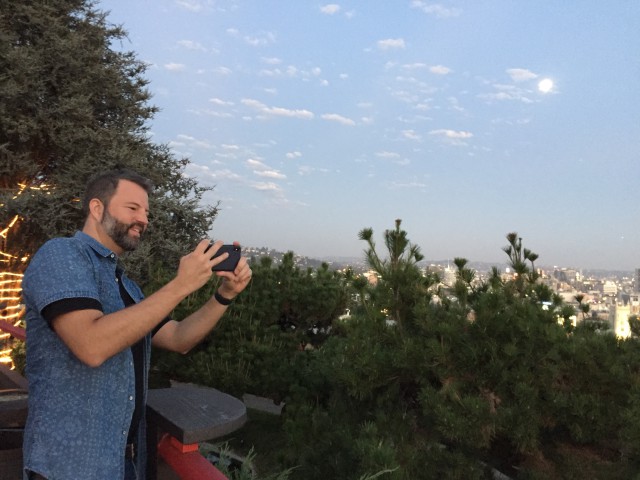 Paul in his natural habitat, behind a lens. By utter coincidence, Paul was my next-door neighbor in Urbana when we were kids/teenagers. Now he is a world-dominating special effects rockstar, and I am a fringe radical independent animator/hermit. Suck on THAT, Hollywood.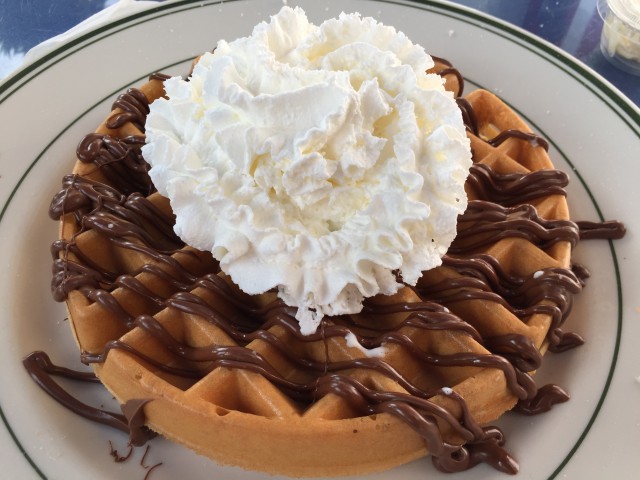 Here is a Nutella waffle, one of 3 I ate at "Le French Crepe" in the outdoor mall attached to my hotel. I ate every meal there, except when I was taken to fancy over-the-top places like Russo & Frank and Yamashiro Hollywood.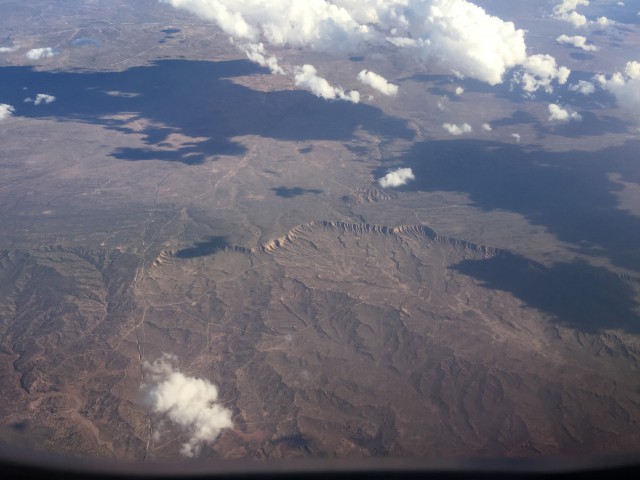 The view from my flight to Chicago, where I stayed a couple extra days to delay my return to Urbana, because…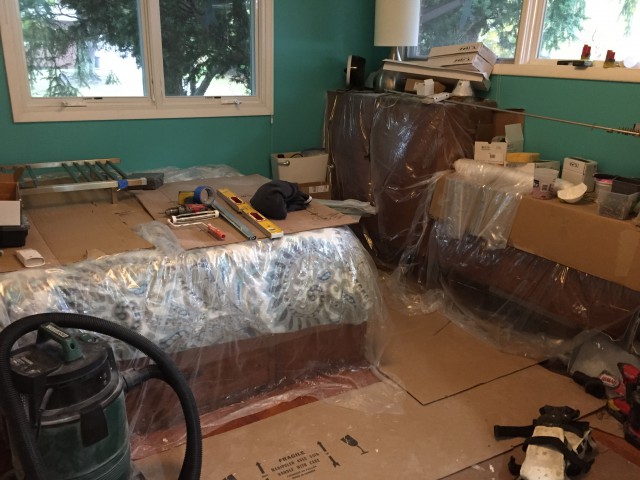 …my bedroom is covered in plastic and cardboard while my bathroom gets worked on another week. So I'm still living out of my suitcase, but nonetheless glad to be HOME!